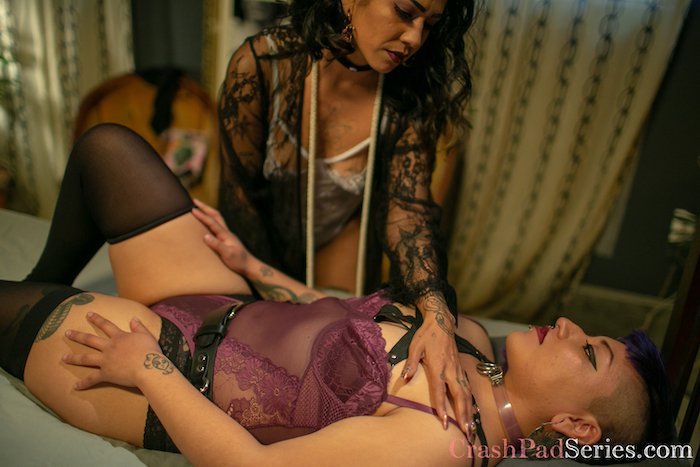 Sex Tips
Crash Pad Episode 281: La Muxer Diosa and Zoie Blackheart
"Oh my Goddess! Magic is in the air when Zoie Blackheart summons La Muxer Diosa with an appealing offering... her body. Together the two cast a spell, with foot worship and candle wax, paddle and dildo... and of course, no spell is complete without a Magic Wand."
I am 100% excited to review an episode that involves sex magic!
Want to see more of my writing about sex magic? Click here for more.
I've also reviewed Muxer Diosa's other Crash Pad scene and super excited to see them in another scene. Check out my thoughts about the first one here. I've never seen Zoie Blackheart, but always exciting to see other folks who practice sex magic create some magic. As someone who does and teaches about Sex Magic, I'm super excited to see a scene involving it. I can't wait to see their process, and just visually how everything will look.
Creating magical intentions, and harnessing your orgasms power for magic is a powerful way to involve magic in an aspect of your life that is full of untapped energy.
Offering your body as a tribute, is something a lot of Tops as well as deities will appreciate.
Body worship is a great way to build not only orgasmic energy but lubrication and arousal.
However you want to think of it. Orgasms will be more intense and more charged with energy if you take your time and allow it to grow. Sex magic is also a great guideline for a a BDSM scene because typically one person will take the lead. Using things you have in your house for sensation play pervertables is a great way to add interest to your scene.
Brushing prayer beads on someone or using saint candles for wax play can add a ton of authenticity to your scene or ritual.
Prayer candles are also great for wax play because they burn at a lower temp then other candles so it won't burn the skin. Try tailoring your offering to the deity you are praying to in your ritual. If it's Dionysus then adding wine would be helpful, if it's Yemaya then something involving water, etc etc. It adds more power to your intention.
First orgasming with hands, then adding a powerful toy like the magic wand is a great way to amp up orgasms and orgasmic energy for sex magic. Plus the magic wand should be in every scene!
Grounding your partner with after care is important after an intense orgasm, or a sex magic ritual, or in this case both!
Ask your partner what they need from you to help come out of top or bottom space.
Want to see this episode for yourself? Click to go to this episode