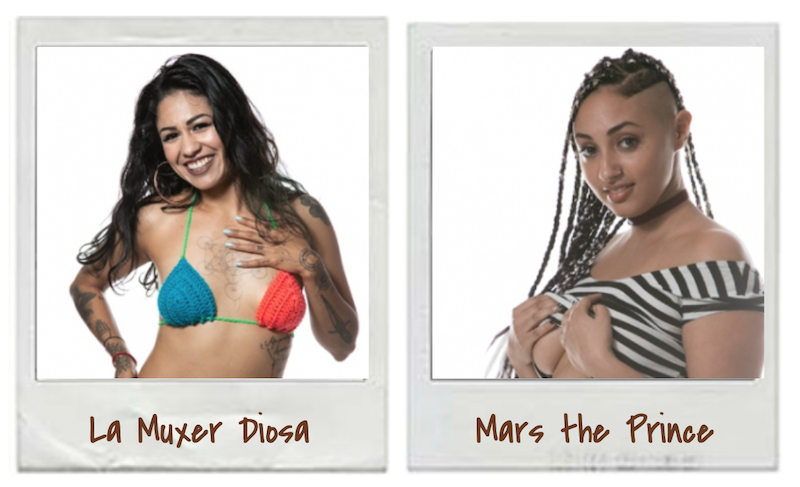 Porn Review
Crash Pad Episode 238: La Muxer Diosa and Mars the Prince
"La Muxer Diosa's royal worshipper Mars the Prince knows how to please their Goddess. After offering up their mouth in service, Mars climbs atop Diosa's strap on to achieve heavenly pleasure. La Muxer Diosa is a kind and loving goddess, giving as they receive… I'm a convert. – Keymaster"
But first let me swoon about the stars.
About La Muxer Diosa. Any Femme who identifies as Hardfemme and Princessdomme is going to make me swoon. Would love to be friends and talk more about sex magic. Anytime I want to be someones friend I really want to masterbate to them.
With Mars the Prince I love seeing people who had Crashpad to show them that porn can be exactly how you want it. Not too many companies out there that give performers so much control. So I'm excited to see a fellow glitter loving Femme have fun at the Crashpad.
Let me start by saying I love seeing real life couples.
It makes my voyeuristic side very very happy. This is also best case scenario because amateur porn can sometimes be hard to watch because the performers don't have access to equipment.
They start the scene with some tender kisses and a subtle collar grab. Not all power play has to be rough. Power exchange can be tender and loving. Spoiling and turning your sub on is an important and often overlooked part of porn. Power exchange isn't all about the top. Mutual pleasure is a great goal. Body worship can be tender and loving. Just enjoying touching and being touched.
La Muxer Diosa is the queen of dirty talk and check ins as dirty talk.
Everything she said was such a turn on. And a generous goddess who gives as good as she receives.
I also want to take a second to appreciate the use of high quality toys and accessories. I love the Joque harness from Spareparts. I admit I am a sex toy snob because of where I work but it helps me get off when I don't have to scream at the screen about jelly dildos.
Hearing Mars the prince say I want to taste myself would have made me such a proud and happy Domme.
All in all this scene was hot. I loved seeing this real couple have some authentic fun. Also important to mention that these two Women of Color were not billed in a racist way. I loved seeing the representation of real bodies in porn. We really mostly see very slim or very big. When everyone has sex.
I just love Crashpad!