From Crash Pad about the episode
"The holidays can be stressful for our community, but Lindsay Cin and Valentine are here to help blow off some steam! Lindsay is a total dish in her extra strappy strap on, and Valentine's cleaning her plate. Dildo blow jobs, anal wands, a suction toy… these two have all the fixings. I know what I'M thankful for this year."
Super excited for both Valentine and Lindsay Cins.
I know I talk a lot about representation, but I'll say it again. It's important to help all people feel comfortable in their body and throw out the notion that there even is a "normal". Normal is whatever is normal for you. Body rolls, tattoos, being hairy, shaving everything, no piercings, skinny legs, etc. There's no wrong way to have a body.
Although, I will say these babes are doing it right! I'm biased because I'm literally always on the hunt for curvy tattooed babes to swoon over. It's also interesting to point out that this is a body type you never see in porn. You're either super slim, or BBW.
I get called out for not being big enough to be a BBW. It's an interesting phenomenon because who gets to define how I identify my own body. Who decides who's skinny enough and who's fat enough? Then what happens to all those in between? There's someone who wants to jerk off to every kind of body there is!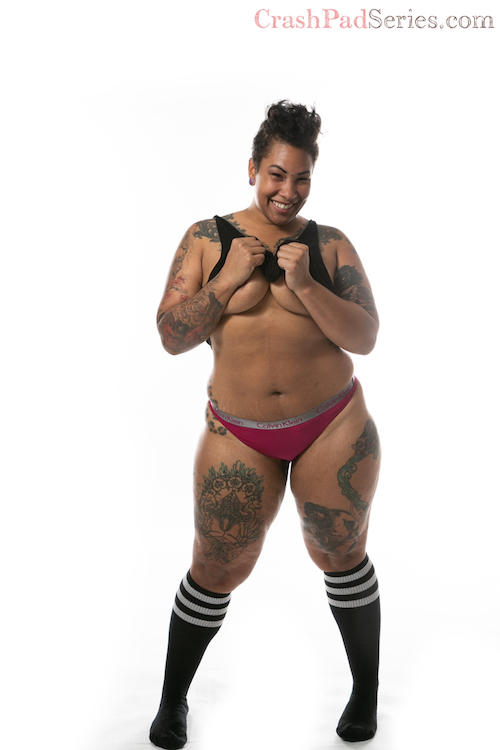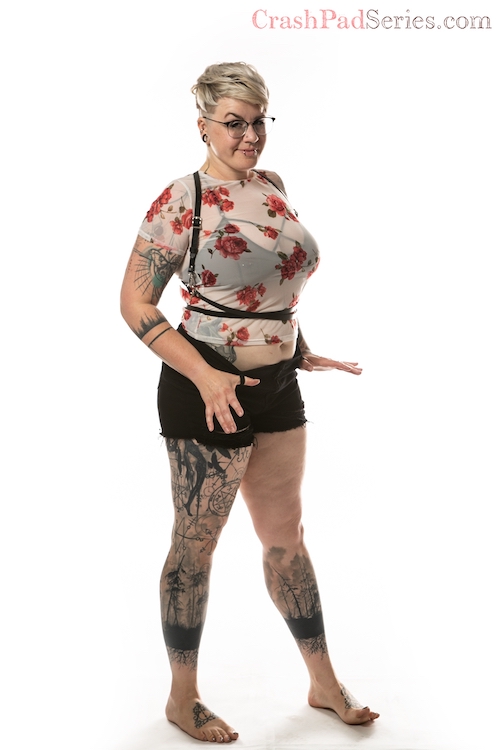 I love both their outfits, if I was told to wear something I'd feel sexy in, I literally have those pieces in my closest.
Plus that harness Lindsay Cins is wearing is amazing. It really compliments their curves. Leather is amazing for harnesses of all kinds because the more you wear it the softer it gets. I literally wore my harness around the house to break it in so it would be nice and soft and molded to my body when I was ready to fuck someone in it.
Pro Tip: Cover the metal hardware on your harnesses with clear nail polish so sweat doesn't tarnish them.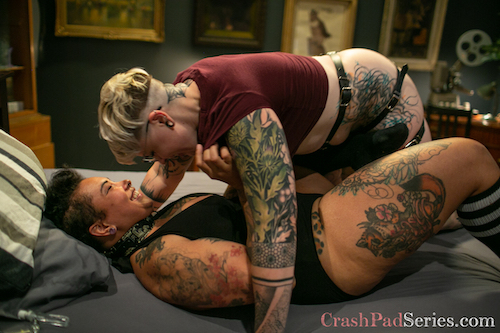 I love seeing the playful side of sex.
Lots of giggling, compliments and orgasms! Who wouldn't be down with that. Ongoing communication is also super important so you don't do something your partner doesn't want. Before Lindsay Cins spits into Valentine's mouth, she asks and finds out that Valentine doesn't like her mouth being spit into. A simple question avoided an awkward or potentially triggering situation. Check in with your partners!!!
Femme on femme cock sucking is not just visually appealing. Check out my tips on how to give an amazing BJ on non factory installed cocks here! I also love that Lindsay Cins identifies as a FemmeDaddy. I have a lot of thoughts about it, read more here.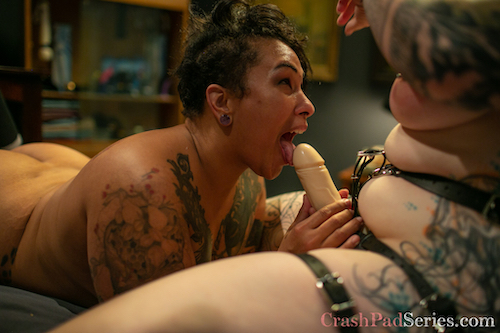 "This isn't going to take long", should be all of the suctions toys slogan.
I have Womanizer brand, Satisfyer and a lelo suction toy. They all feel similar but slightly different, but all amazing! My review of these types are coming soon. One thing to think about when choosing these types of toys is the size of the suction part. The newest Womanizer didn't work for me because #PussyTooFat but the ones with more pronounced nozzles and larger heads are great for a variety of bodies