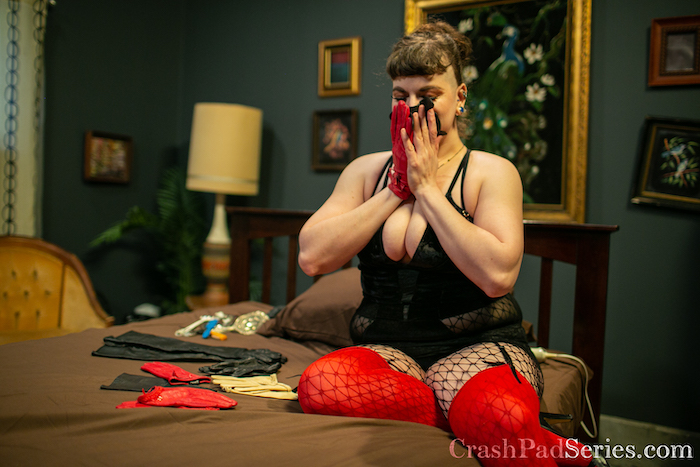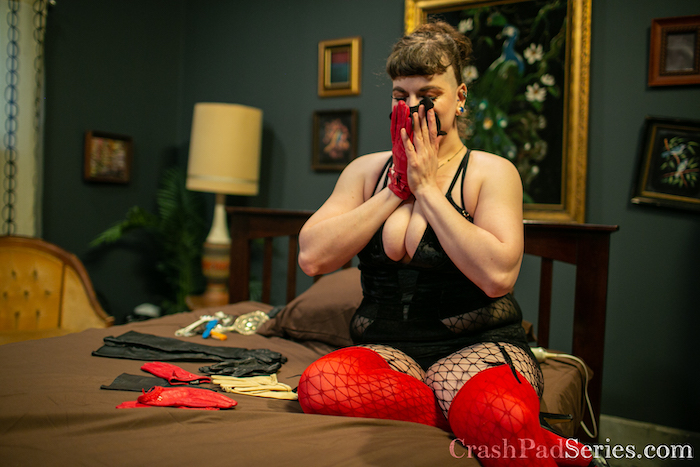 "May is Masturbation Month, and Lucy LaCroix has her hand on the button of a Magic Wand. Proving that BDSM can be a solo affair, Lucy plays with a variety of sensations: the taste, smell, and feel of leather gloves; thuddy impact play; clothes pins and nipple suction. With headphones on, Lucy fucks herself with a dildo until she comes in a beautiful show of self-love."
Ready and excited to watch this solo scene with Lucy LaCroix.
Any fat babe who is also a sex educator who want to see reverence for and celebration of fat bodies everywhere is on my list of swoon worthy babes! I make porn for myself, and anyone else who wants to see my brown queer fat tattooed body. I appreciate people who acknowledge this and hope to surround myself with those folks.
​Leather fetishism is a great example of thinking about setting a sexy mood. I always suggest thinking of the 5 senses when creating an erotic scene and leather covers a lot of those bases. Leather has an amazing distinct smell, can be plush or rough, looks sexy as hell and if you really wanted you can even lick it! Want some more tips about create a sexy mood/space? Treat yourself, even if you're masturbating! A sexy environment will make pleasure even better. check out more tips here.
Kink can absolutely be a solo venture.
Touching yourself while wearing gloves, in this case leather (but you can use anything really) will create different sensations on the skin. Run your hands on your body, explore, pinch, tease, try it all and maybe find something new you like. Or do you know you like when your top uses clamps or impact? you can do it yourself also! Don't wait for pleasure,bring it to you.
Be "selfish" take tips for partners and figure out how you can spoil yourself
​Lots of my foreplay tips here are applicable to solo players as well. Take time for yourself, its masturbation may after all.
I live in a pretty loud neighborhood in the Bronx & I use headphone to masturbate a lot to drown out the noise from outside. So seeing this in porn is great & everyone should try it. When you take away hearing what's going on around you it intensifies everything. Also if you didn't know, I went to school for music and have a lot of thoughts about making playlists so check out this post!
It wouldn't be a Crash Pad episode if I didn't bring up my love for the magic wand. So just read this here!
I really appreciate that after she orgasms she gives herself aftercare in the form of just relaxing and putting on the leather gloves and taking some deep breaths and enjoying the smell. Aftercare for any kink is important. Aftercare can be anything from chocolate, to cuddles, to a shower. Whatever you need to ground yourself after an intense experience. This just drive home the fact of taking care of yourself and your pleasure is important. Happy Masturbation May!