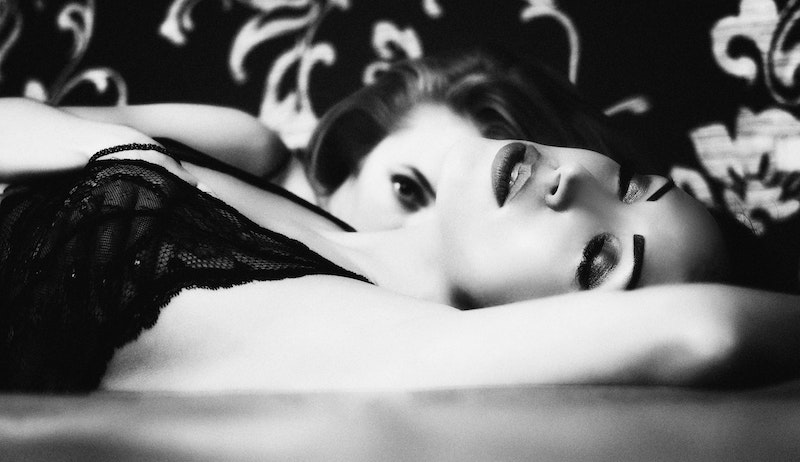 ​Setting the mood and foreplay is an important often overlooked aspect of sex.
Increased arousal/lubrication, and intimacy are some key reasons to really sex it up and set the mood and focus on foreplay and everything that happens before the sex happens. Intercourse or orgasms don't even have to be the focus, just be present and enjoy all of it.
Give a sneak preview.
Exchange flirty notes, email, or texts before you see each other. Send some pictures, they don't have to be nude. Send your smile, the bed, a plate of homemade brownies, a peek of your garters under your skirt, etc. Send a pic of what's to come and let their imagination run wild. If you're single, get something special for you to look forward to.
Play a game of everything but".
A lot of people only focus on the obvious sexual areas and forget about how exciting it is to discover their partners body. Some non-genital-focused touching can actually help to heighten your senses. Try caressing the inner thighs, the stomach, and the arms. See how long you can hold out before actually having sex. If you usually skip it, don't. If you usually do it, go for a longer amount of time.
Play with temperature.
Here's a prop that doesn't require any trip to a sex shop or cleanup. Just keep a glass of ice near the bed, and pop a cube in your mouth for giving oral sex or even just kissing. You could also trace ice around the nipples, down the neck, and in the creases of the hips, following the dripping water with your tongue. Then play around with warmth, keep some hot tea near the bed and warm your mouth up before putting it on their body. Go back and forth from cold to warm to see what they really like and also keep them guessing.
Watch each other masturbate.
Letting him see your solo technique is instructive. He'll learn what kind of pressure you like, at what speed, but this foreplay idea also gives a voyeuristic thrill. You don't need him, but you want him. It'll make him go nuts if you're completely responsible for your own pleasure and he has to stay at a distance and just watch.
Buy a new toy.
Even a trip to the local sex toy store can open up new doors you might not have though of. It doesn't just have to be a vibe either, think about restraints, or maybe a flavored lube.
​Touch and massage.
Pick one body part that you might not typically focus on and spend 5 minutes touching it. Embrace it. Treat it like it's the center of the sexual universe. I recommend the crook of the elbows and knees, they're loaded with sensation and will totally build sexual tension. Gently warm some massage oil and play spa as you give each other a sensual full-body massage. Or grab a massage candle and really set the mood and give a great massage.
Change Positions.
Rather then get in the trusty comfortable position, switch it up. Varying positions will change the way your body responds to stimulation. You might surprise yourself with what feels good. Try standing up, kneeling on all fours, or even lying on your side or stomach.
Be your biggest fan.
Try watching yourself in the mirror. You can see the flush of your skin and how your pupils dilate the more turned on you become. You can be your very own porn star.
Figure out the time that you're most aroused.
Really think about this question. When do you feel most sexually charged? When you first wake up? After morning coffee and a good poop? Mid-afternoon? That's when to indulge in sexy time, rather than after a meal when you're digesting or at night when your sensations are shutting down.
Sometimes you gotta just do it.
It's so easy to put pleasure and self care on the back burner, and once we're out of the habit, it's harder to get revved up again. You'll find that the physical arousal will happen, that that will trigger your emotional arousal, and that triggers more physical arousal, until it's all working just right.