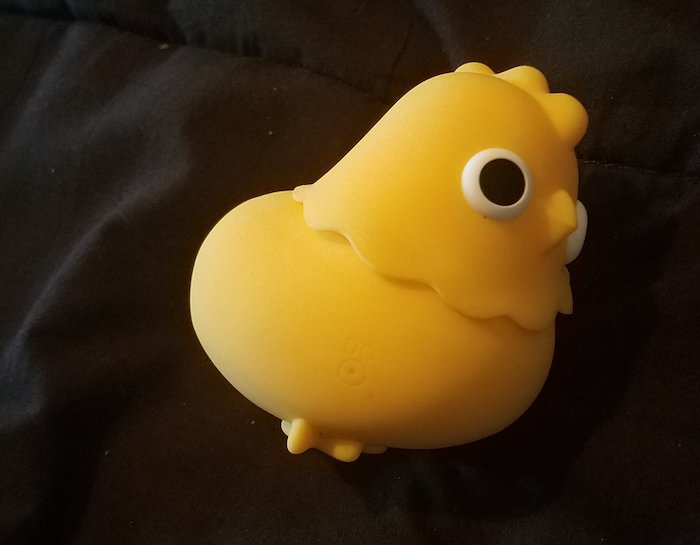 About: This is Emojibator's first suction toy and a multi-speed, waterproof, body-safe silicone vibrator with USB charging capabilities.
Chickie is ideal for clitoral or external stimulation and will make your bath time so much fun.
8 vibration settings that always hit the spot

8 suction settings that stimulate and pulsate

Waterproof for shower play

Dimensions: 2.6" x 2.9" x 2.75" (suction .65" x .9")

Material: Body-safe silicone

USB-charge lasting hours of fun

One-year warranty
Initial thoughts

: I have loved all the suction toys I've gotten.
I've tried ones from Womanizer, Satisfyer, and Lelo. All have been enjoyable, even if to me, they have felt pretty similar. I am also a big fan of Emojibators branding and general concept. Sometimes it feels like brands take themselves too seriously and forget that sex toys are toys and should be fun! so to combine a sensation that I like with this silly chicken with a booty, I am on board!
I think my favorite part of this toy is the shape of that booty! It's delightfully curvy, and you get to decapitate it to use it to masturbate. So it's kitschy and morbid and right up my alley. It also makes it incredibly discreet because absolutely no one would think this looks like a thing you'd fuck! The price point is actually really good for suction toys; those types of toys typically start at $100 and go up from there. So cute and affordable.
Pros: So bad news, as cute and thick as the chickie is, it doesn't have any discernible pros for functionality.
I will give it to them that it is body safe silicone, rechargeable and waterproof. But that's where the good points end. If you want a toy, that feels like someone sucking the life of your clit or nipples then this would be the toy for you. Typically suction toys have a push and pull so it feels like a mouth sucking on your bits. This is NOT how the chickie feels!
Cons: Functionality-wise it's absolutely terrible.
While it didn't hurt me like other bloggers, I felt nothing. I added lube, still nothing. I moved my bits to fully expose my clit, still nothing. I am also a person that like strong vibration, so I turned the vibration on and it's buried in a part of the toy that doesn't allow the vibrations to reach your body. Intellectually I knew the toy was vibrating but truly I didn't feel it.
I am super lucky to be able to reach orgasm relatively easy and quickly. I am someone who can use virtually any vibrator and make myself cum. There has only been a few other toys that I could absolutely not cum at all, ever, from. This is one of those.
There is nothing I could do to my body, the toy, or adding things into the mix that would make this toy enjoyable. I always try to find the function of the toy, that even if I didn't enjoy it, I can relay to other people looking for that sensation. I don't know anyone that wants to experience this sensation so this is one toy I can't ever recommend to anyone even if it is cute as heck.
I was given this product by SheVibe for an honest review. All thoughts and opinions are my own.