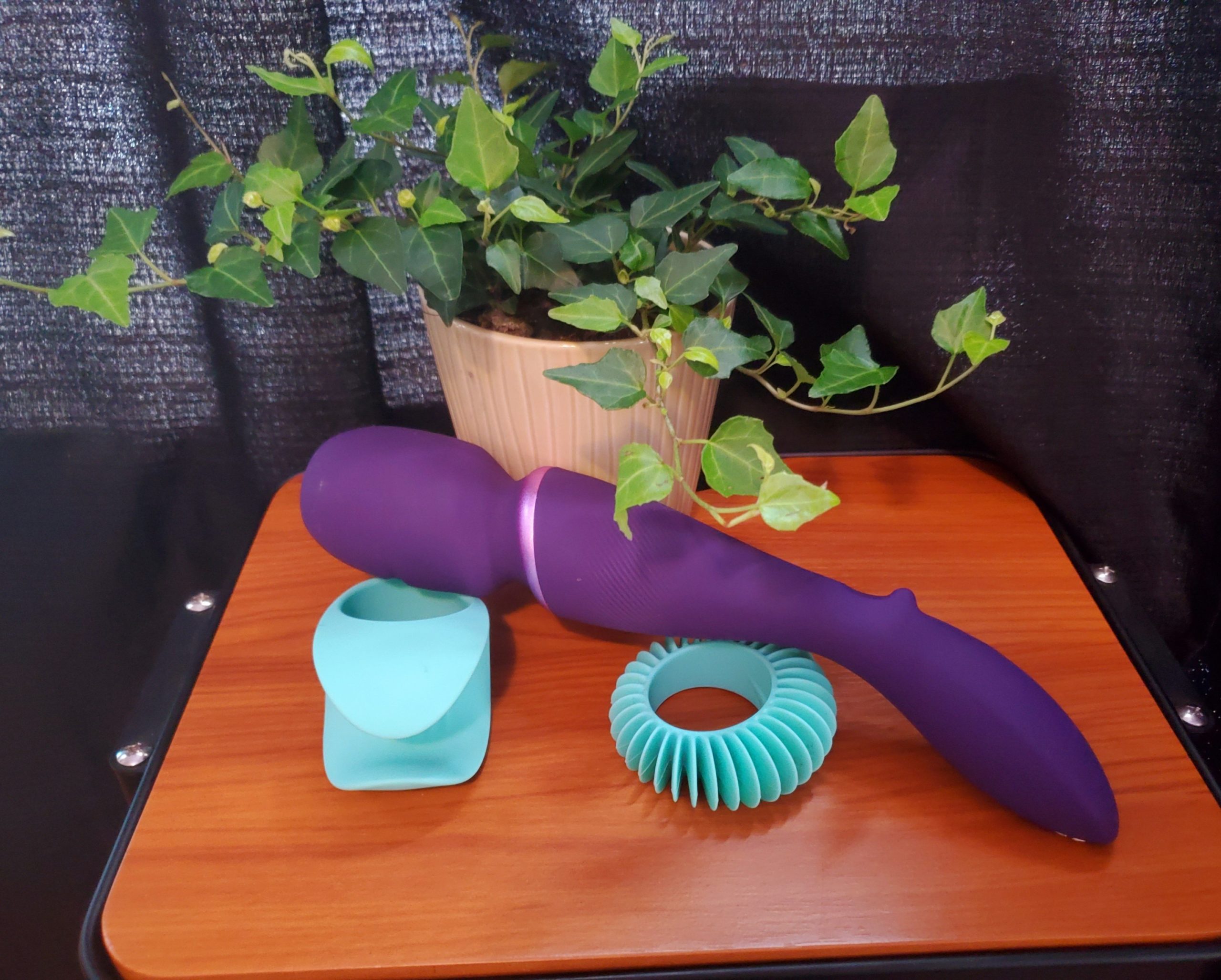 About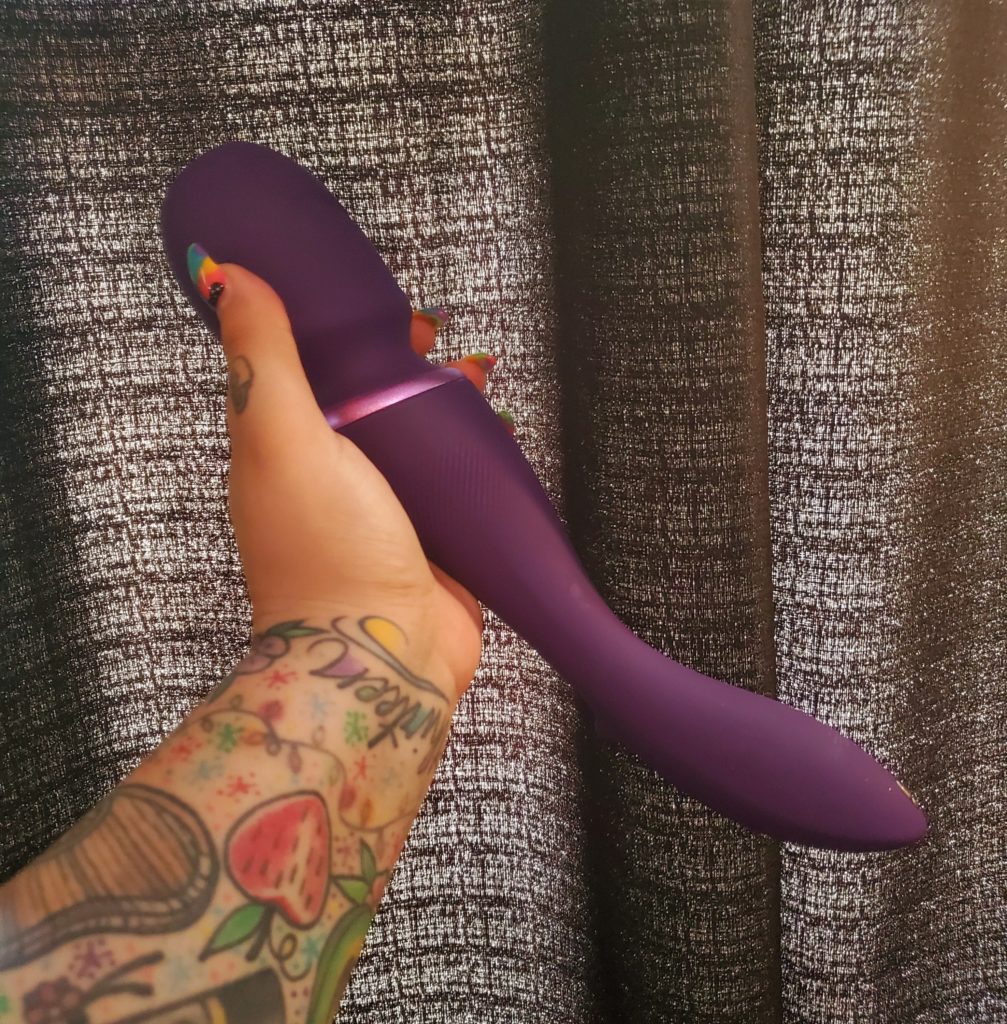 The We-Vibe Wand is the most advanced (and powerful) cordless massager ever — with playful attachments, responsive technologies and an ergonomic design that take it way beyond basics. Seamless intensity control can take you from 0 to 100 (and anywhere in between) with one touch. The one-touch control acts like a dimmer switch, keeping you in the moment without distraction. The Smart Silence feature senses when We-Vibe Wand is close to you — turning the vibrations on when you're ready to go and off as soon you're ready to stop, without you having to fumble with any buttons. Wand's ergonomic design, playful attachments and the We-Connect app make it the perfect fit for couples — or you can keep it all to yourself for an epic night in. Made with silky smooth silicone that's soft and gentle on your body, you can also use all standard wand attachments with this cutie. Wand is 100% waterproof, making it easy to enjoy anywhere and simple to clean. Convenient and eco-friendly, Wand is rechargeable with up to 120 minutes of play on a single charge. There's even a low power indicator so you know when your Wand needs a charge. It's always ready to go when you are!
Initial thoughts
I obviously love wands of all kinds. One of my first blog posts is the Ode to the Magic Wand. But what we have is one of my favorite toy companies taking a swing at my favorite type of sex toy. So to say I was excited to see the We-Vibe Wand is the understatement of all time.
I love having options for vibrators because even though I know myself and I know I prefer wand style vibrators in general, I know I like to have options. Most companies use different types of motors so the toys, even if they look similar tend to feel slightly different. Which is great because people have varied preferences, and this allows for us all to find a pleasure tool that is perfect for us. Now onto what was awesome and what wasn't!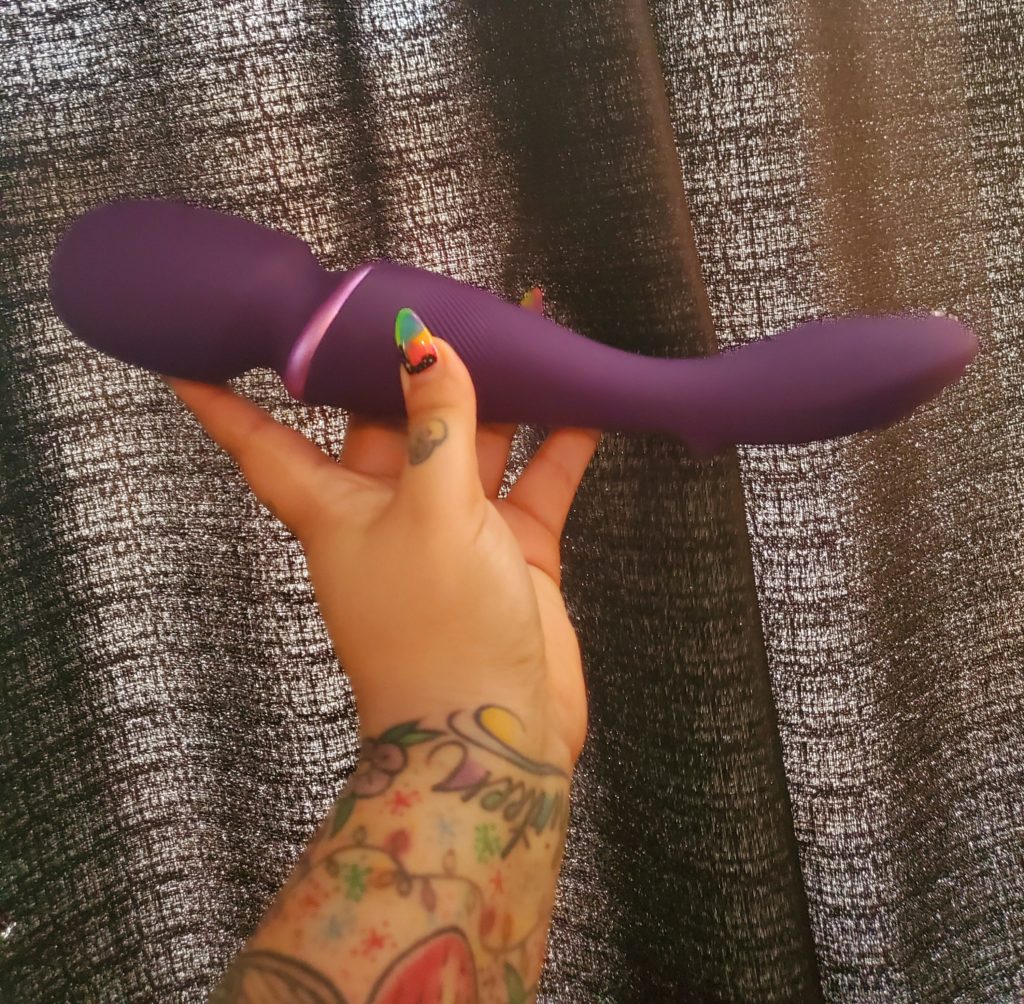 Pros
The We-Vibe Wand is cordless, waterproof, and rechargeable, three features that full-size wands rarely have. And it does these things without losing power, or quality. I wouldn't say it's as powerful as the Magic Wand, but that's not a bad thing. It has a nice strong rumbly motor that has a wider range of intensity then classic full size wands who typically start at a pretty high intensity. The silicone is soft and supple, with some extra squishy silicone around the head. The neck is flexible but still is firm enough where if you like firm pressure you'll be able to get there.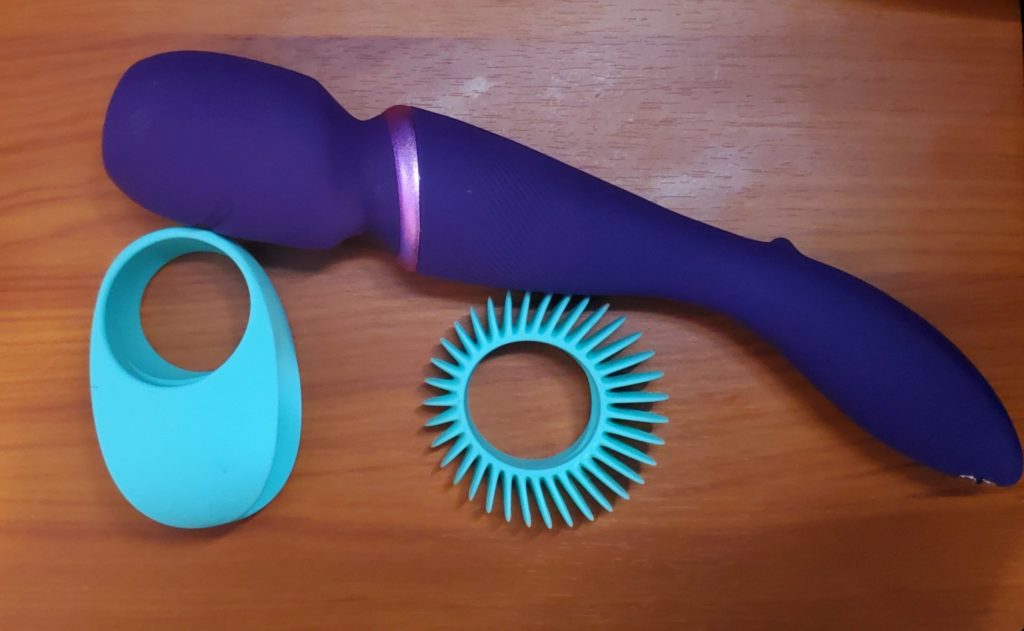 The smart silence senses when Wand is close to you — turning the vibrations on when you're ready to go and off as soon you're ready to stop, without you having to fumble with any buttons. I like to call it the oh shit option. Maybe your doorbell rings and you have to toss your vibrator to the side. This function was made for you. Just make sure you remember to turn your toy completely off when you're done, lest you be surprised when you pick it up and touch the head like I've done and scared myself because it's still on and just wasn't touching skin.
The curve of the wand is ergonomic and makes it easier to use between the bodies during penetrative sex. It nicely curves around bellies and soft bits to nestle into bodies the way a toy should. If you're someone who likes to incorporate rope, this shape lends itself nicely into body harnesses that tie a toy to a person.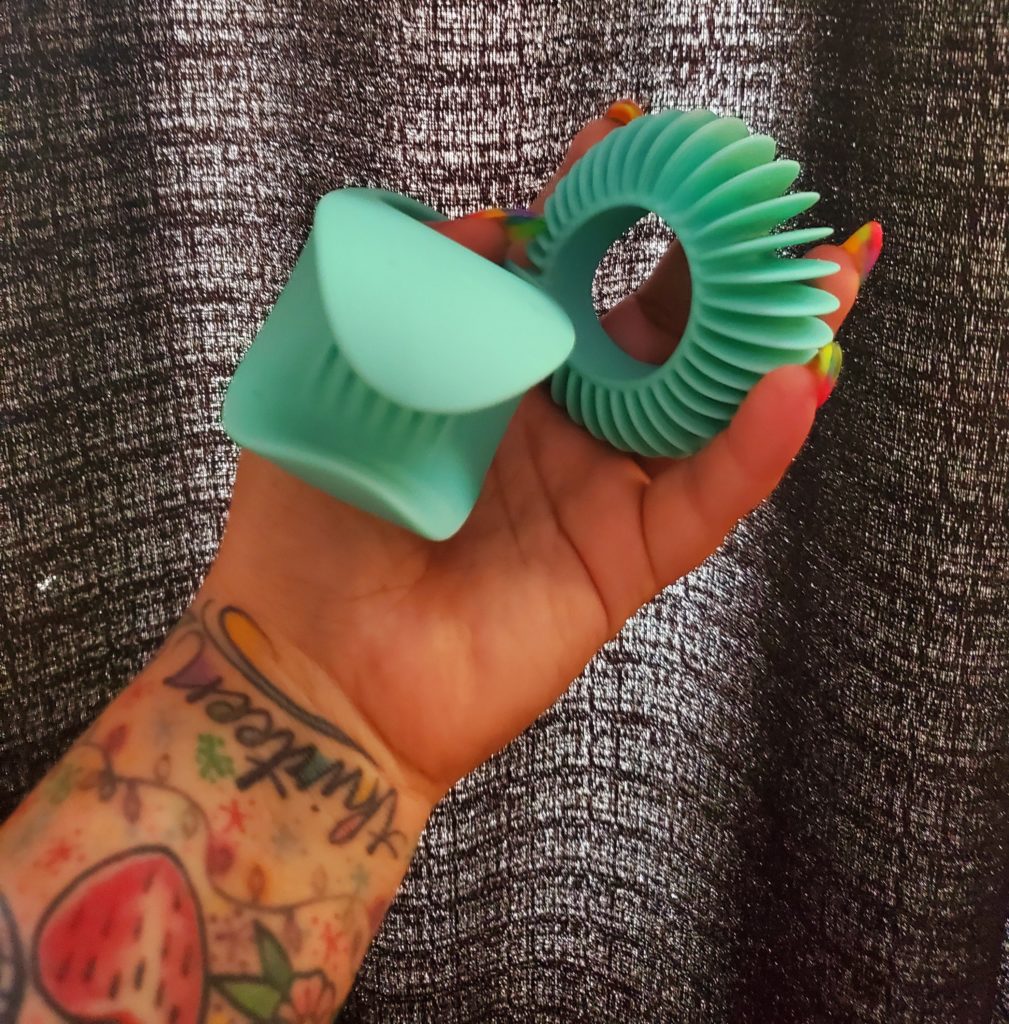 The versatility of this toy is why it has become of my favorites and reserved itself a space in my bedside table. I love wand style toys for all bodies because the wider head is good to use on many erogenous zones. Think nipples, under the head of a penis, a clit. Then We-Vibe takes it o the next level and includes 2 silicone wand head attachments. One that has a fluttery shape, and one that can be used on a shaft of a penis. And the head is a standard shape that fits other large style attachments if you wanted to be able to use this as an insertable toy. The fluttery attachment completely changes of the sensation of the wand and allows you to explore different sensations, and the stroker attachments makes it easier to stroke a penis rather then focus the vibration on the head.
Since we're still in the midst of a pandemic and looking for sexy ways to connect it's also cool that this toy has an app that you can give control of your toy to another person anywhere in the world.
Cons
The one thing I try to do every time I get a new toy is try to use it without reading the instructions. I worked in adult retail for over 8 years and let's just say that I know better then most that no one reads the instructions. I am also someone that can figure out controls pretty easily because I've handled a lot of sex toys, so I try to think if the buttons are intuitive or not to someone who doesn't touch every toy on the market. With that being said, the controls took me a little bit to figure out and I had to finally read the manual because I couldn't figure out how to turn off the smart silence feature.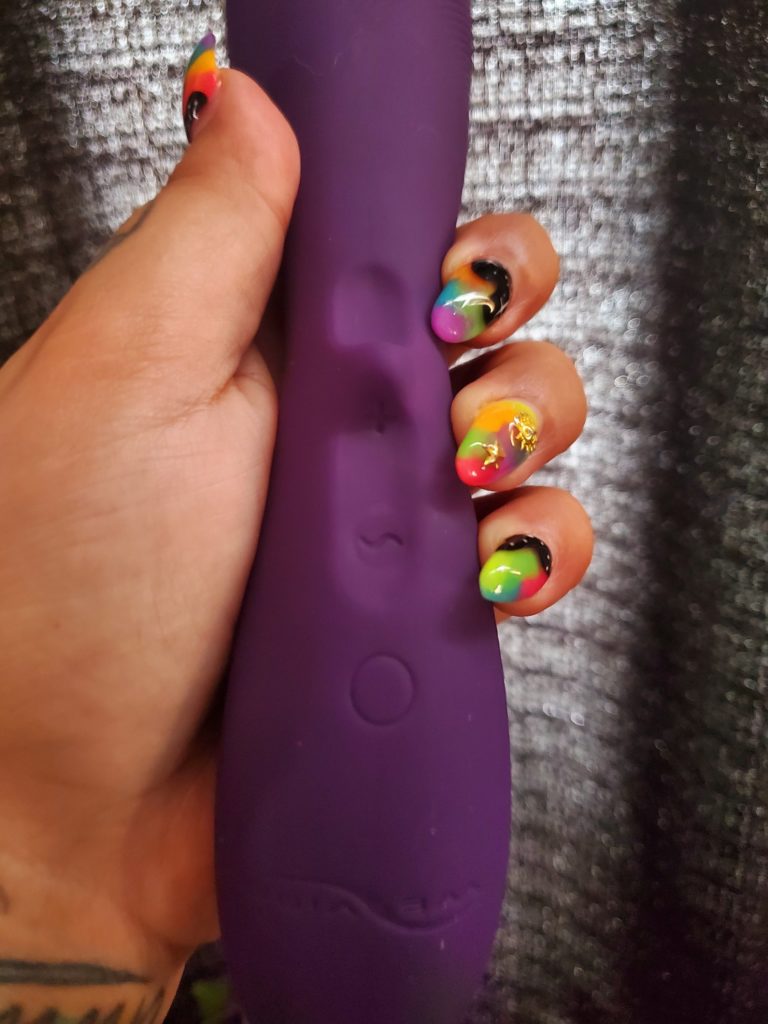 TL:DR How the buttons work
Power button is the circle at the bottom; press and hold for several seconds to turn on/off
Then push the "toggle switch" upward (toward the Wand's head), to increase intensity, or conversely push the same switch / "intensity control button" back down to lower the intensity.
Wand starts on the steady vibration function. Use the function-change button (~) to access 9 patterns too. Hold the (~) button to turn off smart silence feature.
I needed to turn off the smart silence feature because the fluttery attachment does not work if that feature is turned on. Because duh! As I figured out, it's not touching skin. Also like I was saying earlier, make sure you remember to turn it off cause if you just put it down it's still on! Just waiting for you to pick up where you left off if you know what I mean.
The color options leave something to be desired because it only comes in purple. This isn't a deterring factor for me, but if you are someone with a strong color preference then it could stop you. This wand does look sleek and modern to me so the color really is a non issue for me personally.
The only other thing I could think of to improve is We-Vibe including a glycerin free lube. Glycerin in the body can cause yeast infections and irritation, I avoid it and stick to Sliquid lube.
Final Thoughts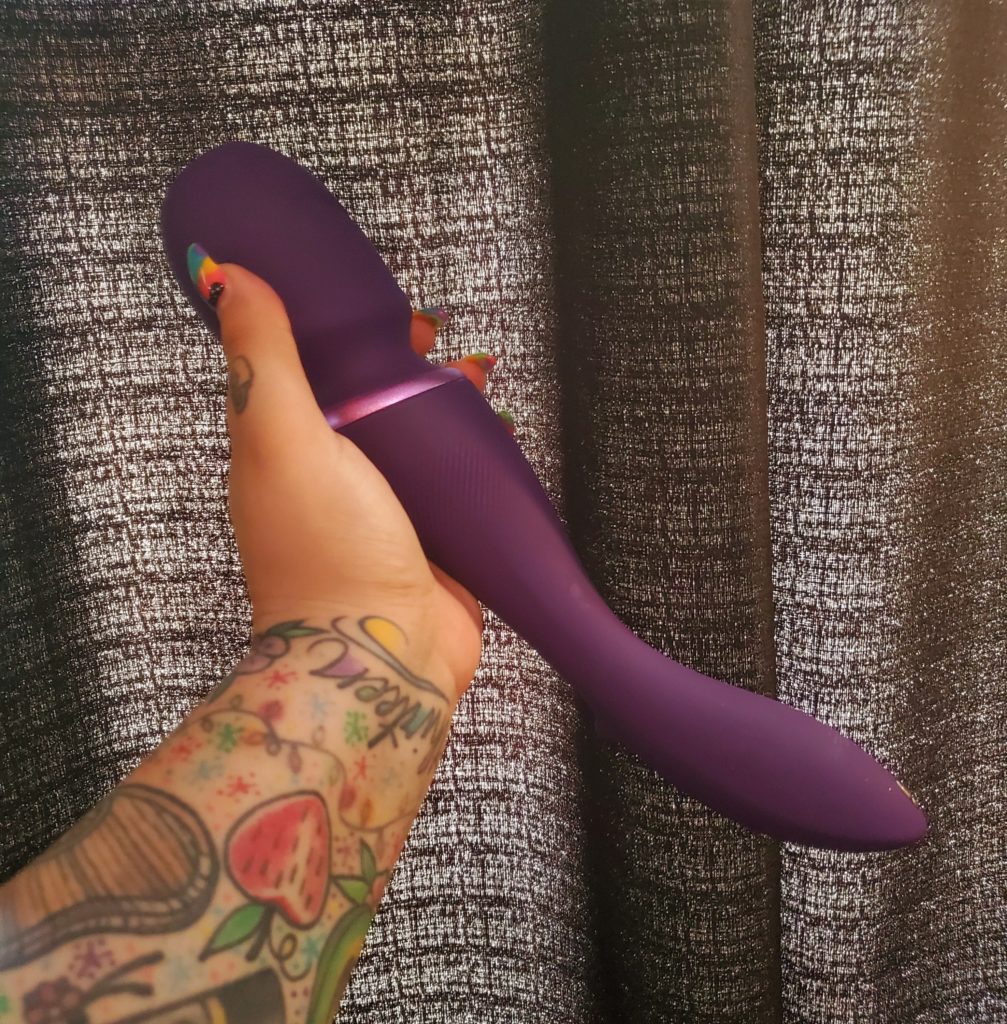 If you're considering investing in a versatile wand style toy I think the We-Vibe Wand is worth the investment. The app option, and attachments alone are great accouterments– then take into consideration the fact that the Wand is silicone, waterproof, rechargeable. You can't beat it.
Get your own We-Vibe Wand. Use code
All thoughts and opinions are my own. Some of the links are affiliate links, if you buy something you won't pay a penny more but I'll get a small commission. Thanks!