About
Soft and sensationally shaped, the Sensi Silicone 5 Inch Dildo By Uberrime is a unique combo: a vaginal plug that works as a G-Spot dildo! This hand-crafted toy features a pronounced ridge and strong curve for G-Spot stimulation. In a delightfully squeezable silicone, Sensi takes clenching and Kegel exercises up a level.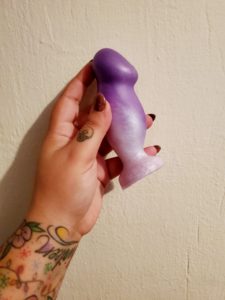 Made from certified skin-safe platinum silicone, Sensi's form is meant to be held and squeezed and features a satin finish for a luxurious feel. Based on tester feedback, Sensi has a smaller base – designed for comfortable long-term wear between the labia. As such, it's not safe for anal play, as the soft silicone base will fold with your body. Some users will be able to keep Sensi in place vaginally while standing and walking, especially while wearing tighter-fitting, more supportive clothing.
Head and Mid-Shaft: 1.6 Inches Diameter
Insertable Length: 4.5 Inches
Total Length: 5 Inches
Density: Soft & Squishy, Shore 00-50
Base: Small and Flexible for Comfortable Vaginal Wear; Minimally Flared
This item is not considered safe for anal use.
Material: Smooth On Platinum Silicone, Skin-Safe & Phthalate-Free
Get it in purple reign, green between, or blue by you
Initial Thoughts
I've reviewed and purchased a bunch of Uberrime toys and have enjoyed them so far. The designs are unique, and varied so there is literally something for everyone. From smaller toys to much larger and fantasy to representational. I've enjoyed the softer density toys which have let me size up in toys, which for me is a major plus.
Pros
There is just not a lot of toys made to just sit in the vagina as a plug. There are tons of anal plugs, but the shape for front hole use and back hole use should ideally be different. Which is where the Sensi plug comes in. Keep in mind if you are using an anal plug in your vagina, make sure you never go back to front without cleaning you toys.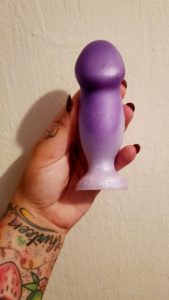 Plugs designed for the vagina need less of a pointed tip because it is typically easier to get things into the vagina rather then a butt that needs more warm up. Even though I think all toys should have a slight curve because whatever hole your using the toy in, could potentially give pressure to the prostate or G spot, and the Sensi in particular has a great pronounced head which snuggles nicely into the G spot.
The Sensi has a nice short base which makes it ideal as a vaginal plug because it leaves the butt and clit free for other stimulation. This makes it unsafe for anal use. I typically prefer toys that can be used in a variety of ways but this toy can have a pass.
This toy is shorter so it's a pro and a con. It's a positive aspect because if you're using it for double penetration then you still have space left for other things to fill you. I also have a very sensitive cervix from past surgeries and it's nice to have a squishy toy to clench around that isn't touching my cervix at all.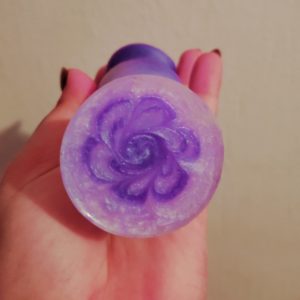 Get it in purple reign, green between, or blue by you
Cons
This toy is great for vaginas, but terrible for butts. The softness and lack of pointed tip would mean it would be really difficult to insert it into a butt, and the smaller base of the Sensi would mean it is not anal safe because anything going into a butt needs to have a pronounced base so it doesn't get lost and send you to the hospital.
On the other hand, because this toy is shorter it doesn't quite give a feeling of fullness like I would expect from a plug. But that's completely objective and will depend on the person who is using it. I was turned on before inserting it so my vagina was longer then it's in resting state.
The base was fine to keep the plug from going all the way inside of me but with my nails and the lube I was using it was kind of hard to get the plug out of me. I would say personally a slightly longer base would be more comfortable.
Final Thoughts
So why would someone want a vaginal plug? The Sensi would be great for any of these things.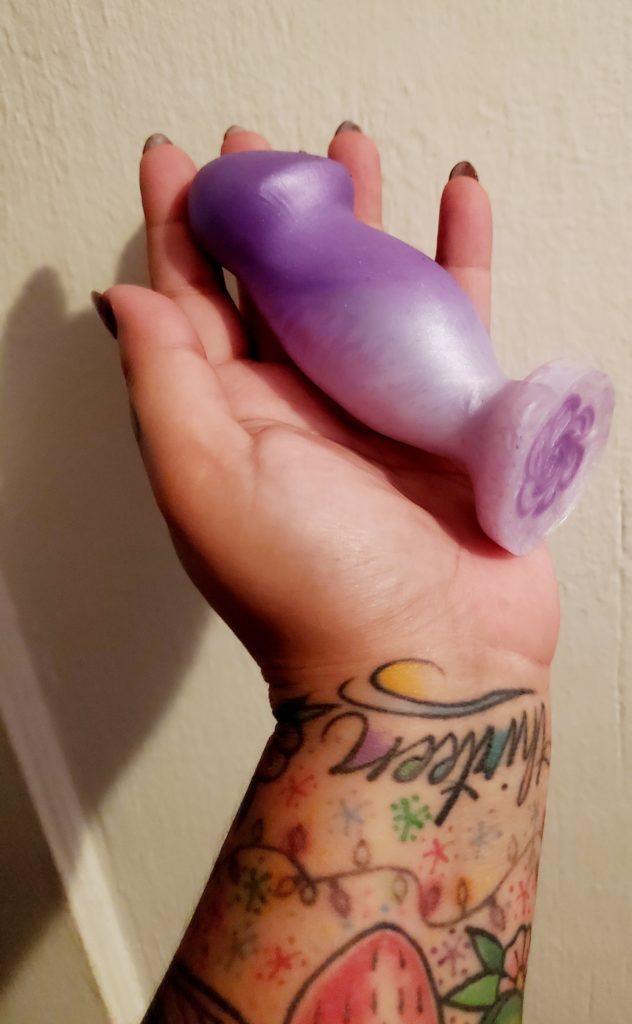 For the feeling of fullness during clit play or oral sex: because it's soft you can comfortably clench around it.
For double penetration! The Sensi worn vaginally during anal gives comfortable space for backdoor stuff.
Making kegels more interesting by giving you something to clench around
Public play. This can be worn around during errands or date night and no one would know but you
Get it in purple reign, green between, or blue by you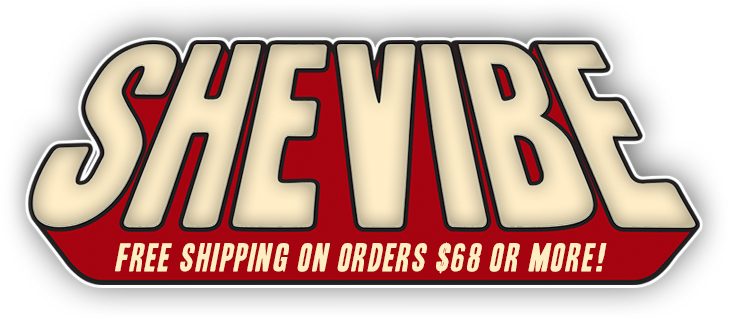 This toy was given to me by SheVibe for an honest review. All thoughts and opinions are my own. The links are affiliate links, if you buy something you won't pay a penny more but I'll get a small commission. Thanks!