I try a lot of vibrators. It's no secret. So when I saw the Snail Vibe and how unique of a vibe it was I knew I had to try it. Dual stimulators are notoriously tricky, for me personally and for many people. If your anatomy doesn't line up exactly how the toy manufacturers expect your genitals to configure your pleasure is often left out of the equation. Often left to perverts like me, who enjoy coming up with creative solutions to normal variations within bodies and varying desires for different sensations. I often suggest finding an internal toy like a Thumper or a stronic and pairing it with your favorite external vibe. Then you can control exactly how things line up and you don't have to worry about if the external arm on a rabbit vibe will reach your clit, or if the internal part is too long or short. You can completely customize it.
Snail Vibe is simply a unique vibe. One look at it and most folks scratch their head and wonder where the heck it goes, so obviously, I knew I wanted to fuck it. Those are my favorite types of toys after all. This is not a self-thrusting toy. You are manually controlling the stimulation yourself, which is why I was so intrigued.
Constant contact and strength
The Snail Vibe, on the other hand, says it delivers constant external contact and actually did. For me at least. I'm never going to be so bold as to say that this will work for everyone's individual anatomy since I know better. But with that being said, as someone who has a pretty wide set genital configuration where most traditional dual stimulators don't work for me. Not even the very popular We-Vibe Nova, which was better than most, but still not something I reach for. The Snail Vibe not only reached my clit, but because of the broad shape of the vibe actually felt pretty good. The vibrations in the external motor ball stretch about 2″ tall, so this should accommodate way more folks with wider set genitals. This is particularly refreshing since most dual stimulators assume every user has a tiny distance between their clit and vaginal entrance when that's not always the case!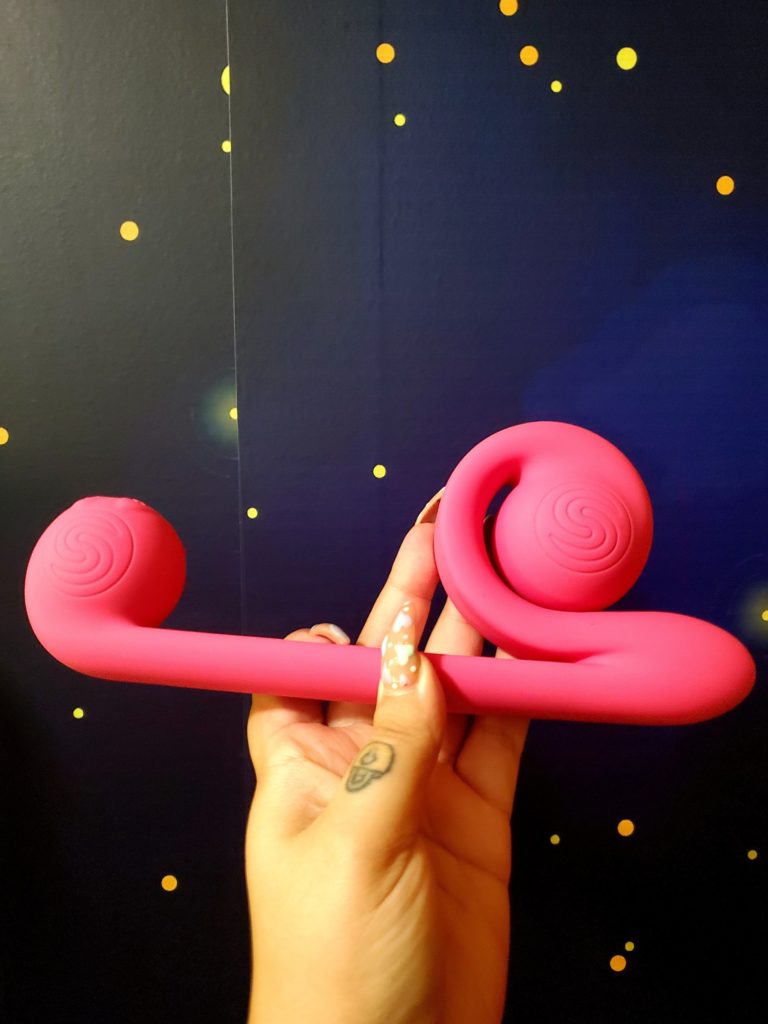 The motor is strong and pretty rumbly. I would even compare the strength to a wand vibe! Each motor has 5 steady intensities, then a few vibration patterns. According to Snail Vibe, "5 Speeds, 5 Modes, 600+ Combinations." What that breaks down to is that each motor has 5 vibration functions (1 steady + 4 patterns), and each of the 5 functions has 5 intensity levels, so you can make each one stronger or weaker. That means 25 possible combinations per motor. The best part is that the motors are independently controlled. So if you're like me and don't really love internal vibration, you never even have to turn that motor on. I tested it out, just to make sure I still don't like it, and yup! Can confirm, I still enjoy penetration, with external vibration only. Which the Snail Vibe can easily provide.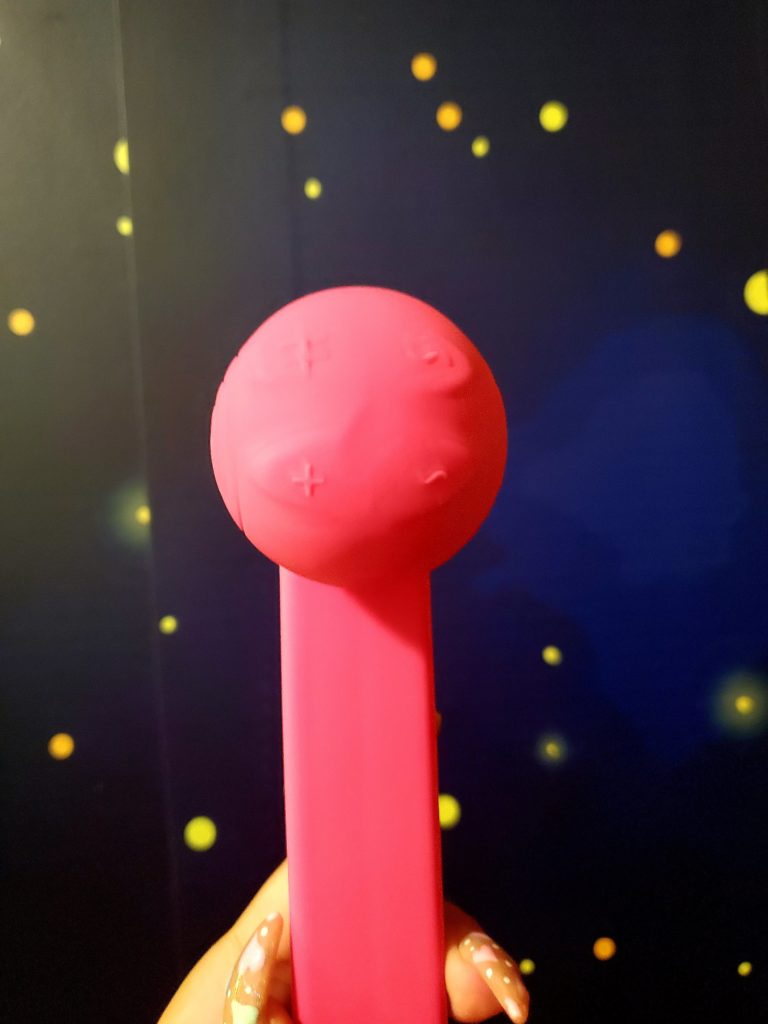 Griding against the outside motor works really well too if you're someone that enjoys that sensation. The shape of the ball is ideal to roll around on your lubed-up genitals. No matter if it's inserted or not. In fact, I found that it was a great way to warm up before even thinking about inserting the toy. You can even lay it on a pillow and grind against it. Curious about seeing me use it? find more here.
Quiet!
For as powerful as this toy is, and for as much movement as this toy necessitates this toy is truly whisper-quiet. The only noises you should be concerned about are the sounds of passion coming from your play space! Since this toy is 100% silicone there isn't any noisy piece rattling around and even with the motor on full power, it is surprisingly quiet.
It even comes with a convenient matching zippered case. I appreciate an actual storage box versus a bag, especially when a toy is this size. It's also helpful if you plan on traveling with it, or just enjoy storage options outside of having to figure it out yourself.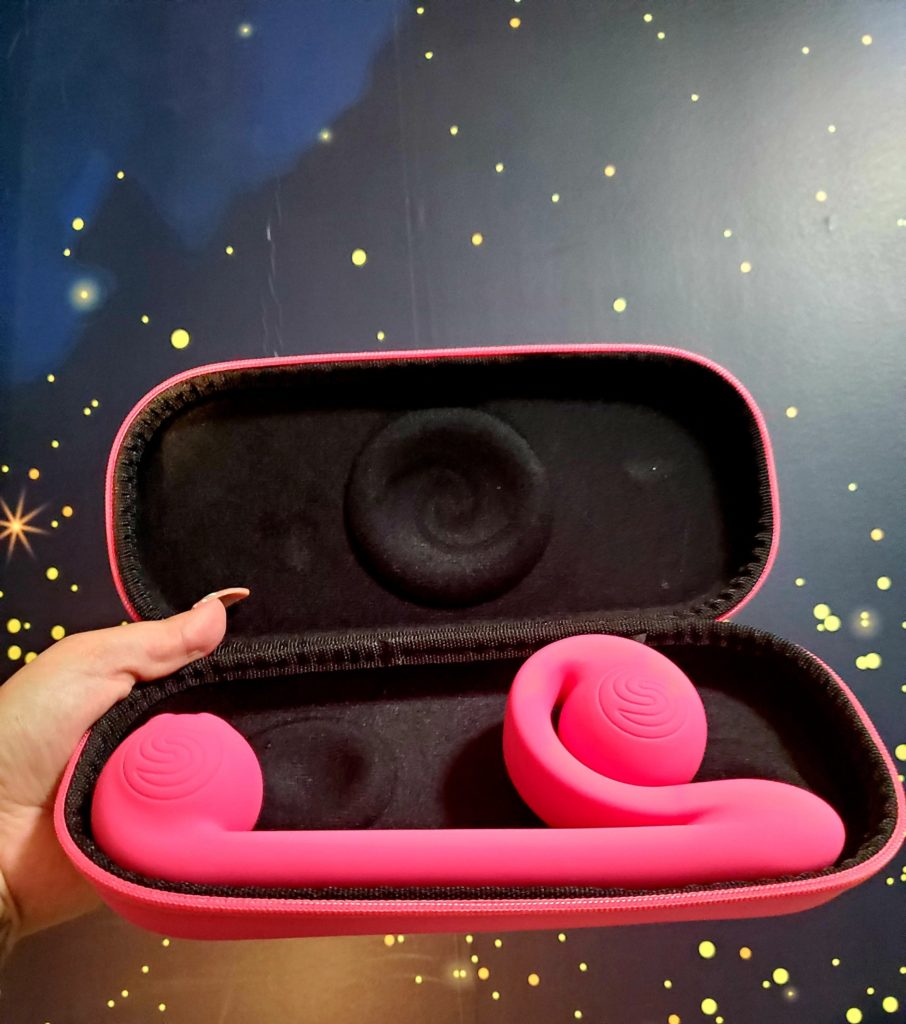 Some improvements?
The first option isn't necessarily an improvement but would be nice to have some size options. I know if I'm wanting a larger girthier option, then likely there's someone out there who would prefer a thinner option. And that all comes down to personal preference. The size is alright, I would love it if it were thicker, but I would probably say that about most toys.
Now onto some actual anatomical improvements. Most folks with any varying anatomy will prefer a more curved insertable. I'm not an engineer by any stretch of the imagination and can feasibly understand that making something that's curved and has to slide back and forth would understandably be harder but the very firm, very straight, the insertable portion of the snail vibe leaves something to be desired. You can absolutely tilt it yourself, but that will only accomplish so much. So either adding some more squish or adding some curve to the insertable part I think would take this toy to the next level of pleasure.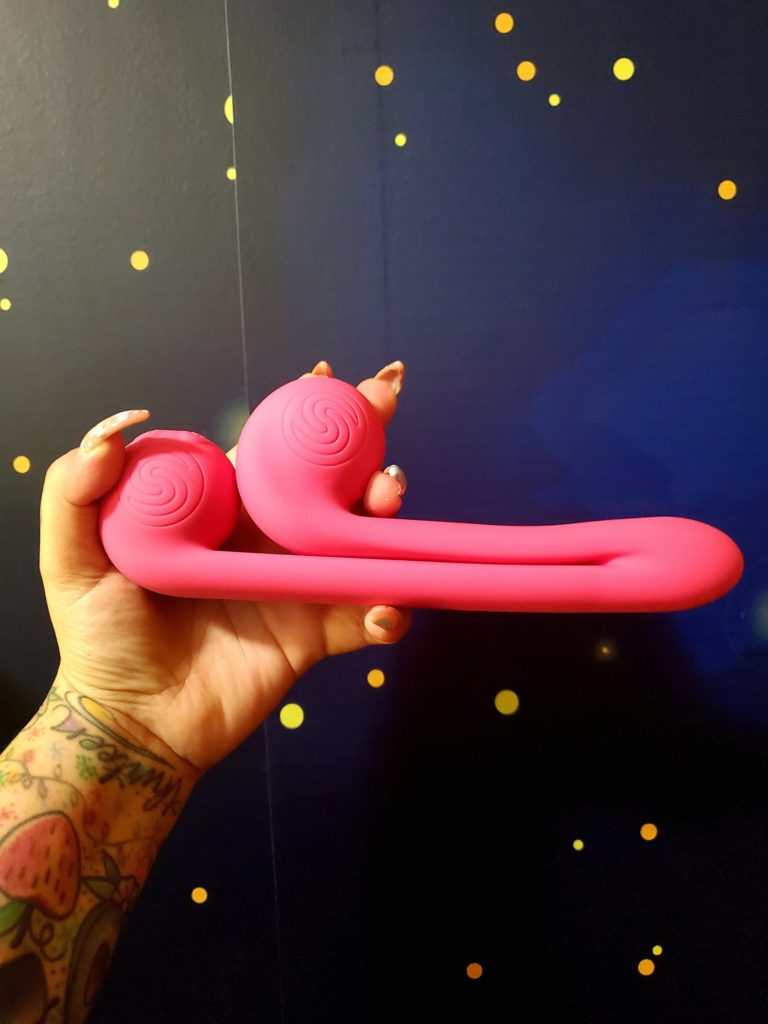 While holding it for me over time got difficult because of the strength of the motor. You're essentially holding the internal motor in your hand while you're thrusting. One is the external motor ball while the other vibrates the insertable shaft. Holding it made my hand go numb over time. While the ball got harder and harder to grip over time. If you're someone with hand, wrist or arm pain this might be difficult for you. Which honestly just makes it a better couples toy when all else fails. Make your partner hold it and thrust it!
Lube and Cleaning
You're not going to want to forget the lubricant with this one. The silicone sliding against itself without lube in your hands should give you enough of an idea of what that could feel like in your genitals. So do yourself a favor and make sure you're using lube.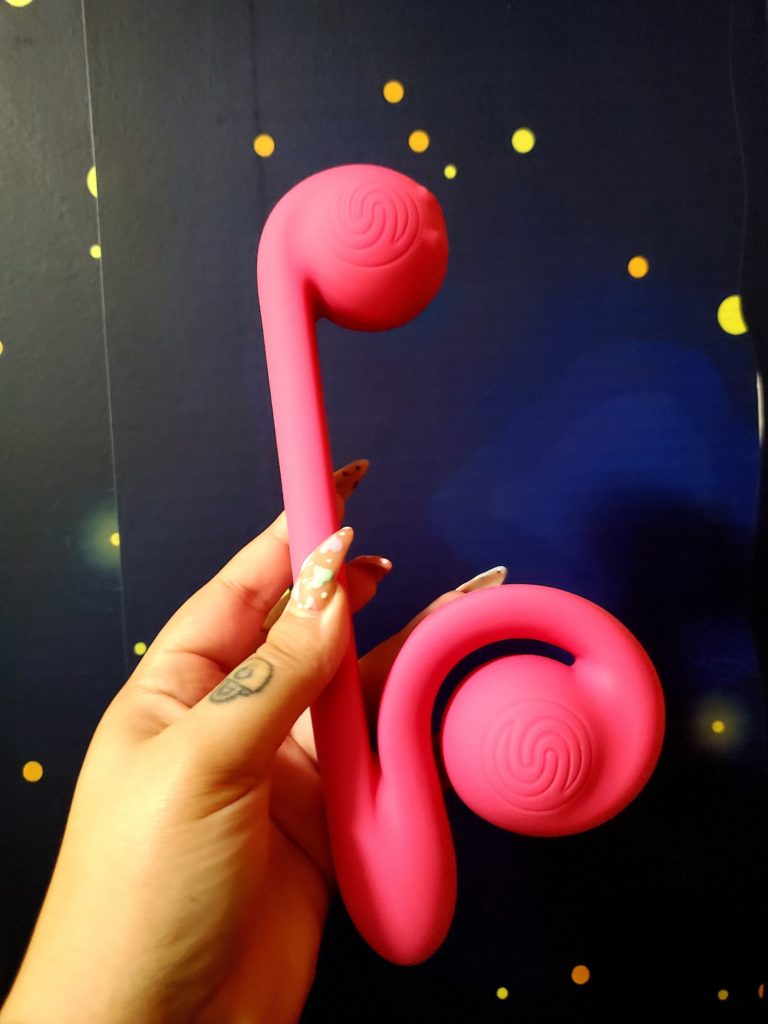 Now cleaning. That's the least fun part of using toys, the clean-up. Especially since lube and body fluids are going to need to be cleaned out from in between the split of the insertable shaft. Fluids just love to live in there and you're going to have to bite the bullet and make sure you clean it out when you're done using this toy. You basically have to peel it back to get it fully clean, so just be aware!
Final Thoughts
If you enjoy strong broad vibration and some thrusting then the Snail Vibe might be a winner for you. It's quiet, waterproof, and comes with its own carrying case. I enjoyed it, and can't wait to see if they come out with the next version of this unique vibe. Get your own Snail Vibe at Spectrum Boutique and save with code Makeupandsin.