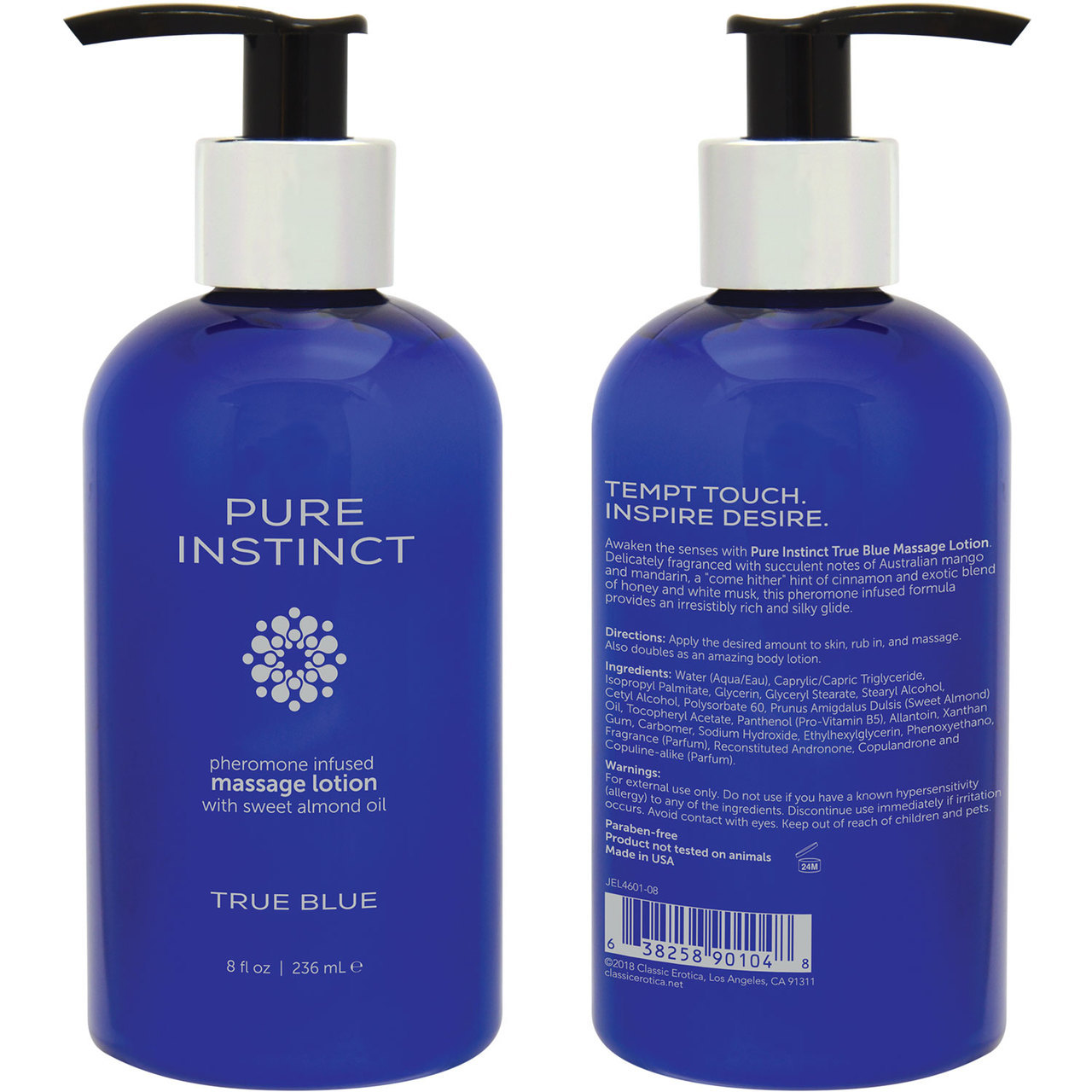 About: Enhance Romance. Inspire Desire. Seduce the senses with Pure Instinct True Blue - Pheromone Massage and Body Lotion.
The succulent notes of Australian mango and mandarin, a come hither hint of cinnamon and exotic blend of honey and white musk are formulated to inspire desire.
Blends with skin pH to create a one-of-a-kind scent.

Enhances your natural pheromone production.

Increases sex appeal.

Paraben Free, Gluten Free, Glycerin Free

Product not tested on animals
Directions: Apply the desired amount to skin, rub in, and massage. Also doubles as an amazing body lotion.
Initial Thoughts: I love pheromone products, and I've used their oil before.
I also love massage products and I try to include them in my self care practice. So anything that combines pheromones and massage is the thing I'm looking for. Read more about pheromone products here. I was slightly concerned about the mandarin in the scent because I find those tones to be overpowering, like with the Sutil massage oil. I'm hoping the earthy tones balance it out and the pheromones do their stuff.
Pros: I have found my new favorite massage lotion.
I usually use oils because the massage lotions either leave me feeling slimy and greasy or even drier then when I started. This is not the case with the Pure Instinct Massage Lotion. It has an amazing consistency that isn't runny or greasy, with a easy to grip bottle and no mess pump top.
The smell is like an upgrade to the sweet smelling sprays and lotions of the 90's you would buy at bath and body works. It's sweet, but not cloyingly sweet. The amazing part of the pheromone component is that when I put it on me, or put it on my partner it smells different.
The Pure Instinct Massage lotion truly does enhance your natural scent and make you say "DAMN" to yourself or the person your giving a rub down.
As I write this I'm still rubbing my hands together waiting for that greasy after feeling to kick in and it's still no where to be found.
The scent is there, but not over powering (to me). When you're finished rubbing it into the skin you are left with the appropriate hint of scent, like a light misting of a subtle perfume. The scent is somewhere between earthly and sweet that hits those notes on the head without being too much on the senses.
The cinnamon in the Pure Instinct massage lotion gave it a subtle warming effect that was nice and made the massage even more relaxing then I could have anticipated.
Cons: Make sure you don't use this on your genitals.
Some oils you can get away with rubbing some on your bits without an issue. This massage lotion has cinnamon, and other things that might not agree with your junk especially if you're sensitive.
Also if you have scent sensitivities, the scent is strong enough that it will probably bother you. Another thing to consider, even though the pump was great for me, if you have hand mobility issues, the pump might be hard to pump. But it shouldn't be too hard to transfer it to an easier bottle if you wanted.
The only real complaint my partner had was that they didn't get a longer massage
¯\_(ツ)_/¯
Sweet and earthly, somewhere between masculine and feminine, this might be my go to scent and I might need to buy candles and other things from this line to expand on from the roll on and lotion I already own. I will absolutely be including this in my self care routine from here on out.
Want some massage tips about how to use this to create the perfect massage for your partner click here!
I was given this product by SheVibe for an honest review. All thoughts and opinions are my own.