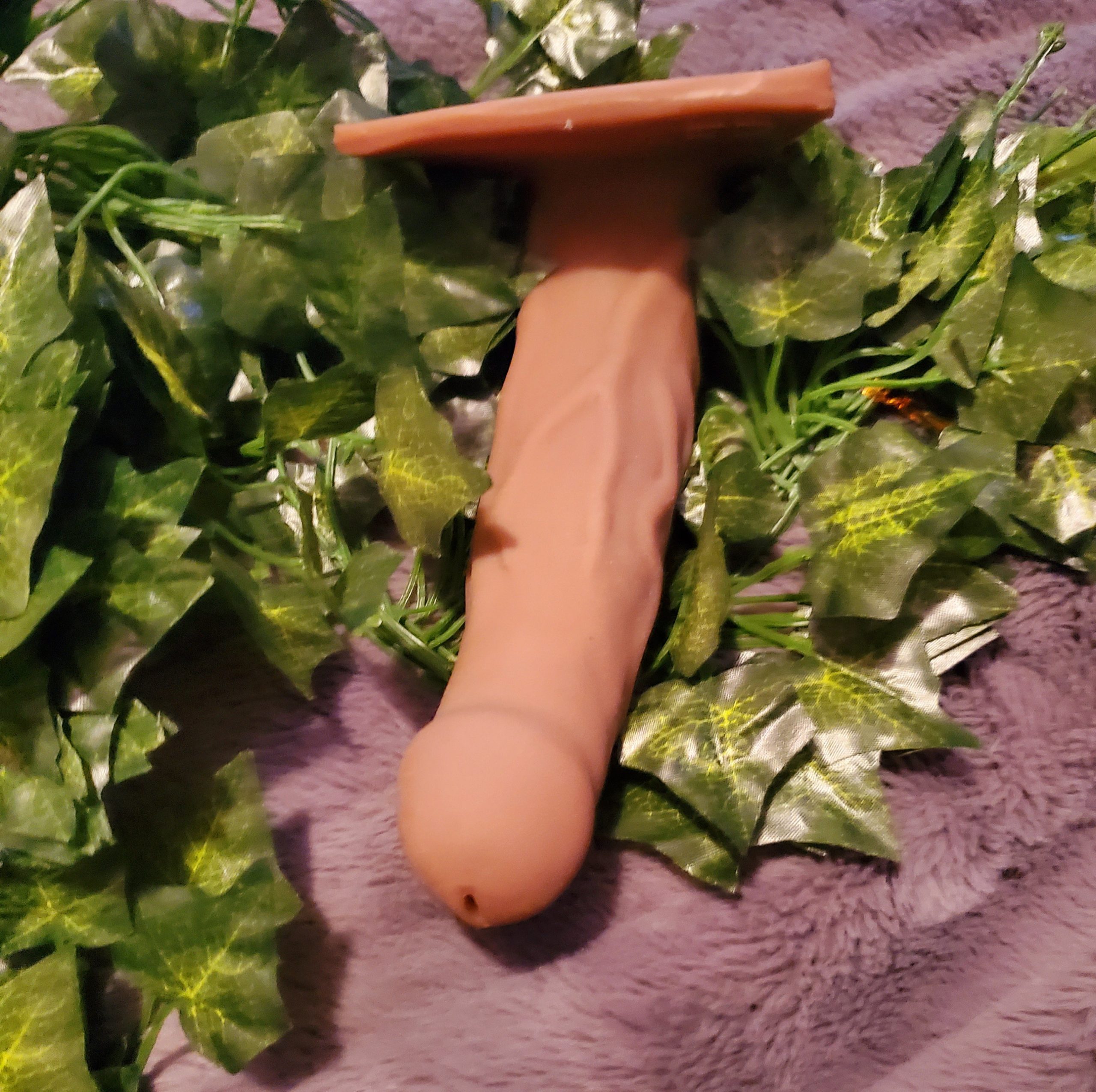 Sex Tips
Number One Laboratory BJ Dildo Review
About
The Number One Laboratory BJ Dildo features a funnel-shaped hollow core which opens up to a suction cup base. With an open hole at the end, the sucking and tugging performed on this dil can stimulate all the right spots on the wearer! With it's roomy base, this toy is also perfect for trans guys who want a bit of extra room. It's even hollow enough to be worn as a pack and play toy if you please (it'll be a big bulge, but you can flip it upside down for easier packing.) So go ahead and give ALL the blow jobs — this harness-compatible toy is the only product we carry that's designed to suck!
Length: 7.5″
Diameter: 1.75″ (at widest point)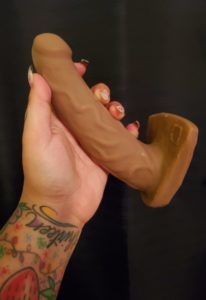 Initial Thoughts
Part of my Femme Daddy kinks are strapping up and using different toys. So the idea of a dildo you can suck my actual genitals through seemed like an amazing idea. I'm skeptical going into it about how it'll actually feel in practice, but excited none the less about trying it. Want to read more about my thought about wearing dildos and the power it gives me as a Femme Daddy read more here. I want the Number One Laboratory BJ Dildo to be the dildo of my dreams! Get it in circumsized and uncircumsized!
Pros
It is a really fun toy to play around with gender. As a cis queer woman who does identify as a Femme Daddy, playing with gender for me is something that is not only a turn on but something that genuinely brings me joy. The Number One Laboratory BJ Dildo comes in a range of skin colors, as well as non representation fantasy colors. So no matter what motive brought you to play with this toy you'll be able to find a color that feel good for you.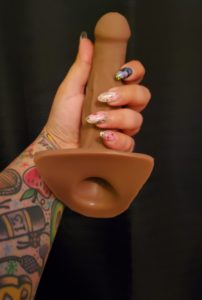 BJs are more then just putting something in your mouth and sucking. Which let me tell you, this dildo does suck, in a great way. A BJ isn't simply about recreating a certain sensation. There are tons of toys that can create really amazing suction for folks who have a clit. But Bjs are also about creating an ease in the body, a certain level of immersion, and fantasy. Having a real life tool just helps add to the visual act and psychological emotions of receiving a BJ. The visual aspect of it, it worth it by itself to be honest.
Get it in circumsized and uncircumsized from Spectrum Boutique.
The Number One Laboratory BJ Dildo size is a good medium, Goldilocks dildo. Not too big, not too small. And the curve and pronounced ridge on the head make it a great toy for G/P spot stimulation. The base is wide, so it fits nicely over my vulva and part of my pubic mound. So finding a position to get the hollow part in place before my partner sucked on it was easy. Adding lube helped the friction of the silicone and the suction on my actual bits.
Cons
Admitably I loved the visual aspect, and the suction itself was nice, but I think my actual anatomy got in the way. The hollow part of the Number One Laboratory BJ Dildo is nice and wide, which I would think would make it fit a wider range of bodies. While I have a plump labia, my clit is not very big. If I had a larger clit, then maybe the sensations would have been enough to get me off. Or if the hollow part was smaller and more focused on the clit, with softer silicone around it, it might have felt more like a stroker for my clit with suction, then more of feeling of using a vulva pump on my genitals.
It pairs best with an underwear style harness so the harness itself takes some of the work out of pressing it into your pubic mound to create a seal to allow the suction to happy. See some harness options from Spare Parts at Spectrum Boutique here. Particularly the spare parts harness fit low rise, it was pretty easy to position it in the harness where I needed the base to lay for the suction to work.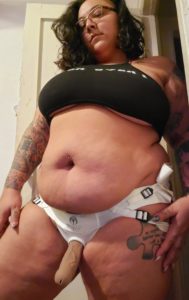 Because the positioning of the toy is basically in erection position, I don't see how it would be a discreet pack and play unless you plan on folding it which I don't love the idea of. Also, if you are someone with a smaller pubic mound then the wide flat base might not be comfortable to wear around for any extended time.
Final Thoughts
If you're looking to add a toy to play around with gender, or just to get your dick sucked this toy is a great product. There are so many kink scenes to plan, I'm vibrating with excitement. And that's even without getting to orgasm with it. Sometimes, the experience itself is rewarding and orgasms don't have to be the goal. I know this toy has given other people orgasms, and that's wonderful too. I love it for the mental aspects it gives me, and the visual tool that adds to my fantasy. I've even wrote tips for BJs on aftermarket cocks, such as this one. Read more here. I think more people should play around with everything possible and see what turns you on. When I was a baby queer, I never thought this would be an option. But here we are, living our best lives!!
Get it in circumsized and uncircumsized from Spectrum Boutique
This toy was given to me by Spectrum Boutique for an honest review. All thoughts and opinions are my own. The links are affiliate links, if you buy something you won't pay a penny more but I'll get a small commission. Thanks!
Get it in circumsized and uncircumsized from Spectrum Boutique