From Crash Pad about the episode
" Unkle Daddy needs someone handy to get handsy with, and ACAB's an eager helper. After some fun with a flogger, candle wax, and clothes pins, Unkle discovers ACAB's secret project… a cordless, DIY fucking machine! Well, it's a sawzall with a dildo attached, but you have to admire the ingenuity! Now ACAB's at the business end of a couple thousand strokes per minute, guided by Unkle's itchy trigger finger. Now we're playing with power!" 
What's not to love about a performer who chooses the name ACAB? Also anyone who is a leather daddy that is invested in smashing the patriarchy, I am going to be swooning.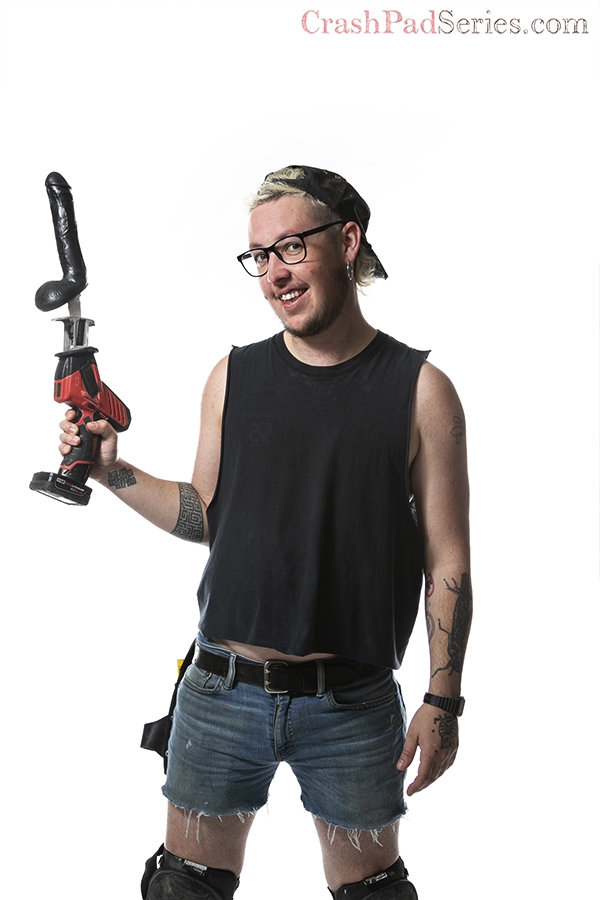 And if you know anything about the folks I'm into, you know that Unkle Daddy is a total dreamboat to me. I have always been into bikers, and seeing someone say their turn on is sex on a motorcycle, I am here for it. He truly seems like the perfect person to be able to DIY a sex machine.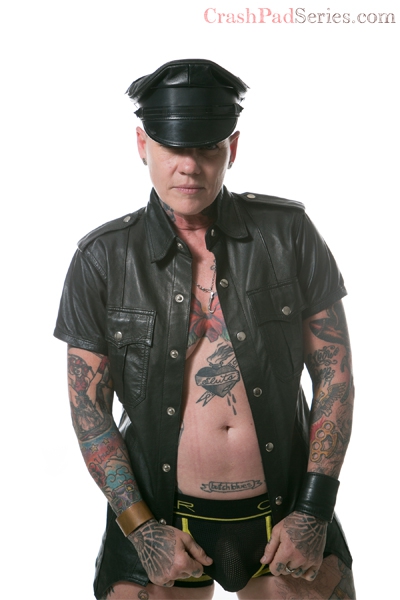 I really appreciate the Queer twist on the classic porn trope of fucking the handy person. And I hope one day I'll get to live out this fantasy!
I love seeing creative uses of pervertables. Normal things you have around your house that can be used in kinky ways, like clothes pins! And using a bag as a connection to be able to pull them off in succession is brilliant.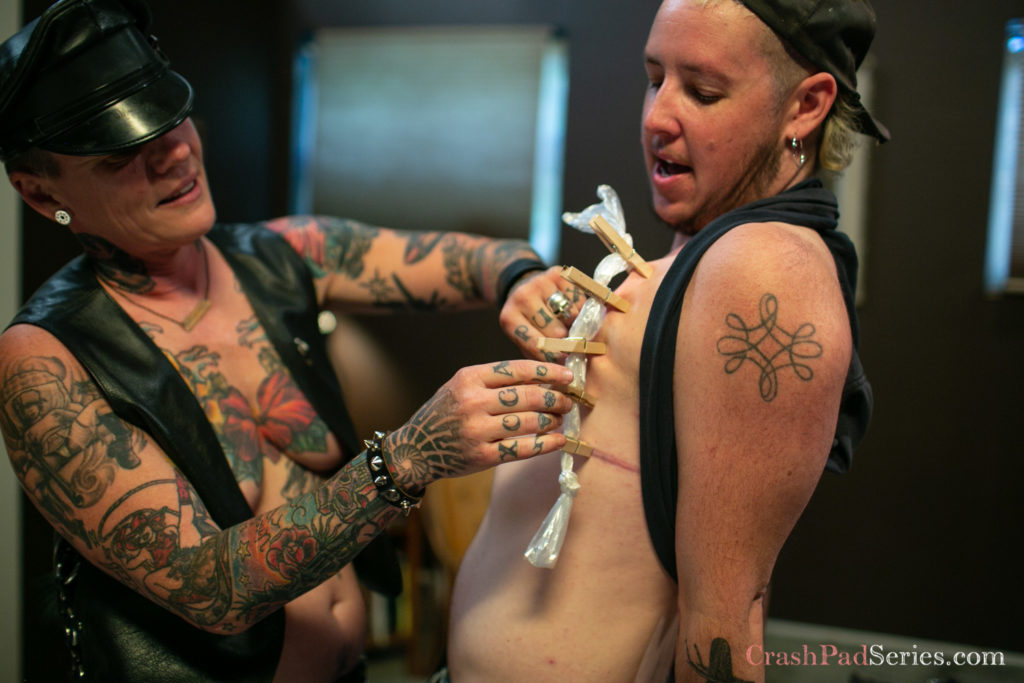 It's true with any type of clamp, the longer it's on the more it hurts to come off, so a good way to play around is to start slow and not leave them on for too long.
Unkle Daddy has great aim with the flogger their using. Usually in smaller spaces I recommend folks to use a shorter one to not knock stuff over, but if you have good aim, then go for it!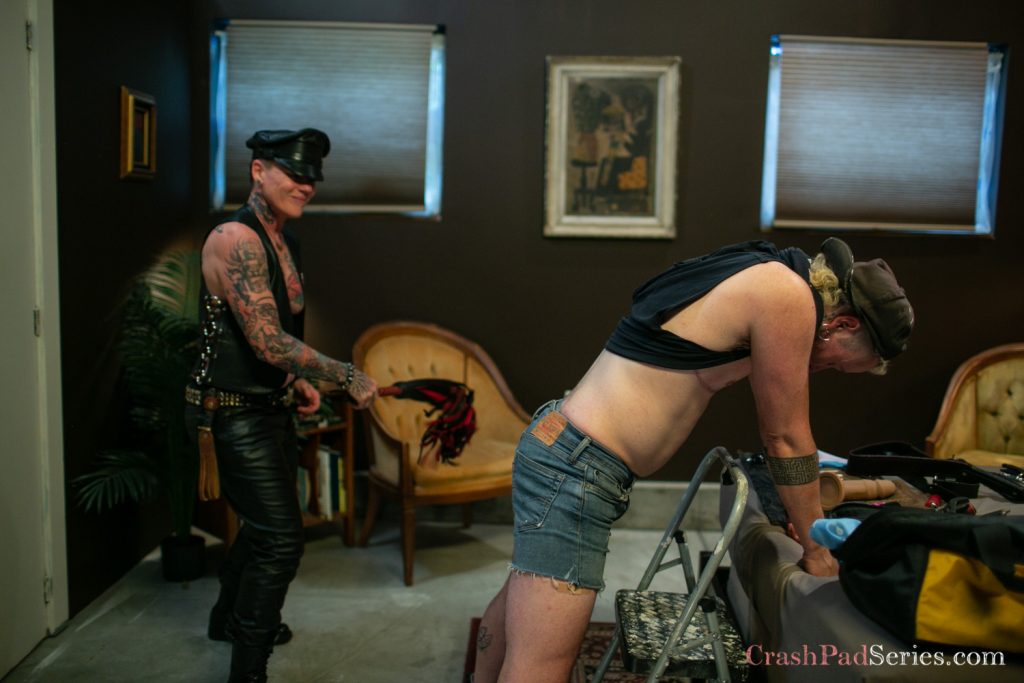 Being ready with an underwear style harness and pack and play means getting to the fun stuff as quickly as possible. ACAB is ready to go and I think I'll include this scene in my favorite BJ scenes moving forward. If you want more tips on BJs on Aftermarket cocks, check it out!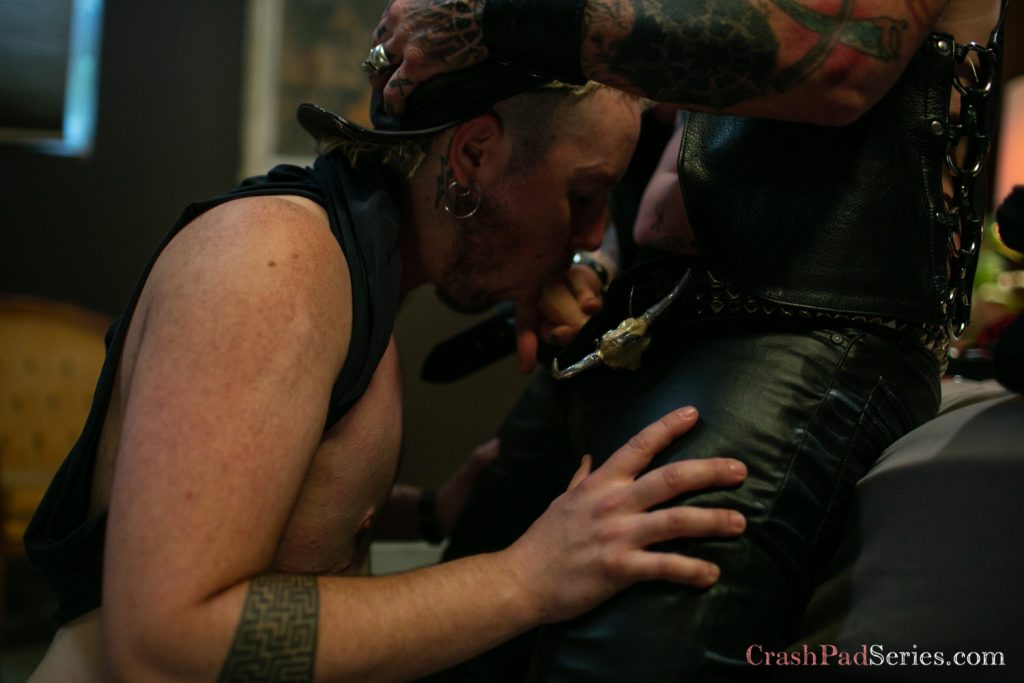 Know your capabilities and be honest! There are people out there that can safely DIY a sex toy or fucking machine. I know I'm not one of them! Be smart cause if you're like me and not super handy, you can just buy one.
Get the Kink One here from Pleasure Chest
Or the Cloud 9 version from She Vibe here
Or a handheld, less expensive version from She Vibe here
This episode was a great play on the classic porn handy person fantasy, with great impact, DIY fucking machines and of course great chemistry.