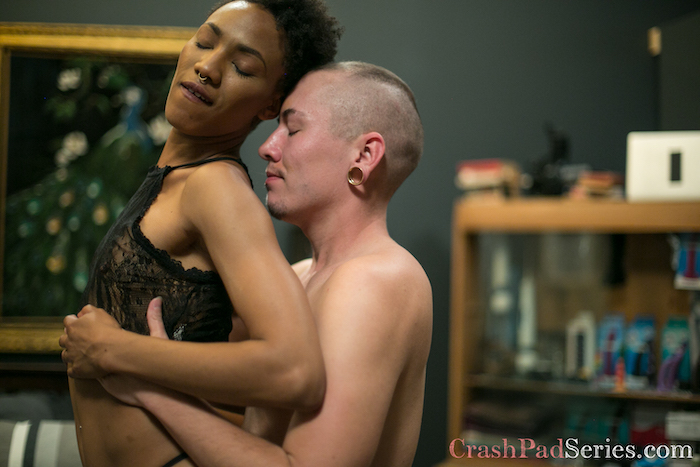 Porn Review
Crash Pad Episode 250: James Darling and Nikki Darling
From Crashpad about the episode
"Familiar faces Nikki Darling and James Darling (no relation!) are back! After James flogs her, Nikki deep-throats his cock to get it good and wet… not that wetness will be an issue! Nikki saturates James with squirt over and over, as he fucks her with his hands and cock. Two Darlings is just too darling!"
So let's talk about these hotties for a second. James Darling is one of the few tender queers I've met that leaves me tongue tied. And boy am I enamored by Nikki Darling.
Very excited to review this scene and jump back into sex ed porn reviews.
I've been into James Darling for awhile, especially after reading Tina Horn's book ​"Love Not Given Lightly". He just seems so tender! And anyone into Slutty & bossy femme queens is clearly the one for me!!
And what can I say about Nikki Darling? Anyone who loves giving cock as much as getting it is someone I want to meet. I always appreciate a sexy switch.
You can immediately see the chemistry and how comfortable these two feel with each other.
I almost feel like I should look away while they're kissing because I'm intruding on a personal moment between two lovers. Some light choking, and groping have me almost feeling phantom hands on my body. Their playful banter and Nikki Darling moans of pleasure really set the mood.
If anyone is curious about how to spank someone I'm going to show them this episode. Perfect hand placement, running his nails on her skin, varying intensity and placement of spanks. It's just perfect.
Plus those moans! The look on Nikki Darling face is pure bliss and her breathy "thank you" followed by telling him how bad she's been and her begging for a flogging has me craving a sub of my own right now. Letting the top know how much your enjoying things makes for a better play session. and like Nikki Darling said "gratitude is important"
Being a good cock-sucker means letting the person know how good their cock tastes, moaning, and plenty of spit.
All things Nikki Darling does spectacularly. This is in close competition for my favorite scene to show people how to suck cock. Arabelle Raphael and Devorah Reine are in great company.
James Darling has perfect technique for stimulating a g-spot!
Using the pads of your fingers, angling towards the belly button and rubbing Nikki Darling clit. You can hear how turned on she is, and it's so hot! And then when Nikki Darling asks for permission to cum and James Darling says no. I died. But then the begging brought me back to life!
After a squirting orgasm James Darling asks Nikki Darling the magic question. Do you want the Magic Wand? Be still my heart. Also when Nikki Darling tells James Darling how hot he looks jerking himself off, the shy look he gives her makes me swoon again!! These two are amazing! Then to end it all Nikki Darling get exactly what she wanted. James Darling fucks her to multiple orgasms.