From Crash Pad about the episode
"When Emma Claire says she brought her favorite sex toy, does she mean her leather gloves, or Lilian Rose? Either way, bratty bottom Lilian is spanked 'til her ass is bright pink. Lilian sucks Emma's girldick before coming from Emma's tongue and fist. Then Emma fucks Lilian until she comes all over Lilian's chest. What a sweetly intimate fuck session, both rough, gentle, and fun!"
Always excited to discover new queer performers through Crash Pad Series interested to see Episode 283 with Emma Claire and Lilian rose .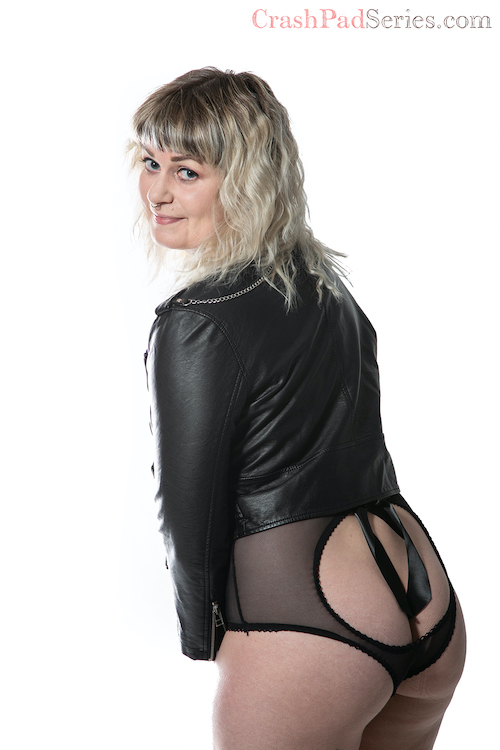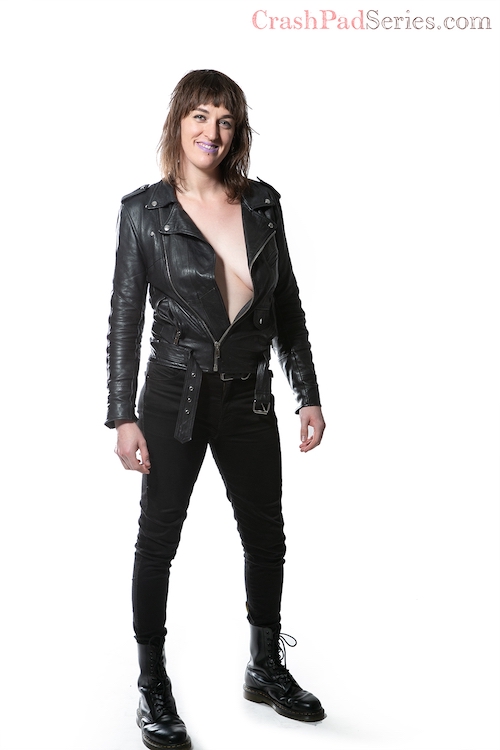 We all know by now that I love tattooed femmes in leather jackets. So Swoon city!
I love that Emma Claire is wearing leather gloves while getting oral because not only is it hot to see, it adds a different texture when you're touching your partner and because her hands are near her junk while she's getting oral, it adds the smell of leather to the giver. Think of engaging all your senses while you're fooling around!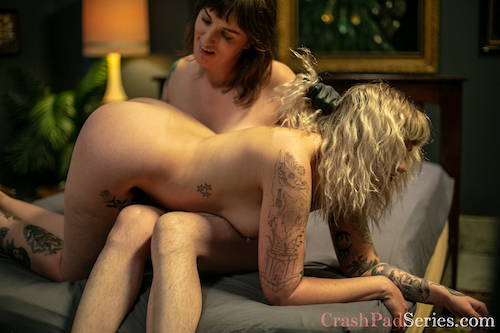 Wearing a leather glove while spanking, not only changes the way your hand feels, but adds elements of using a paddle and gives the skin variety.
Try using wool, velvet, or silk gloves to change the feeling of a spanking.
Emma Claire has perfect spanking technique, hitting right where the cheek meets the thigh and building intensity while mixing in soft caresses, and my favorite dirty talk, compliments! Take notes folks!
And bottoms take note of Lilian Rose Want more intensity, tell your top "is that all you got". It tells your top you want more in a playful challenging way. What could be more fun?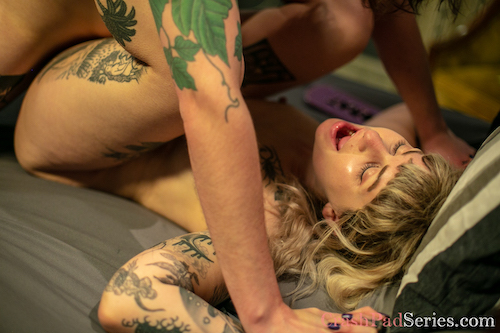 I appreciate how Crash Pad Series prioritizes pleasure over what looks good for porn.
You see legit pleasure from the performers, while still seeing hot content. I hate watching folks with a vulva get head with "porno mouth" which means vulva open to camera. And it doesn't lose any of it's sex appeal, it is still hott as hell to watch
Choking by squeezing the sides of the neck and not putting too much pressure of the actual windpipe is the ideal and safest way to choke someone. Emma Claire is a great example of how to choke your partner!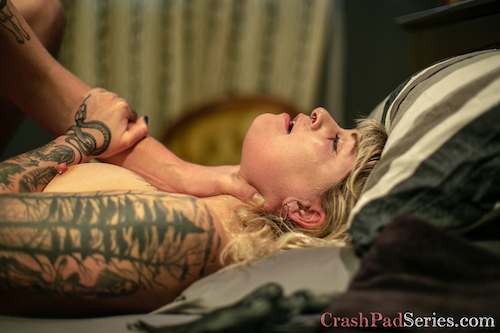 Shout out to the Sliquid sassy in this scene. My favorite is satin but there are so many good, body safe options.
Good lube will change your life! Get your own here.
This episode is full of chemistry between the performers and actual pleasure. The whole scene just feel natural and unforced. You see the two of them just enjoy each other and it's sexy as hell and you should watch for yourself!
There is also a great Caretaker dynamic in this and you should read my thoughts about being a femme daddy here.
Want to see this episode for yourself? Click to go to this episode