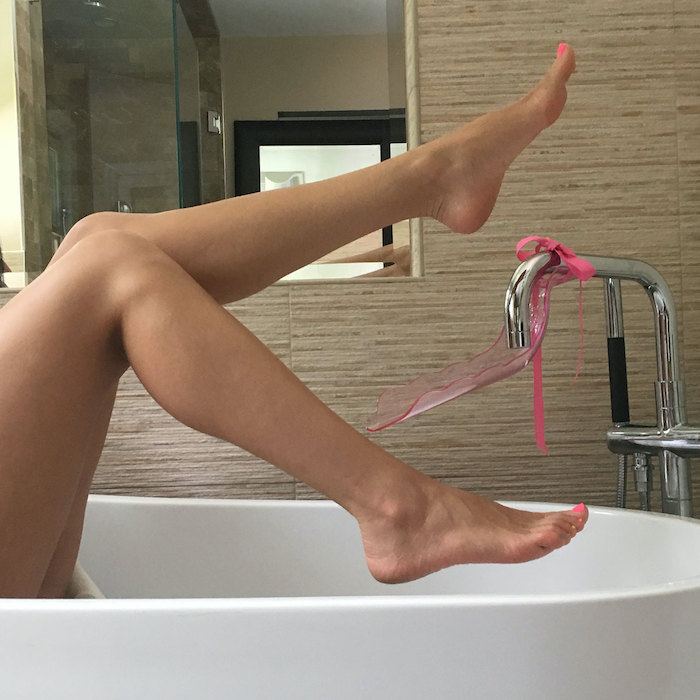 The patented WaterSlyde™, is a sleek plastic water diverter that simply attaches to most forward facing bathtub spouts.
The water flow is easily directed to the midline of the bathtub, allowing people with a vulva to comfortably position them-self in the tub such that the water falls directly to where it counts. The "bathtub technique", can be great fun but not always easy to achieve. Until Now!
Initial Thoughts: I love getting clean to get dirty.
I've written posts about toys to use for masturbation in the water. Check that out here. I think a lot of folks that have a vulva have explored using either the bath tub faucet or a removable shower head.
I used to love the bath tub faucet when I was younger, now I'm not flexible enough or thin enough to maneuver myself where I would need to be to get off that way. So to say I was excited to try this, is an understatement.
My only concern is that my bathtub doesn't have the faucet at your feet, its on the side where my belly sits so I already know it's going to take some more maneuvering then other users.
Pros: The length of the toy seems to be perfect honestly.
I was concerned that the position of my faucet would make using the Waterslyde impossible. That wasn't true, I did have to lean against my tub to hold myself up to get myself into a position to use it, so I couldn't lay down and use it exactly the way it was intended to be used.
I didn't mind that and found it to force me to be more of an active participant in my solo play session, rather then just letting the water do all the work. This is also great for folks who discovered masturbation with water and weight or age made that inaccessible. I haven't been able to enjoy the water like that since I first started masturbating.
This is also great for folks who like just pressure for stimulation, or people that want to try something different then vibration.
It's also great because it's quiet! There's no added noise besides the sound of running water, so if you live in a place where you share the bathroom and are concerned your room mate(s) will hear you, this is a great way to disguise a bath as some discreet solo fun.
Cons: Honestly the cons are completely dependent on your bathroom set up.
Some main concerns to think about to make sure this toy is for you is
Where your bathtub faucet is

How's the water pressure in your tub

Do you have issues with temperature control with the water
If your bathtub has a side faucet, meaning it's not where your feet is but more at your side. You probably won't be able to simply lay down and use this toy. If you don't mind holding yourself under the stream of water and having your body in a more active position then you should be fine.
If you have poor water pressure, or really high water pressure it might be hard to regulate the intensity for your use of the Waterslyde. The most important thing I think is does the water temperature change frequently? Mine does, and testing the water temperature out with your junk is just not ideal.
This is a really different sensation that I think a lot of people who have vulvas will really enjoy. The price point is also great, where if you didn't love it like I did you didn't spend a ton of money on it. It is also incredibly easy to clean and put on and off the faucet itself. Just a simple ribbon. I think this product is a must try for anyone curious about this type of sensation!

I was given this product by SheVibe for an honest review. All thoughts and opinions are my own.