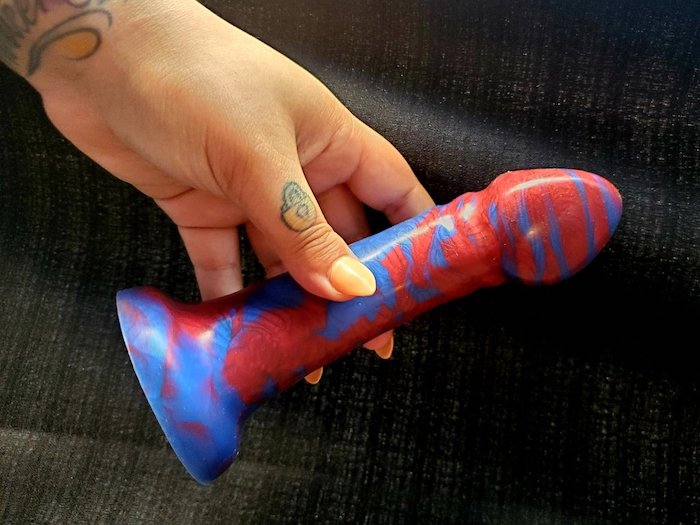 About: The Vivo Superhero Silicone 7 Inch Dildo features a long curved shaft
with raised bumps along the length that give way to a tear drop shaped head with rather pronounced, forward, and flat glans intended for G-Spot and P-Spot stimulation. Its girthy and harness friendly.
The Vivo Superhero is poured using Smooth-On Dragon Skin 10nv which is a Medium Soft Density Premium Platinum Silicone which comes out to a shore density average of about 8. Marbled pigments create their own unique swirling patterns when the silicone is poured into the molds so each toy is unique in appearance.
Total Length: 7"

Head Circumference: 5.75", Diameter: 1.83"

Top Shaft Circumference: 4.5", Diameter: 1.43"

Bottom Shaft Circumference: 5.25", Diameter: 1.67"

Insertable Length: 6.5"

Density: Medium Soft Shore Shore 8

Base: Standard, Harness Compatible

Material: Smooth-On Dragon Skin 10NV Platinum Silicone, Skin Safe Phthalates Free

Coloring: Assorted Cosmetics Base Mica Pigments
Initial Thoughts:
I won a Uberrime dildo in a contest after lusting after their toys and was automatically a convert. Their toys are firm enough to penetrate holes, but soft enough to have enough give to be comfortable. They were on my things to try list, and so far none of their toys have disappointing so I'm happy to add other toys from this brand to my collection.
Pros: The first thing you notice about these dildos in general is how beautiful they are.
They are really a work of art, and the marbling is really unique and makes each one slightly different which I think is a fun plus. They come in superhero inspired colors. Banner is for the Hulk, Parker is for Spider Man, Logan is Wolverine, and Stark is Iron Man.
I liked the fact that the general texture is smooth.
A lot of fantasy molds tend to have a lot of texture which I don't always love. Vivo has a bulbous head with a flat side that sits nicely on the G spot and if you clench around will give you some great G spot pressure, and a smooth shaft which made in and out movements very comfortable.
It's on the thicker side of toys, so it gives a nice feeling of fullness when using it. The density of it makes it great for folks looking to try bigger toys. Vivo's density exists in that sweet spot where it is firm enough that it isn't difficult to insert but soft enough to feel realistic and good.
Ultimately, the unique shape of the head is what makes this toy a winner. The head is bulbous, with some texture that works perfectly to pull down on the G/P spot. With a flat, almost triangular section that sits nicely for those who like less of an intense G/P spot pressure. I don't love really firm toys on my G spot, so this nicely hugs it without overstimulating me.
Cons: There are really no cons to this toy besides personal preference.
This toy is perfect for those who like a medium to soft density toy with little texture that targets the G/P spot. This toy is anal safe, harness compatible and body safe. I have no complaints at all! Shocking, I know. The only thing I might change for my own personal preference is to make the toy slightly longer so when using it solo I have more of a handle.
It is a beautiful art piece to add to your sex toy collection and stimulate your sponge (G/P Spot). It is on the girthy side, but not anything extreme, so make sure to ask yourself if this is the girth for you. Compare it to other toys you own, and think about how many fingers you enjoy.
I was given this product by SheVibe for an honest review. All thoughts and opinions are my own.