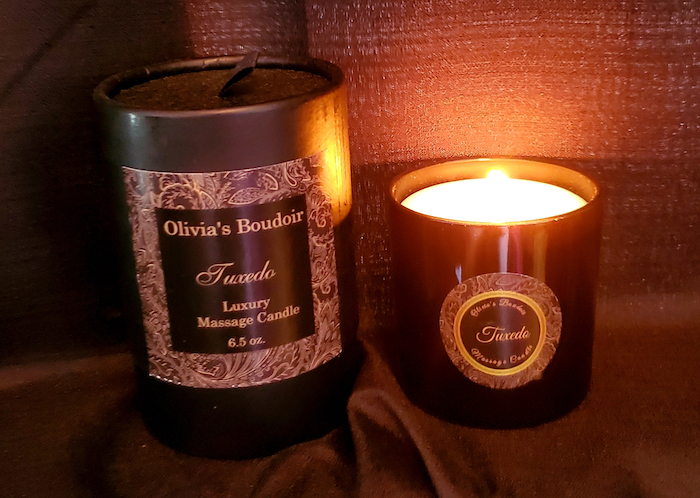 About: The Olivia's Boudoir Tuxedo Massage Candle is bewitching and seductive.
A very sexy blend of Italian Bergamot, exotic Sandalwood and earthy Musk. A sultry fragrance that will add even more pleasure to a romantic adventure.
Allow the candle to melt to the outer edge of the glass. Extinguish the flame, dip into the liquid pool of warm oil and drizzle the warm oil onto your partners skin for a sensual massage.
Nutrient-rich Soy, Olive & Coconut oils contained in these Body Massage Candles will soften, hydrate and rejuvenate your skin leaving it lightly scented & moisturized.
Initial Thoughts: Gimmie all the massage candles.
Not only do I love receiving massages, but I use massage oil as a body oil, or bath oil when I'm doing self care. I'm always on the hunt for more "masculine" earthy scents. A lot of massage products and scented products in the real of sexy products tend to fall more in the sweet or floral scent category so I'm excited to try new scents and oils.
Pros: First thing I want to acknowledge is the beautiful packaging.
It would make a really wonderful gift because it looks like a really expensive product. It also didn't come dented or bent like other massage candles that I've tried. It's wrapped like a gift you can give to a romantic partner or just a friend you're looking to spoil! Sexy but not overly sexy.
And the scent is truly luxurious to me. Deep and earthly but not overpowering. The blend of Italian Bergamot, exotic Sandalwood and earthy Musk really helps make an erotic scene. Read more about making your bedroom sexier here. I love using scent to set the scene and this blend not only felt really sexy, but somehow deeply relaxing.
The blend of Nutrient-rich Soy, Olive & Coconut oils leave my skin feeling moisturized but not greasy. It's a really nice blend that feel different then other massage candles I've tried. This might be one of my favorite candles.
Cons: Besides the personal preference behind scent, the only issue I had with the candle is that is has no spout to pour from.
I know I'm a klutz so whenever I'm using any type of massage oil or candle I put a towel down, which I would recommend so you don't your bed full of massage oil cause even the most coordinated person can drip oil! But the pour was not easy, and while the directions say to dip your fingers in, I would rather not dip my long nails into oil. This isn't something that would deter me, because most massage candles don't have a pour spout, but more should include it!!
Massage can be done coupled, or self massage can be a really nice way to connect and enjoy your body. I would totally recommend this candle to folks looking for a sexy earthy scented candle to enhance any sort of sexy time you want to have.
I was given this product by SheVibe for an honest review. All thoughts and opinions are my own. Want to support my blog? There are affiliate links in this post, which bring me a commission at no extra cost to you.