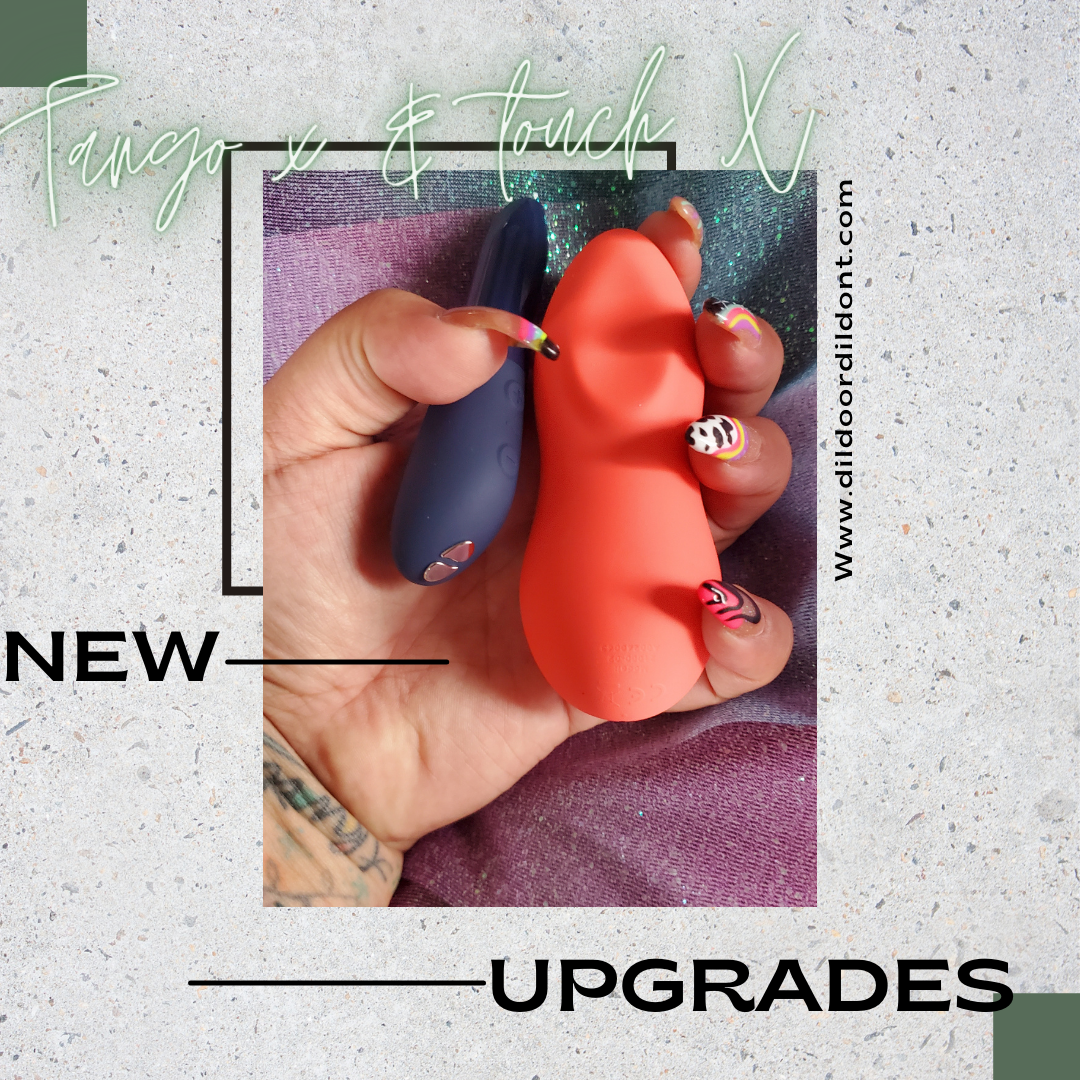 Sex Tips
Tango X & Touch X Upgrade the Best Vibes To Be Even Better
The Tango and Touch from We-Vibe are some of gold standard in rechargeable toys. While I haven't previously reviewed The Tango, or the Touch, We-Vibe toys in general are some of my favorite toys. Period. I actually own every iteration of we-vibes products and enjoyed each and every one. We-Vibe as a company makes very well thought out decisions when it comes to their toys. Typically when they upgrade a product, it truly is an upgrade. They take customer, and product reviewer feedback and usually fix whatever imperfection in their toys and I can honestly say, I haven't been disappointed by a We-Vibe product. One of my nightstand regulars is the We-Vibe Wand I previously reviewed. While I don't love bullets because of the more pinpointed shape, the Tango was always my go-to if I needed to make a dildo vibrate, or if someone was looking for their own bullet. The Touch has always been my choice because the shape is wider and the toy itself is softer, more like wands, which is my preference.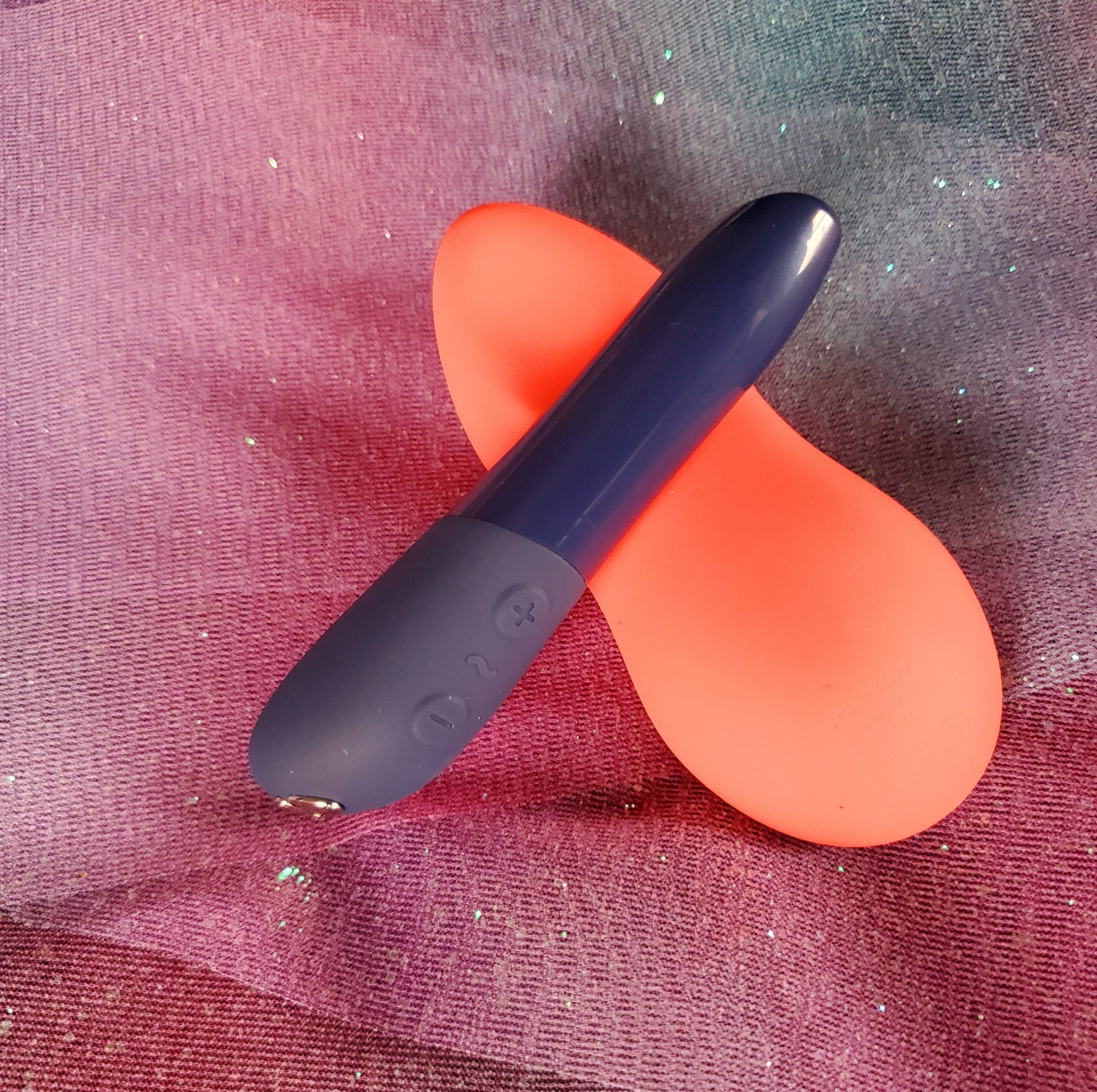 Grab the Tango X or Touch X from Spectrum Boutique
Or you can buy the Tango X or Touch X directly from We-Vibe
Motor
The motor has always been amazing on the Tango and Touch, the motor is actually the same for both toys so then it's a personal preference for the shape of the toy. The upgraded X's both still have the same motor in them but the motor has been significantly upgraded and feel deeper and more rumbly. The lower settings are so rumbly you almost feel waves in the vibration. Rumbly vibrations actually penetrate the pelvis in a different way, and folks tend to enjoy those vibrations more because they tend to feel less numbing then buzzy vibrations.
The best part is that even when either toy is cranked all the way up to it's max power it's an incredibly quiet toy. When I was testing it in my apartment, my partner never even noticed. The original toys were quiet, but the newer versions with the added silicone on the Tango X and the softer silicone on the Touch X make this toy even quieter without taking away any power.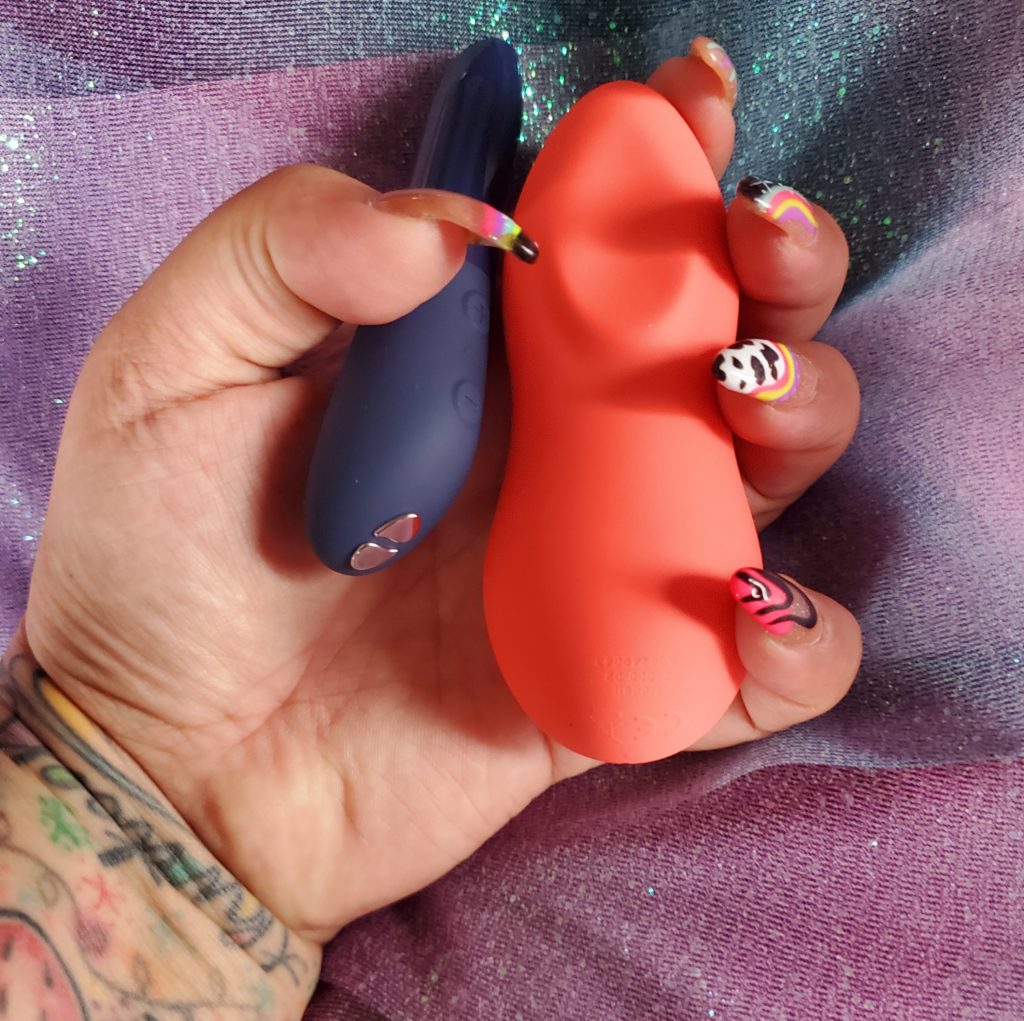 Range of Intensity
The older version of the Tango and Touch only had 4 different intensities. They increased it all the way to 8, and that is a pretty significant jump. The vibrations start nice and low with a rumble that sets the mood, and had 8 different levels of intensity so you can really take your time on each level and build up slowly or ramp it all the way up if that's what you're looking for.
These toys aren't the strongest toys out there, but it gets really strong and most folks won't need or want more power then that. I do like more power, but not in such a pinpoint package personally. If you're looking for more power in a small package you can try the Blush Nocturnal Bullet, Blush Silver Bullet or Sensuelle Point Bullet, but the motors are different and more more buzzy.
And while not the most gentle vibrators either, they start at a lower speed then previous models, which is a reasonable strength. Plus the rumbly pitch of the motor will feel less intense on lower settings especially. If you're looking for more mild vibrations you can also try the Tenga Rin, Tenga Tori, Tenga Kushi or any of these Je Joue Bullets. They are all soft, and start with much less intense vibrations then most toys.
All in all, the range of intensity is a major plus for the Tango X and Touch X. These toys start at a reasonable level and a nice rumble and have 8 different levels of intensity to perfectly customize your experience. They also have the ability to get strong, while remaining pretty quiet, especially for how powerful the toy can get.
Buttons
While I know most folks don't use pulsation patterns, I think 3 button toys are the superior style. When it's a single button you have to click all the way through to control the settings, with 3 buttons you turn the intensity up or down at the press of a button without having to click through or turn it off and start over. Also putting the pulsation button in the middle makes it easy if you never want your toy to pulsate, just never press it! Personally, I think the pulsations are under utilized by everyone. Use the patterns to slowly warm your body up and expand your pleasure before rushing to orgasm.
Having to hold the button for 3 seconds to turn on and off might seem like a problem, but better then a light click turning your toy on in your drawer or travel bag! And my favorite under-rated feature is a travel lock! Hold down the + and – buttons together for a couple seconds to turn the travel lock on and off. So now you can travel with these worry free!
Shape & Silicone Feel
The added silicone on the Tango is one of my favorite additions. It makes the toy easier to hold, and of course, way less prone to slipping out of lubed up hands. It still has the classic slanted lipstick edge for pinpointed vibration if that's what you enjoy. And since the tip is still a firm plastic, is great for those who like to apply pressure and enjoy a firmer surface.
Good news for those who use the Tango in other toys, like dildos or plugs with a hole to add a vibrator, the tip is still the same specs so it'll fit into standard size holes. The silicone end will stick out when the Tango X is inserted, but I think it made it easier to get out of toys. The bullet also fits into harnesses that have space for a bullet like the Spareparts Joque or Tomboi and I found the addition of the silicone end made it more comfortable for me to include the bullet into the harness.
Touch X doesn't have the motor running all the way through it like the previous versions. Meaning this version is much softer and more flexible. The silicone is still firm enough that it transmits the vibrations through the toy well and it doesn't muffle the power. The only real change to the Touch shape was making it more flexible, but the cup allows you to cup a clit, or nipples or use the point for more pinpointed vibration. This version is better for folks who like to grind on a softer toy, or like to masturbate on your stomach because the soft silicone will give a nice cushion and strong vibes. Also better for between the bodies since you have something soft to buffer any bumping and grinding.
The silicone remains the matte silicone from the last upgrade, so if you've ever felt the shiny silicone from the first versions of the touch and we-vibe couples toy, don't worry! They didn't go back to the shiny silicone that was the worst magnet for dust, and pet hair!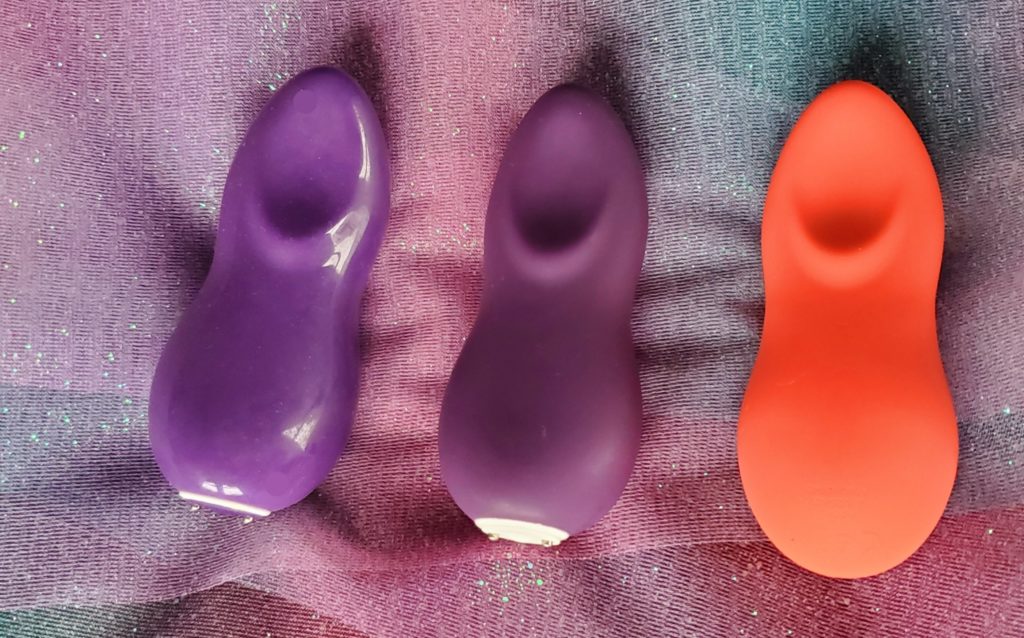 Battery Life
The Tango X included instructions says, "Up to 2 hours of play." And that's if you were to use it only on high the entire time. This toy lasts a long time without needing to be charged. Older models tended to not hold a charge, so if that was something holding you back from investing in a new one you won't have to worry anymore.
The battery is now lithium-ion, which tends to give any electronics a longer and more reliable life span. Plus all the We-Vibe toys now come with a two year manufacturer's warranty. My suggestion is take a picture of the warranty code and email it to yourself should you ever need to contact their lovely customer service.
Universal We-Vibe Charger
This might not be something you actively think about, but when you have as many toys as I do, being able to consolidate wires and also easily replace them is an important benefit. Planned obsolescence is a thing that a lot of businesses do as a detriment to consumers. We-Vibe did exactly the opposite, they want to make it easy for us to replace missing pieces, even if it's just the charger. The best part is the charger works on most of the We-Vibe products, so if you get more then one you will only have to keep one charger on hand. and as long as you charge your toy at least once a month, you're likely to keep this toy going for years and years to come.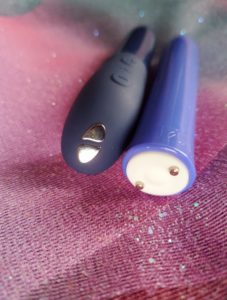 The worst part of the old We-Vibe chargers for the Touch and the Tango were the magnetic pieces never strongly connected to toy so often times it would get bumped loose and you'd come back to find your toy wasn't charging. Or it just didn't connect properly in the first place. The new chargers are a much stronger magnet, that gives a satisfying click, that you can trust won't dislodge and force you to come back to an uncharged toy.
Final thoughts
While I prefer the Touch X shape, the motor is a resounding yes from me. The Tango X while not my preference for a solo toy, is an objectively good bullet. Perfect for adding to a harness or a vibe compatible toy. The Touch X is my new go to! In fact, I used it as my first review on my OnlyFans because I enjoyed it so much. I think the versatile shape and wide range of intensities make this toy a winner for many different people.
Grab the Tango X or Touch X from Spectrum Boutique
Or you can buy the Tango X or Touch X directly from We-Vibe
All thoughts and opinions are my own. Some of the links are affiliate links, if you buy something you won't pay a penny more but I'll get a small commission. Thanks!