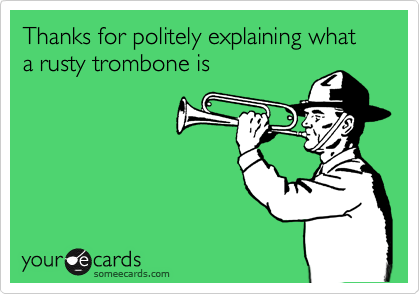 ​
Plus it's a fun ironic twist for me because I have a degree in Music performance and guess what my instrument is?
Euphonium/Trombone. So I might be the best person to speak on it.
So to begin, what is a rusty trombone?
It is the act of performing a simultaneous rim job and hand job. Aka licking your partner's anus and reaching around to give them an hand job. Like playing an actual trombone, this move requires coordination, focused breathing, and rhythm. Below I go through some tips and tricks.
​Consent and Communication. AKA talk to your partner about it first.
First things first, most people are insecure about the backdoor and worried about a lot of things such as social stigma and cleanliness. So while it is admirable that you want to just go for it and give your partner all kinds of pleasure, talking with them first can prevent a potentially awkward moment.
If you aren't sure how to bring it up some of the best ways are to watch porn together and tell them "hey, I think that's hot, would you want to try that?" Or you could send them blogs like this with the same framework. Or even better yet, go to a workshop (that I teach hopefully) and same things, ask them if it's something they're interested in trying.
Talking to your partner outside of the bedroom, while you're not in the heat of the moment is also preferable. It's always best to have all your blood in your thinking head and not somewhere else. Maybe bring it up over coffee and say "hey, I saw this thing I thought was sexy, would you want to try it"? Then that opens the conversation up to figure out the specific details you would be interested in. Such as cleanliness, barriers, etc.
Cleanliness is next to Godliness.
If your plan is just rimming and not any penetration making sure you're good to go is very simple. A quick shower or a baby wipe should be plenty. If hair is an issue, just talk to your partner about a quick trim. It's better to speak up about it then be uncomfortable in the act. If you're still concerned but want to do it, have no fear there are dental dams!
Dental damns are a great barrier for any kind of oral play without sharing fluids. It is basically a big flat condom, try putting a little lube on both sides to make it feel more enjoyable for both partners. I don't really recommend or think it's necessary to do an enema. Especially if there isn't penetration happening.
Enemas can strip the natural protective lining of the rectum, but if you feel more comfortable knowing you're all clear or plan to stick fingers or toys inside then just make sure you wait at least a half hour for some of that lining to come back and protect your delicate tissue.
Set the mood.
Sure you're excited about the rusty trombone, you've talked to your partner, you both set up a sexy date time for it, and you want to drive right it. I know trying something new is exciting but so is building anticipation. Set the mood, however you think creating a sexy space looks like. I always like to start with a massage to awaken all those nerve endings.
The entire body is full of nerve endings, especially the entire booty. So stroking with hands, kissing, licking, teasing all building anticipation and of course pleasure. Think outside the butthole also by touching and caressing some other erogenous zones back there such as the inner thighs, or the crease between the thigh and butt. It will also help relax your partner so when you do make contact with their butthole they're be nice and turned on and relaxed.
​Nails, jewelry, lipstick, etc. Just girly things.
Things to be aware of when you finally dive in is taking off rings and bracelets that could get in the way or hurt your partner. Also not having lipstick or anything sticky or could smear while you're down there is probably for the best. Remember you have to get between the cheeks so most likely your lipstick will smear, but also the feeling of sticky or goopy lipstick can be a mood killer.
If you're doing some warm up or rubbing of their butthole and you have nails, a trick I love is to put on a latex or nitrile glove. It smooths out any rough parts and adds a different texture which can be fun added sensations to play around with. If you plan on inserting your finger and you have long nails, try putting a cotton ball under your nail before putting on the glove. It can make things way more comfortable.
​Lube, lube, lube!
Yes your wet mouth will provide lube in the back, what about the hand job part? I can confidently say most people don't like to be rubbed on their genitals while they're dry. Lube in the back can also be used if you want to add flavor. Just be wary of ingredients of most flavored lubes. They use glycerin, which is sugar. So not only does it get sticky, but glycerin the the body isn't great.
There are some great glycerin free brands, such as Sliquid and Nature Lovin. I would recommend a hybrid or silicone lube for the hand job part because we're made out of water and any water based lubricant will get absorbed into the skin quicker. Silicone or a hybrid will last way longer so you won't have to stop to keep adding lubricant.
​Find the right position for you.
​The most common way to do this, which is the way you've probably seen in porn, is have your partner stand with their legs slightly apart while you kneel behind them, stick your face in their butt, and reach around them to grasp their penis. I prefer to have my partner lie on their back with their butt off the edge of the bed. It gives you better access to their butt and can be more comfortable for both partners.
For more comfort and easier access you can then stack pillows underneath them until you can rest your head on them and your tongue has access to their anus. Liberator pillows will always be my favorite for finding comfortable positions. They are pillows that don't get squished down, and have a removable washable case. Check them out here.
​Try different tongue techniques
Everyone likes something different, so try different things. In terms of tongue techniques, you can try a harder pointy tongue or use your tongue for broad flat strokes. You can also lick different areas, the perineum is a hotbed of nerve ending and if you put some pressure on that spot you'll get some indirect prostate stimulation.
Check in with your partner and see what they like, but also read their body language. If they are pushing towards you, green light! If they are pulling away, yellow or red! Check in and see what's feeling good and what isn't if you aren't sure. Also don't assume that just because your partner wanted a rim job you can stick your tongue in there too.
​Try different hand techniques.
Now the hand part makes it the trombone cause without the hand motion, you're only playing one note, and the point is a whole symphony! A simple up-and-down-the-shaft motion with your hands is the simplest and most popular. If you want to get fancy try twisting your hand back and forth as you grip the shaft.
Or, try this technique where you move your hand downward along the shaft and repeat with the other hand, but before the head reaches the end of your top hand, remove the lower hand and place it on top to continue the sensation.almost like your climbing a rope with both hands.
Also, don't ignore that ridge of tissue underneath the penis head. That's the frenulum and it's super sensitive, and stimulating it with your thumb and forefingers is generally an A+ move.
​Find the next new thing you want to try!
You did it! Now think about what you liked and possibly didn't like. Keep exploring and broadening your horizons. Just because you liked it or hated it doesn't mean you should stop trying new things.