When I saw the Love Hamma in all its thrusting and vibrating glory, I just knew that I needed it in my hands, among other places. So of course when they asked if they could send me one I said of course! I had high hopes that it wasn't just another silly gimmick. But once I tested it I knew I also had to review the Love Hamma Thrusting Vibrating Hammer so I could put all the skeptics to rest. Is this a niche toy? Absolutely! Will this toy be for everyone? No, that would surely take some of the fun out of it.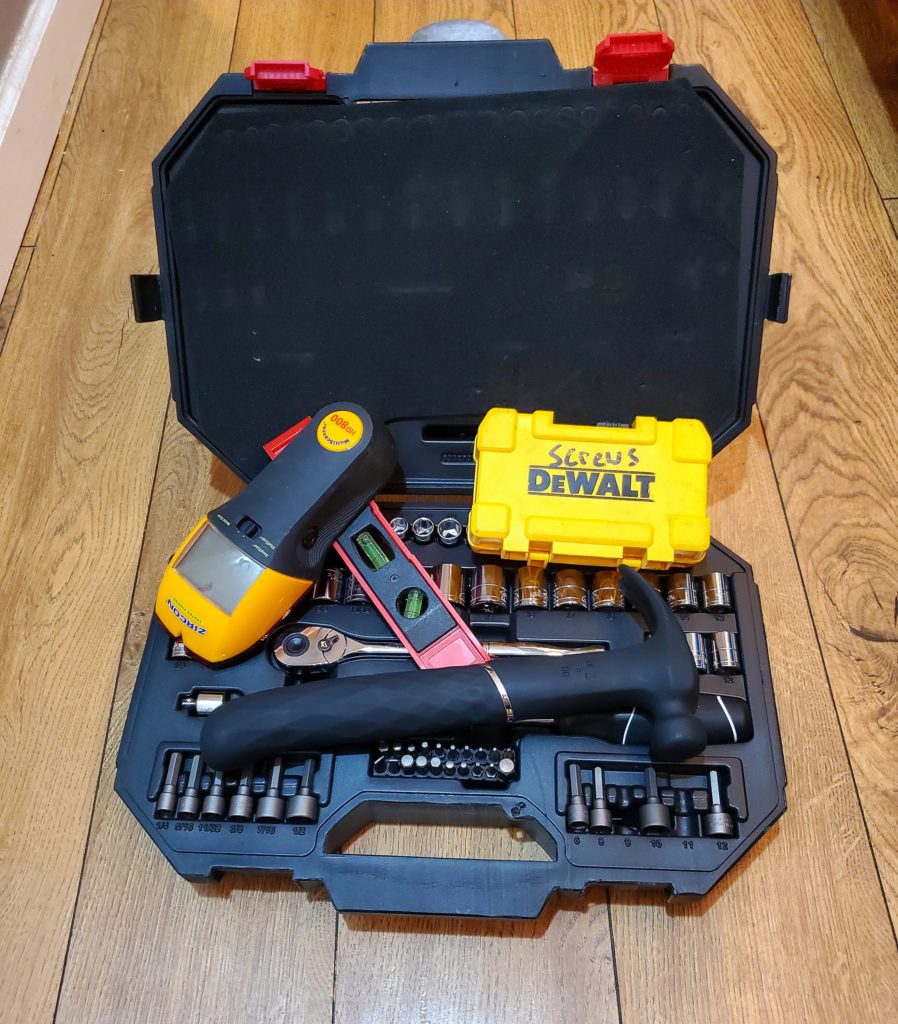 The Love Hamma comes in two styles. The Love Hamma Straight and the Love Hamma Curved, and they even have a Pleasure Pouch that looks like a tool belt! Every time I see this toy, and honestly any time I see anyone else see this toy for the first time, they tend to have a very strong reaction to it. It's usually glee and hopefully, that's because toys are supposed to be fun! When did we start taking sex toys so seriously anyway? I hate the trend of minimalist toys that are so discreet that they could be an Ikea lamp. I want to fuck something that looks like a hammer, or a vegetable, or a tentacle. Let there be fun options and discreet options, but also let the fun and silly options exist! Something for everyone! But I'm here to talk about the fun options.
It's Hammer Time
Sorry, I had to. The Love Hamma Straight and the Love Hamma Curved come in black, baby pink, aqua, and a rich blue, so there are options for everyone's aesthetic preference. It's about the actual size of a real hammer which can be fun for folks who make spicy video content or camming. It's over 11 inches, with about 6 inches insertable length and 1.5″ girth. For those looking to truly get pounded since this toy vibrates, and thrusts it can do a lot in a pretty bespoke package.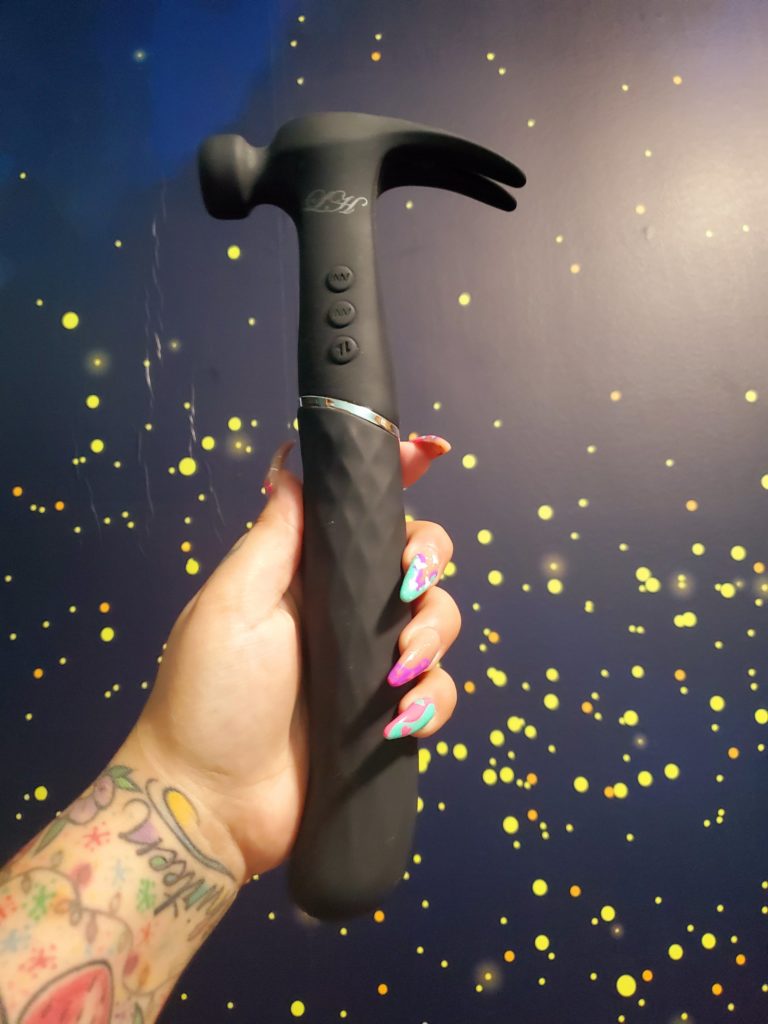 Versatile Tool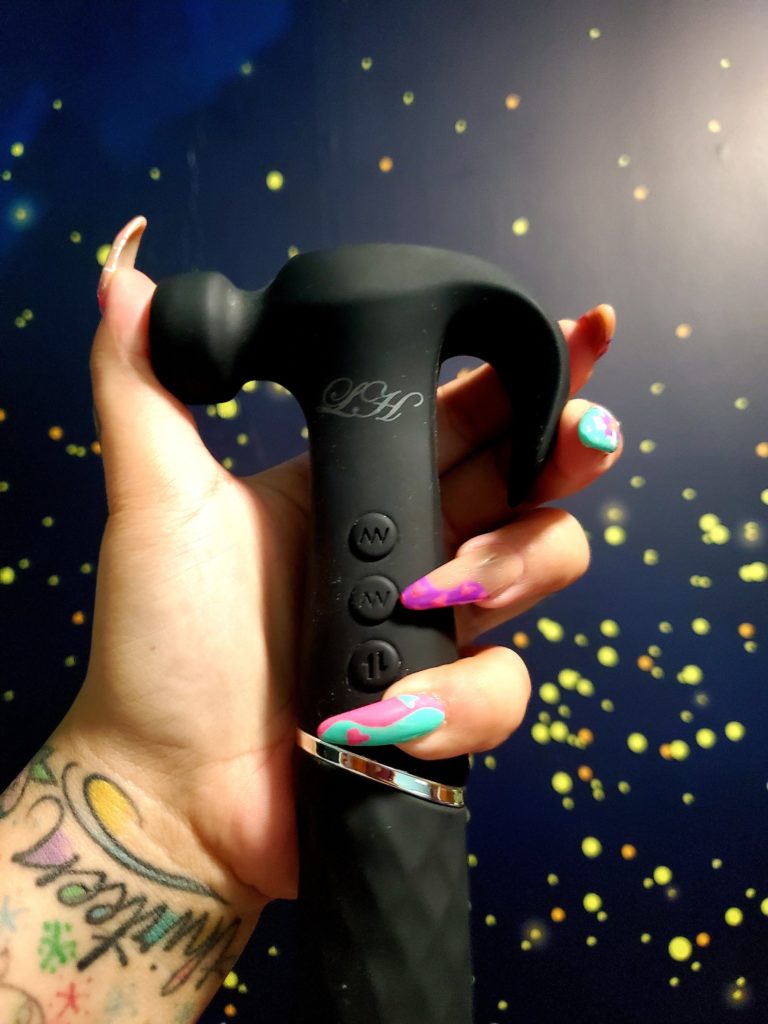 This toy is safe for any hole, so anal or vaginal is on the table for the Love Hamma. All the functions work independently which is important to me. I like to be able to customize my experience, and I think it's important for most users as well. So you can independently control the thrusting of the shaft, the vibration in the shaft, and the vibration in the head. Each of these features has three speeds and multiple patterns.
The claw part is nice and soft flexible silicone so it adds another sensation to the toy where the head of the hammer can be used for regular vibration, the flexible claw is more fluttery and feels really different so it's nice to be able to explore different sensations with one toy. Perfect to use for foreplay or more of a teasing sensation. The claw is clearly meant to mirror the flexible "ears" of rabbit vibrators. The handle vibrations feel stronger than the vibration in the head of the hammer, which could be a plus or a minus depending on the user.
The thrusting is my favorite part of this toy. The thrusting mechanism is really great and because of the length of the toy, there is plenty of room to use an external vibe, even a wand. Want proof? Check it out here. The thrusters are pretty strong for a handheld toy and the ten different patterns were fun to explore.
Improvements?
The Love Hamma Curved is great, but the curve is so minimal I feel like they could do away completely with the straight and come out with a more actually curved version of the curved. I'm sure it would look less like a hammer, but it would be more anatomically pleasing and be able to more easily access the G or P spot of the user.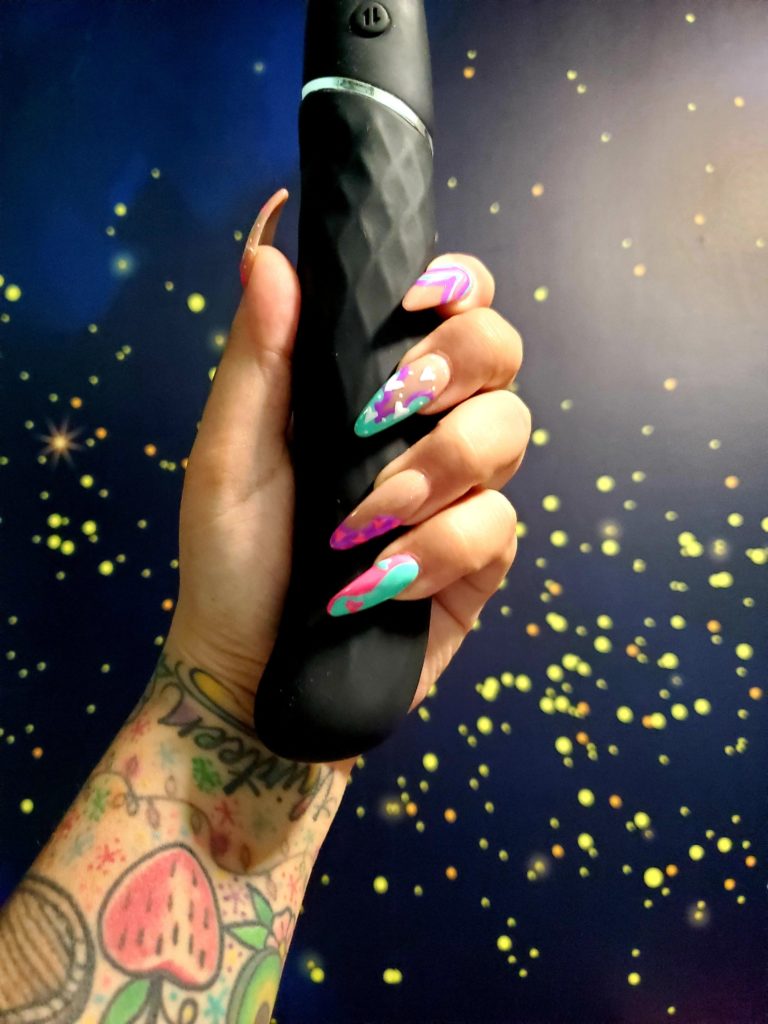 A stronger motor would be nice but I'm a power queen. As someone who loves wands, my biggest complaint is usually the toy isn't strong enough for me, or big enough. This toy isn't weak by any stretch of the imagination, but if you're someone who needs the power of a wand to get off this might not be your next best friend. This toy I would say is medium powered, so not weak but not super strong.
An added layer of squish on top of the firm shaft would be nice since the shaft is pretty firm. Which again is a personal preference and might not necessarily be a deal-breaker for folks since there are people who absolutely prefer firmer toys. I personally think the firm shift with a squishy layer of silicone on top would be more universally pleasing to a wider range of people rather than just the firm shaft all the way through.
Final Thoughts
It might not be everyone's fantasy fodder to get fucked or to do the fucking with a hammer, but for the handy curious and the extra daring, this would be a unique toy to add to your Pleasure Pouch next time your playmate calls you over to help out with some leaky pipes. I think it's a cool option, and definitely something I still use.