​
Setting the mood and foreplay is an important often overlooked aspect of sex and pleasure.
Increased arousal/lubrication, as well as intimacy are some key reasons to really sex it up and set the mood and focus on foreplay and everything that happens before the sex happens. Intercourse or orgasms don't even have to be the focus, just be present and enjoy all of it.
I have also recently become interested in the Danish "Hygge" trend.
It's essentially a Danish word (pronounced hoo-guh) that describes an ultimate feeling of coziness and relaxation. Since Denmark has been named happiest country in the world several times over, they must be on to something. When you're cozy and relaxed then other good things can happen, like orgasms It's about giving yourself a break, and retreating into something familiar and comforting.
It's also anything from small gestures like lighting candles or drinking tea, to bigger ones like having a leisurely dinner with friends. These are the cornerstones to relaxing and deeper relaxation allows for more pleasure.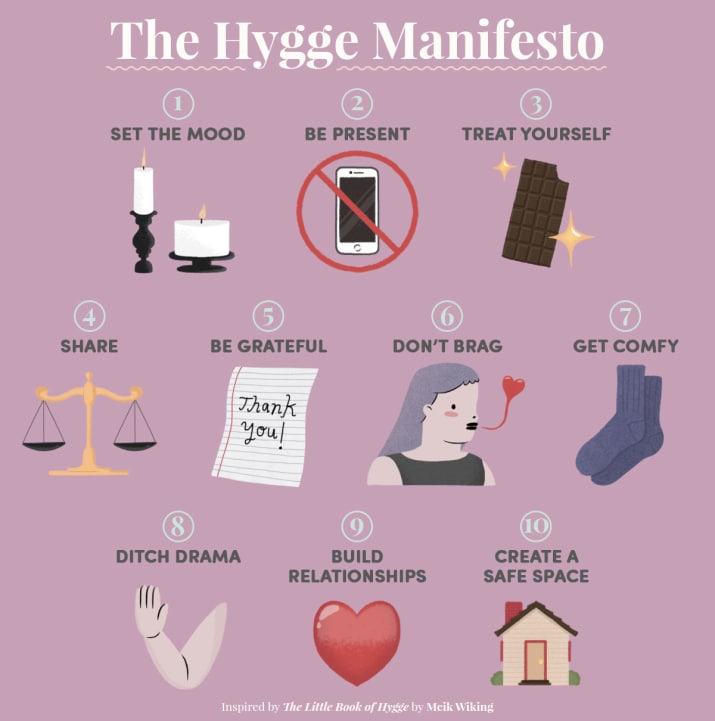 (Picture from Zoë Burnett / BuzzFeed)
1.
Write or read something sexy.
Your biggest sex organ is your brain. Or grab some porn or erotica to get in the mood.
2.
Mix it up.
Eat dessert first. Explore a new neighborhood. Try a new food. Have sex in the kitchen. Anything really; The point is to do the opposite of what you usually do and shake things up.
3.
Eat.
​Your fave food. Maybe even something you can smear on your partners neck and lick off. Have fun using food as foreplay. Just be careful about getting sugar in your body. It can lead to some nasty yeast infections if you're not careful. Also aphrodisiacs, read more about them here.
4.
Sweat.
Workout alone or make it a fun activity you do together. Then you can really put those pheromones to work. Bonus: 30-minutes of physical activity increases blood flow to your sex organs which helps with orgasms.
5.
Pick the right playlist.
Music can make or break a sexy scene. Don't let just anything play and risk ruining the mood or coming out of that sexy head space. The perfect tempo is 120 BPM (beats per minute). Spend some time curating a sexy list and put yourself in a sexy head space. Also thinking of songs and what actions can go with them is a good exercise in fantasizing.
6.
Wear lingerie.
When you feel sexy it shows. Find an outfit you feel sexiest in and really show off. Even wearing a pair of sexy undies under your daily clothes can add a feeling of anticipation that can really get things going.
7.
Clean your house.
Especially the room you're going to be playing in. Thinking about the dirty dishes in the sink can be a real mood killer. Know what will distract you and try to cut it off.
8.
Go Heavy on the Warm.
Warm and earthy colors open the heart and activate emotional connection. That's why it's best if colors such as red, rust, orange, pink, brown, yellow, gold or beige predominate in your bedding choices.
If you don't like those colors, at least try add touches of warmth in the accessories (throw pillows, duvet, or blanket). Cooler colors like green and blue can be cooling to the emotions and passions. Also think about warmer colored light bulbs or even really great fairy lights to set the mood.
9.
Make everything feel plush and luxurious.
A faux fur or chenille throw, a plush area rug, or a satin throw pillow or two can add a luxurious flavor to our amorous adventures while getting us out of our heads and into our bodies.
10.
Get a blindfold.
When your eyes are covered your other senses are heightened.