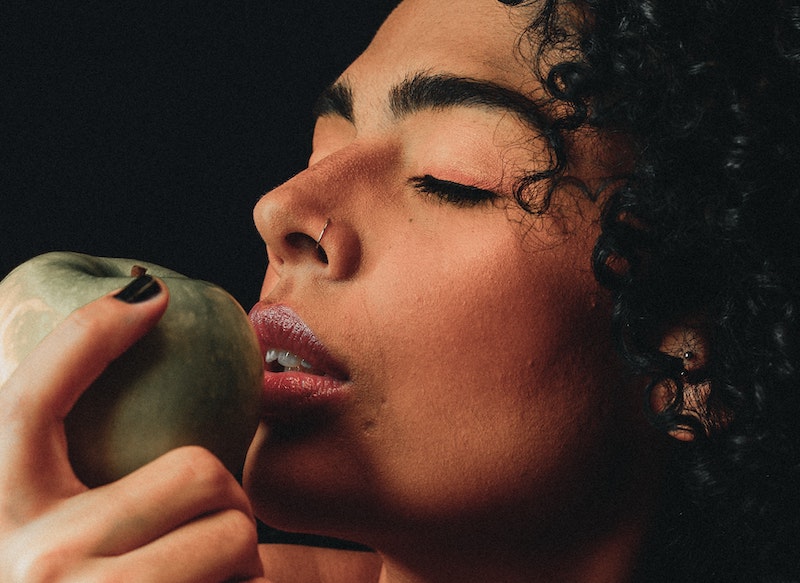 Need some invigoration​​​​ in the bedroom?
Sometimes life is so stressful that the last thing on our mind is sex. However, physical intimacy is an important and healthy part of our relationships with others and ourselves. Orgasms are also a stress reliever (as if you need another reason to get off). More importantly, feeling sexy and sensual is an important part of feeling attractive and confident. It's normal to experience lulls, but feeling unsexy and unbalanced for long stretches can produce some negative energies.
For centuries, certain foods have been known to have aphrodisiac properties.
If you don't know what an aphrodisiac (named for the goddess Aphrodite) is; it is a food, drink, or substance that increases sexual desire. How do these foods accomplish that task, you ask? They may reduce stress, increase blood flow or positively affect neurotransmitters. All of these effects can improve libido.There are a lot of naturally occurring aphrodisiacs. Adding sex toys into the mix are also a way to increase sensation, pleasure and stimulation. Pair them together to bring your pleasure to new heights. Mix and match ingredients and sensations to find out what's right for you.
Or anything with capsaicin, a chemical found in fiery peppers. The capsaicin increases circulation to get blood pumping and stimulates nerve endings so you'll feel more turned on. When your nerves are more stimulated even mild vibration will send you over the edge. Chili peppers also stimulate endorphin's (the brain's feel good chemicals), speed up heart rate and make you sweat, which all mimic how you feel when you're aroused. Just make sure you wash your hands before you touch your genitals!!
---
Cocoa contains the chemical phenylethylamine, a stimulant that conjures just the sort of subtle feelings of well-being and excitement that make sex seem like a great idea.
---
The pom owes its passion power to antioxidants, which protect the lining of blood vessels, allowing more blood to course through them. The upshot? Increased genital sensitivity.
---
Besides relaxing you faster than a neck rub can, red wine contains resveratrol, an antioxidant that helps boost blood flow and improves circulation before and during intercourse.
---
The caffeine in coffee is a stimulant that ups the heart rate and makes the blood flow. One study even suggested that coffee could put women in the mood for sex.
---
Feed them to each other for a healthy, vitamin C-packed dessert that helps keep blood flowing to all regions of the body.
---
Now Onto The Toys and Goodies!!!
---
Using the Fukuoku Massage Glove after a meal containing any of the aphrodisiacs would send your senses to new heights. Don't just focus the vibration on the obvious areas, try finding new and exciting erogenous zones. Try the crook of the elbow, or even behind the knees.
---
Now that your nerve endings are on high alert, tease them a bit with some light touching and a feather tickler. Run it along the inside of the thighs, near the nipples, or the inner arm. Test out new areas and who knows what you'll find!
---
A Wartenberg wheel is scarier then it looks, but can be the gateway to fun new sensations if you're open to it. It was originally designed to test nerve reactions by gently running it on the skin. Trace your lovers body to see what kind of response you get.
---
Temperature play can also send your senses into overdrive. Try a massage candle to simultaneously calm and excite. They are soy based so they never get hot enough to burn, just nice and warm to rub into the skin.
---
The Minna Ola is a touch sensitive waterproof vibrator. You control the intensity of vibration and patterns as well by using the touch pad. This opens a world of possibilities. Also the shape of it is great for the g spot or prostate and even if used externally is a great shape because then you have a handle for more control.
---
Last but certainly not least is the Foreplay Ice Frost Vibrator. This toy has all the excitement of temperature play, without the drips and mess! This vibrating, waterproof ice massager keeps the ice behind a layer of textured silicone.The sensation of ice on skin is intensified when you use the included three-speed bullet vibrator. Just slide the vibrator out of the shell to use independently, and bring the stimulation to a head.
---
Now that you have some ideas, use them! Valentine's day is coming. It's tim​e to spice things up and send romance into overdrive.