The Balldo is the first ball-dildo that helps you use your balls for penetrative sex. I have to say, the thought of penetrating a partner with balls never crossed my mind until the Balldo? But once I learned it was called ball sex, and the Balldo had it covered, I couldn't get it off my mind. Since I love to overshare, I'm ready to answer all the questions I got related to this unique ball dildo. Unfortunately for you readers, the one question I won't answer is showing you exactly how it's used by putting free pictures of how this toy is used personally. But I'll do my best to explain and show you the pictures Balldo has graciously provided.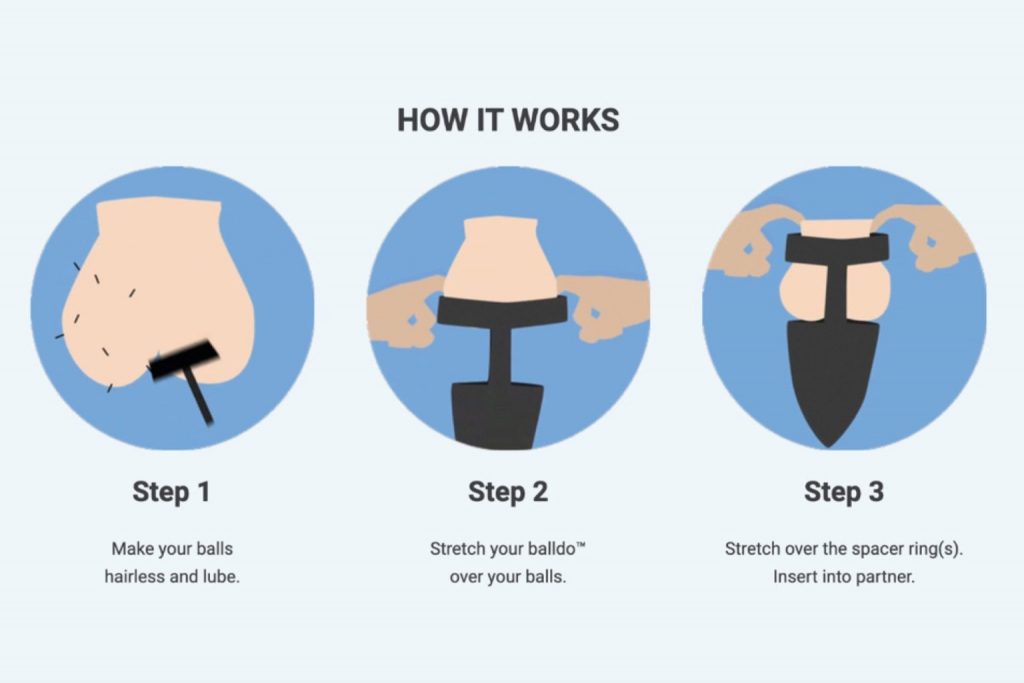 Every once in a while a new sex toy comes out that is so unusual that I get to excitedly text my industry and fellow sex toy nerd friends and get to say "did you see this?!". The Balldo was absolutely one of those moments. I always have a soft spot for those toys that require more explanation than most and will only ever be interesting for a select clientele. Basically, I love finding the cinderella looking for their glass slipper of sex toys. If the creator of Balldo wanted to put his balls in his wife, I'm sure he wasn't alone. And based on the sales, and how excited my partner was to try it, clearly, other people want to fuck their partner with their balls as well and who are we to stop them!!
For putting on the Balldo they recommend shaving, my partner was trimmed and that was plenty. I think if you're completely natural with your body hair and have a lot of hair you might be uncomfortable with some tugging from the silicone rings. Adding lube, especially a long-lasting Hybrid lubricant is a great idea for added comfort and to minimize tugging and catching on skin. The ring was secure, with some stretch, so no need to worry about it slipping off during use. The main drawback is that currently there is only one-size-fits-all, which is nearly impossible since bodies vary so vastly. More size options would be a great addition for future revisions.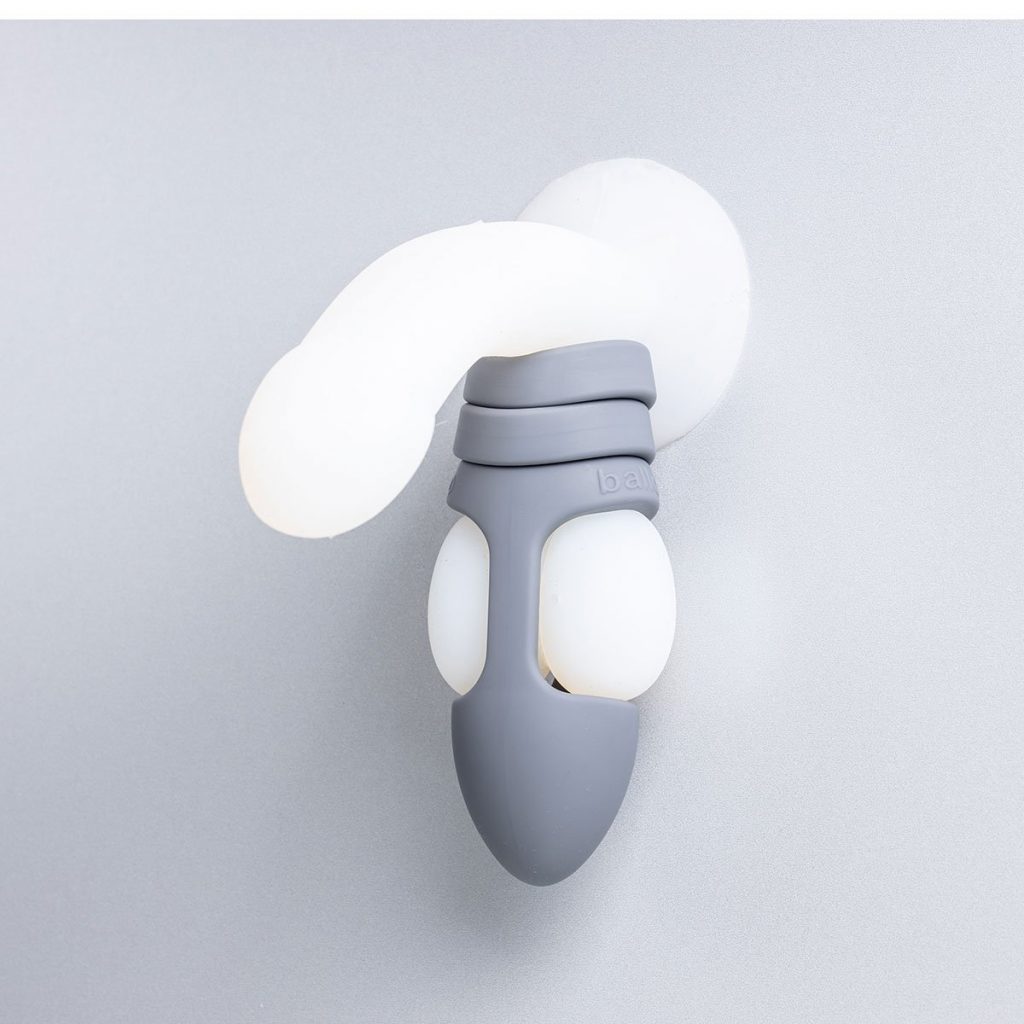 Girthy Toy!!
I think the most surprising aspect of the toy itself for me personally was how thick it is. Most insertables tend to be about 1.5″ in diameter whereas the Balldo is more in the 2″ range. Which for me wasn't an issue, but something to take into consideration if you're someone who isn't looking for something that girthy. You can also check out this guide here if you are interested in exploring more girth. Basically I would suggest doing a lot of warm up and using a significant amount of lubricant on the thicker side of texture.
Ball Stimulation
Another question to ask yourself is ball stimulation something you want to explore. For some, the balls are either super important to their sexual repertoire or completely off-limits. For many people, the balls can be superfluous. They're there, can handle a lick or suck, but are mostly there to witness some taint slapping. If ball stimulation is something you're doing already with ball stretchers, weights, or even CBT then I think the Balldo is absolutely right up your alley. If you're someone who is always tugging their balls when they're playing with themselves then the Balldo would probably be really great for you. Heck if the idea of putting your balls into your partner seems really hot then the Balldo is for you! But if you're someone who never thinks to touch their balls during playtime then this toy probably isn't the right toy for you because the only stimulation it's going to provide is going to be to your balls or to your brain via visual stimulation. So if tugging or rubbing or the idea of putting your balls into a person's willing hole isn't exciting for you then it's totally fine to skip the Balldo.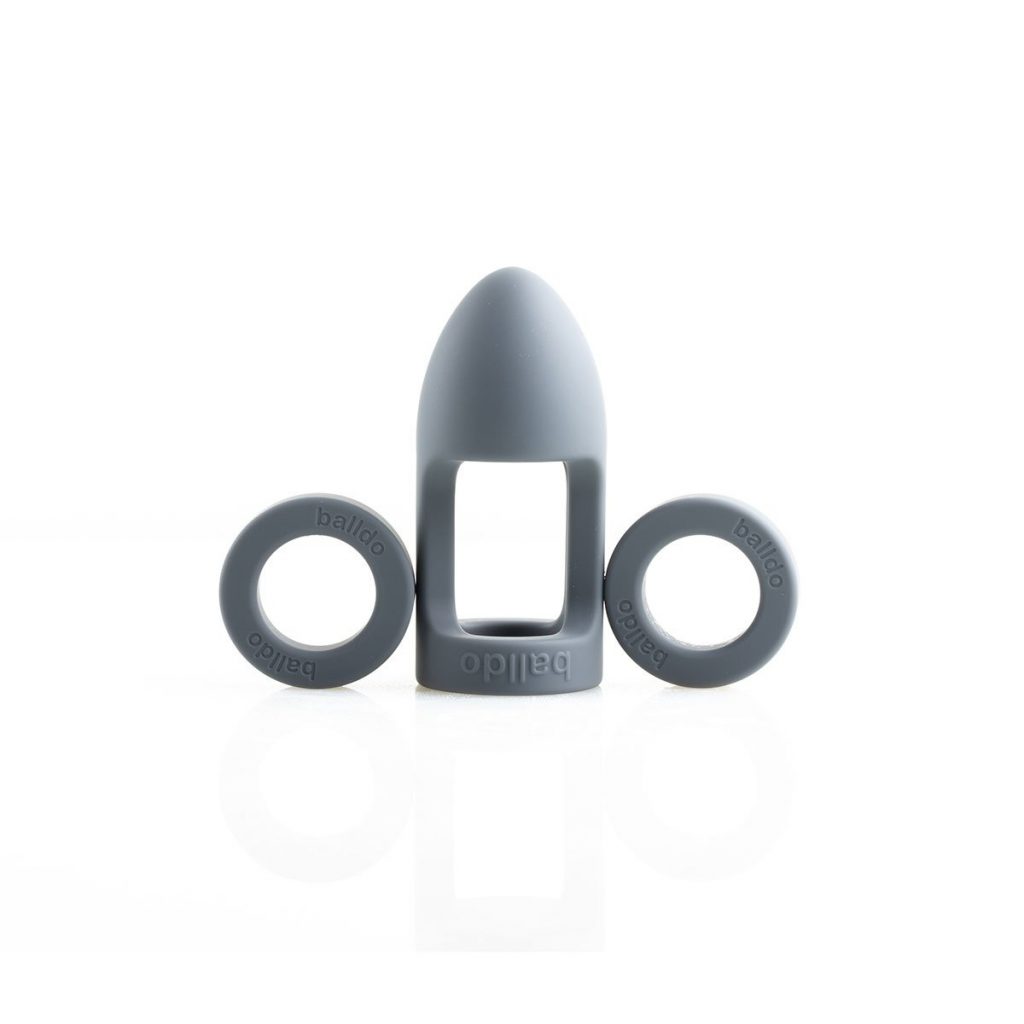 Can you Orgasm?
While my partner did not experience a Ballgasm unfortunately, we did have fun experimenting with the Balldo. I am a firm believer that pleasure is possible in many different forms and not only has the creator of the Balldo experience a ballgasm (otherwise why would he have mass-produced this toy!) but Kate of Girly Juice reviewed it and her partner experienced a ballgasm. Your mind is a powerful tool in orgasm and you can make any body part orgasmic. There have been accounts of a quadriplegic man who learned to orgasm from stimulating his finger. So there's something to be said about the brain and a medical term called neural plasticity which means the brain can retrain the nervous system through new pathways to create different behaviors. This means the sky is the limit for orgasmic pleasure if you take the time to train your brain to enjoy something enough.
Also, keep in mind, your penis is exposed to do as you please. So if your balls in your partner aren't enough stimulation you can always stimulate your penis in other ways while using the Balldo as your penis is free and clear to do so.
Double Penetration and Positioning
The Balldo was literally made to make your balls into a 2nd dick. So the obvious use of the Balldo is for double penetration but there are many individual factors involved and it's mostly with your individual anatomy. Is it possible? Absolutely! Can I guarantee that it will all line up for you and your partner once you get it in your bedroom? Nope, sorry. That's also the thing about the Balldo in general, you're definitely going to have to play around with positioning to figure out what's going to work best. I found that missionary with the Liberator Wedge under me to give my partner better access was easiest, but I would also try doggy style. The best thing to do is play around and experiment with what works best for you and your partner.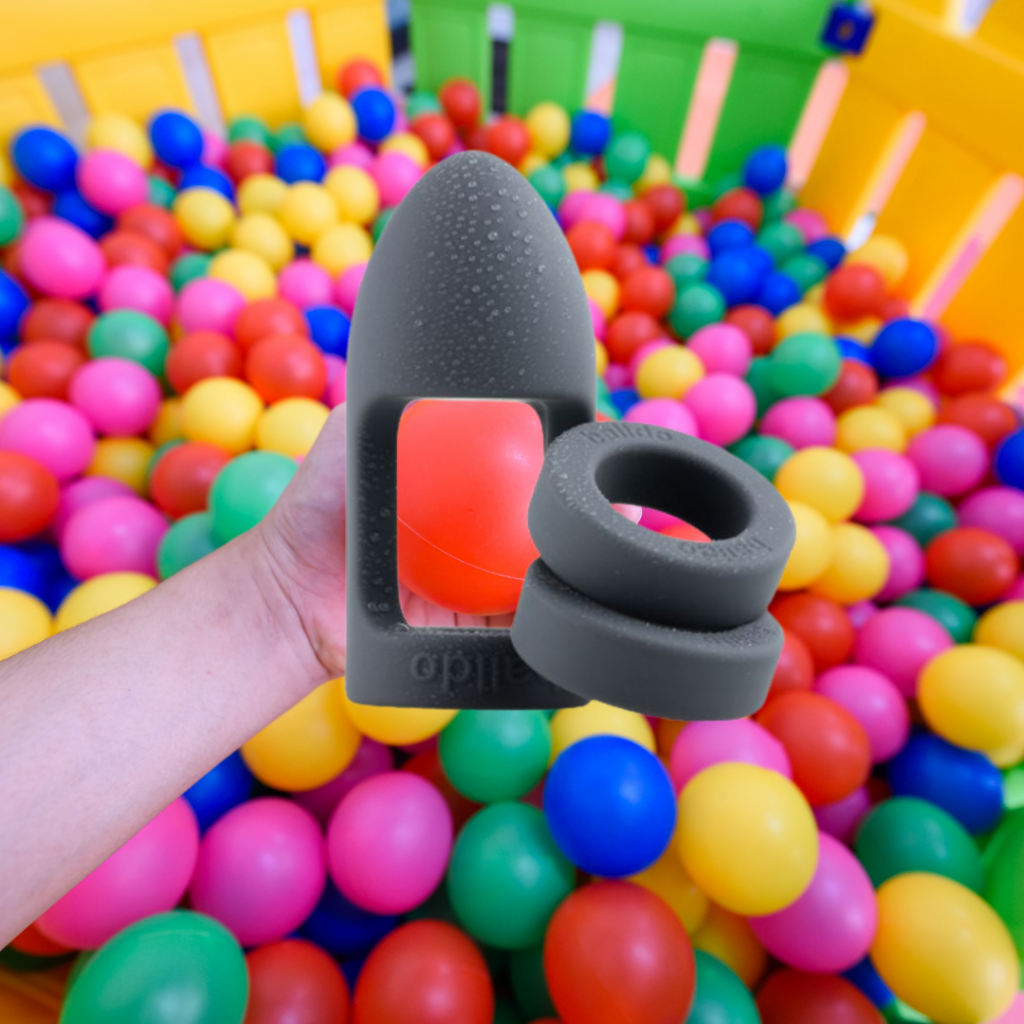 Give it a shot!
Honestly if you're curious about the Balldo, give it a shot. There's only one way to truly know if you're going to like it and that's to try it. It's a mid-range price so it's not the worst investment in the world. It's made with body-safe silicone, and we've all bought a toy that maybe wasn't for us, so I'd risk finding a toy that might revolutionize my bedroom or a fun story to tell my closest friends that I tried. Either way, it's a good time!