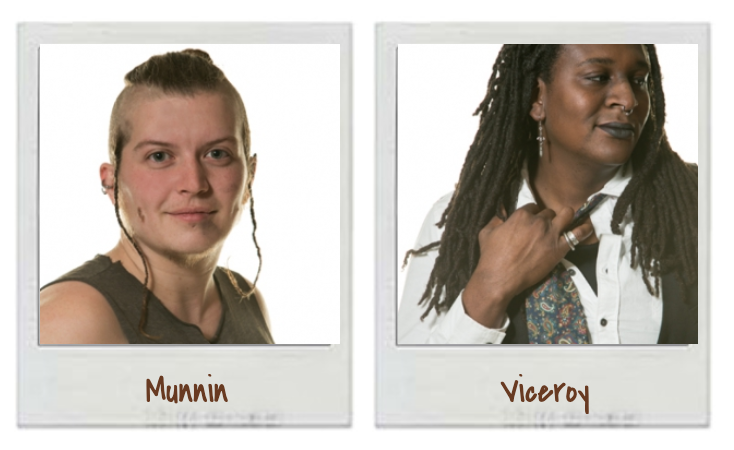 This episode according to the Keymaster. "Munnin discovers Viceroy tied and muzzled, a perfect plaything for them to toy with. Munnin stretches Viceroy's hole with a variety of fun things, all the way up to a particularly equine dildo, before the two wrap themselves into a sweet 69."
To begin Munnin walks in and sees Viceroy tied up. Which for me is my Domme fantasy come to life.
Mostly because I'm lazy but also I'm bad with rope. Also to walk in and see someone so vulnerable is pretty hot. Taking off Viceroys cock and having them suck it really sets up the scene and establishes who is in charge. They hesitate but then accept their sub role and commit to some cock sucking.
I also have to mention how sexy it is to have that huge knife sitting on Viceroy. It adds to the anticipation and wondering what role the knife will play.
Now on to the sounding. What is sounding? Sounding or uretharal sounding is the medical use of probes called sounds to increase the inner diameter of the urethra usually to locate obstructions in it. Sounds are also used to stretch the urethra in order to receive genital piercing. Sexually speaking it is an intense intimate practice that takes skill.
People sound for a number of reasons but to put it simply, some people like it because it feels good, and some people like it because it feels bad.
I will say the use of sounds don't turn me on, this whole episode with the sounding scenes I was simply impressed. I wonder what it feels like, what drew them to this in the first place, the first time they did it, how they're using such a large one to begin with. I had a lot of questions. But mostly admiration and awe. You can really see the amount of trust needed to do this kind of play.
Being a size queen and a lover of sex toys I really appreciated the dildos being used in the scene. Especially that big purple
After all those intense sensations seeing Munnin make Viceroy shake with pleasure is well deserved. Then the mutual pleasure of 69 after putting the sub through such intense sensations is so worth it.
The behind the scenes with this scene was eye opening. They were both nervous but seemed so comfortable. But I am happy to know that they were having a great time. Knowing they're in a relationship makes so much sense that they would do something so intimate on camera.
Again Crash Pad shows diverse desires, bodies, gender expressions, etc. It is why I love the company.
#payforyourporn!!!!