The Arcwave Voy custom fit stroker was just released and after how much my partner loved the Arcwave Ion and I loved using it on them, I was absolutely excited to try their newest version of a stroker that has a tightness adjustment feature that promises a powerful orgasm. I know the Ion delivered, so we had high hopes for the Voy. The lingering question is will we Love The Arcwave Voy Custom Fit Stroker?
Packaging and Arcwave Voy Custom Fit Aesthetic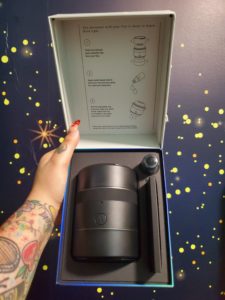 The first thing that you'll notice is that the packaging feels very fancy and lavish and would make a great gift. It comes beautifully packaged in a lovely white box with a sample of lube, the Voy itself, and a manual. The toy doesn't include any large branding or logos. It's sleek and clean-looking. Much nicer than many other stroker packaging in my opinion.
The main difference besides the mechanics between the Ion and the Voy is their sheer size. The Ion uses pleasure air to stimulate the frenulum, and the Arcwave Voy custom fit uses a tightness adjustment system to create different sensations while stroking. In terms of size the Voy is made to be a compact stroker, and it really is a great size if you're looking for a toy that's not going to take up a lot of real estate in your drawer, or something to travel with, or even just something discreet that's easier to keep away from prying eyes. On the other hand, the Ion is much larger and harder to hide.
The caps on the Voy not only make it incredibly discreet, but it keeps the toy nice and clean. Besides the caps, the Voy is made out of CleanTech silicone which is a highly durable, quick-drying, and ultra-hygienic form of silicone. Which makes it ideal for sex toys. This means that the Voy is a stoker that will have a long use life, as well as simple cleaning. CleanTech silicone is non-porous, which means that bacteria won't be absorbed into the stroker and hypoallergenic. Most importantly, CleanTech silicone feels smooth and silky-soft on the skin! It's also not modeled after any particular body part, it's just a hole. Which I also think makes the toy more discreet if found and more universally appealing to more people who are looking for strokers.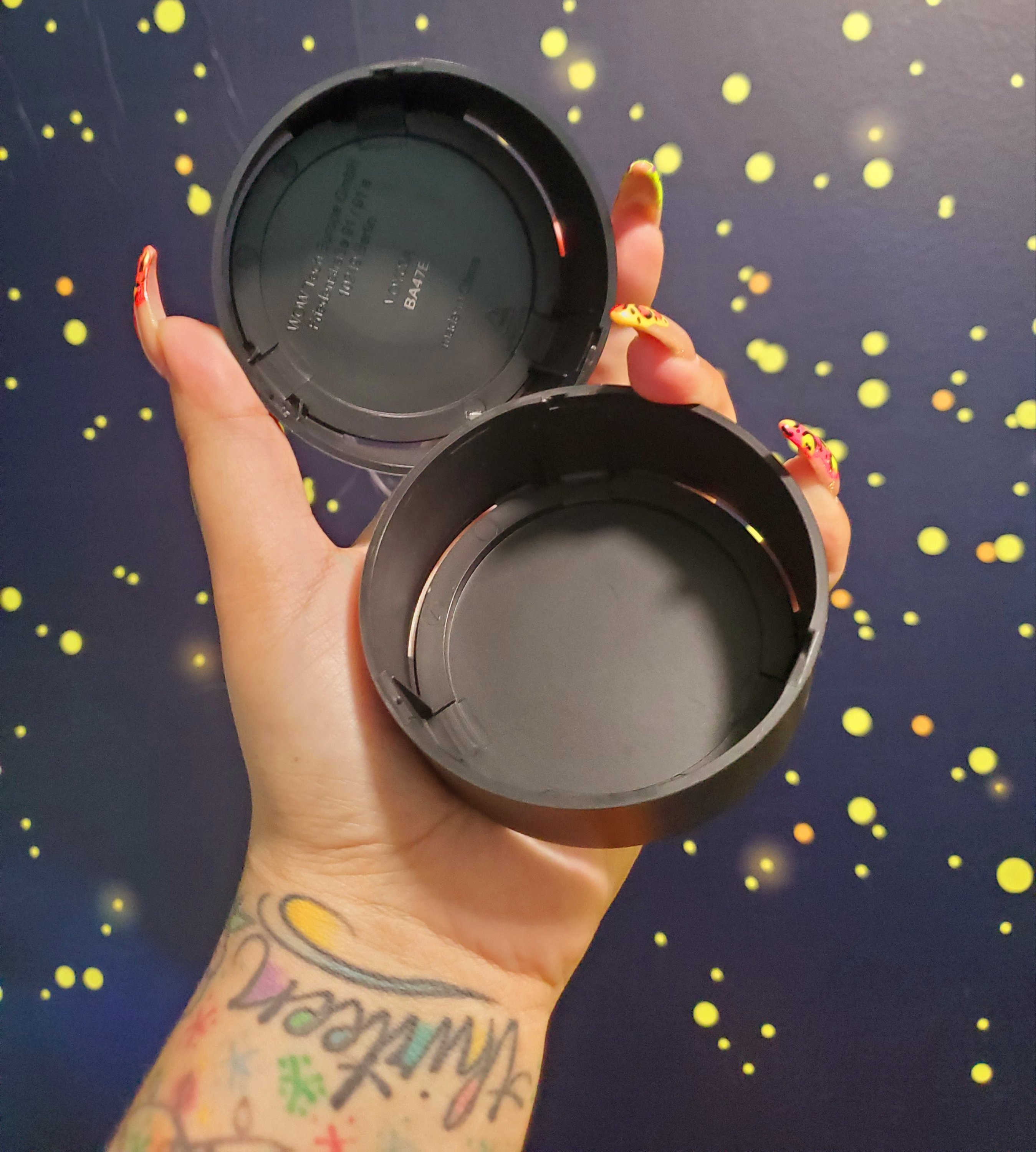 How does the Arcwave Voy Custom Fit Strokerwork?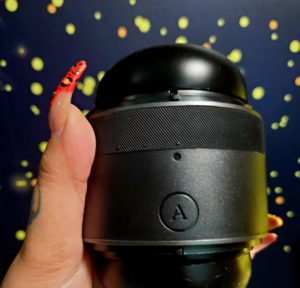 After you take both caps off the Voy use the ring to adjust the tightness to one of eight different levels of tightness then go ahead and add your favorite water-based lube so you can insert yourself into the Voy and then the fun can truly begin. Then you just need to enjoy the ribbed inside texture of the Voy. The texture inside feels pretty great, and the actual twisting dial is super easy to operate, even when hands are lubed up. The ring that adjusts the tightness has a grippy texture compared to the smooth hard case, so if you're visually impaired or just need help finding the ring the texture can help you find it tactility. When you adjust the tightness it will grip you firmly enough that you can enjoy the texture inside the sleeve; but, as long as you're using lube, won't hinder your stroking. It is a nice feature to be able to customize and play around with the tightness of the stroker without having to adjust your grip on a squishy sleeve while your hand is lubed up. Arcwave Voy custom fits your personal pressure preferences.
The open-ended design makes this a great toy for solo or partner play. You'll be able to stroke the shaft with the Voy and still stimulate the head with your mouth or a vibrator. Want more toy tips? Check out this blog post here with lots of ways to incorporate toys into a BJ. This toy is a great size to incorporate into couples' play as well since it isn't too big or bulky to get in the way. It's also nice to be able to see your partner's genitals while you're using it on them, or watching them use it. Like a sexy peek-a-boo! It also makes cleaning it easier since ejaculate doesn't get caught in it, since it's open-ended.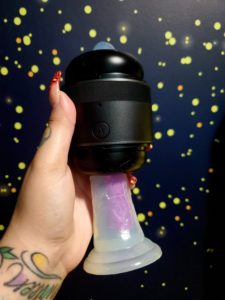 Some Considerations to Make about the Arcwave Voy
I'd say there are two major drawbacks to the toy itself. The First would be the squishing sound the sleeve makes while in use. Think macaroni in a pot, if you will. However, I have yet to meet a sleeve that doesn't produce noises when in use. It's unfortunately the nature of the beast. When you add lubricant and a back and forth motion, there is going to be some noise. The second would be the size limitation since the maximum diameter that someone can be and still use is only 1.75″ diameter. Which is 5.5″ in circumference. That's relatively girthy but won't accommodate everyone. So hopefully Arcwave comes out with a version for well-endowed folks next.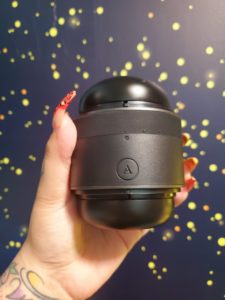 The main overall consideration to make is the price. The Voy is a pretty penny for a non-vibrating sleeve. The one saving grace is that the sleeve is silicone so it will last longer and be more hygienic to use and keep. There aren't many silicone strokers around, most tend to be an elastomer, TPR, or Cyberskin which not only absorbs bacteria but just isn't durable. So while you might be paying more upfront, you'll probably be saving money in the long run by not having to replace the stroker as often because it's simply more durable than most other options.
Final Thoughts About The Arcwave Voy Custom Fit Stoker
If you're on the hunt for a silicone stroker then the Voy is a great option because the adjustable tightness and open-ended design are fun features to have. While the price does make it an investment, I'd say if you know you enjoy these types of strokers then it's totally worth it since it's going to be way more durable than most of the other options available on the market. So you have to consider if you enjoy that kind of stimulation and if you want to invest in a stroker that's going to last.