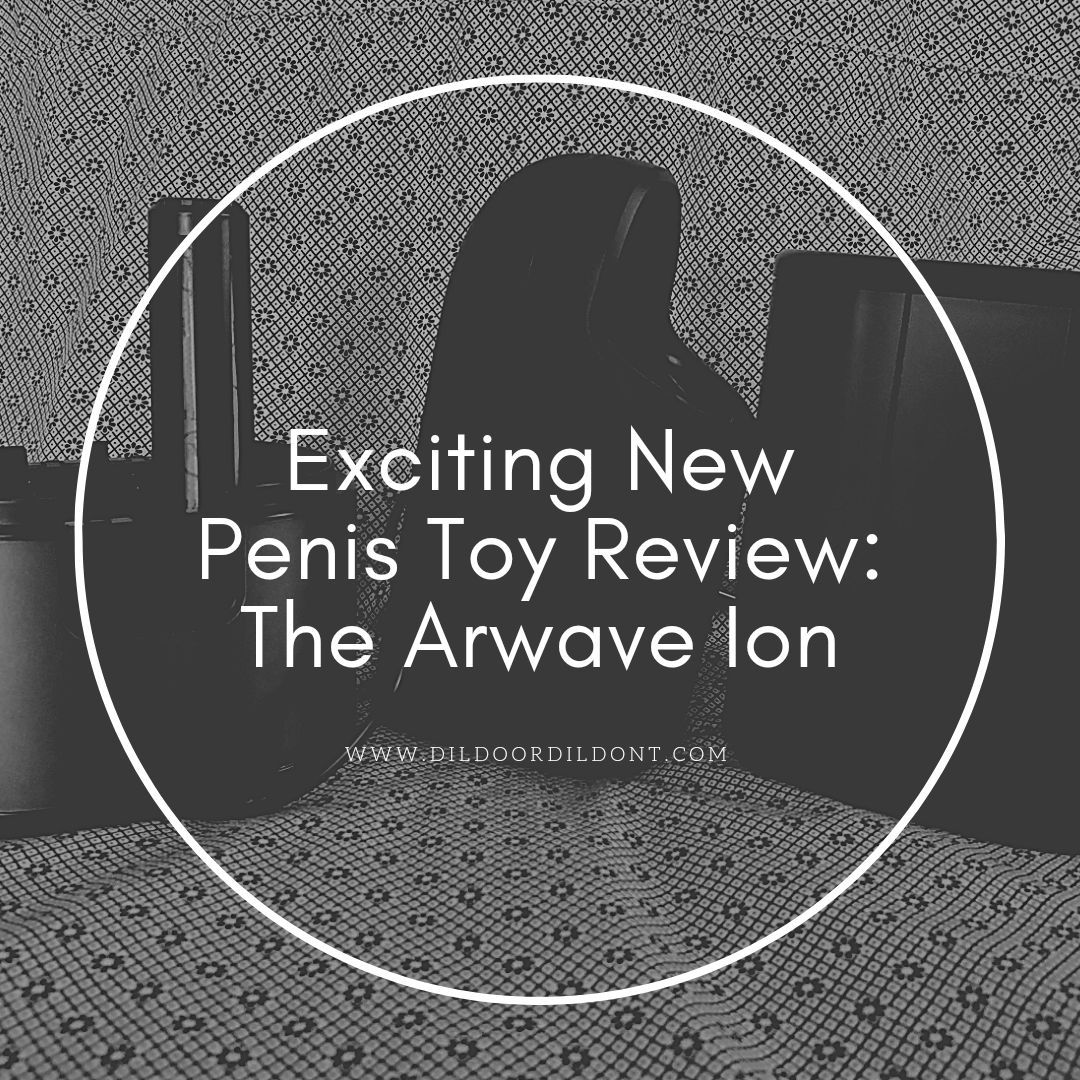 I bet you're here for this exciting new penis toy review: The Arcwave. Penis toy reviews all seem the same, so I had high hopes to the Arcwave. I'm always on the hunt for new and exciting toys and when I saw the Arcwave I was absolutely excited for the prospect of having a suction toy from a brand I trust actually work for a penis owner. I knew I had to have my partner review it and give me a solid penis toy review since he's used to me asking a million questions when I try toys with him, or give him something new for solo time.
If you're on the hunt for new sensations for penis owners this is a great place to look. Where most penis toys are sleeves for stroking, sometimes with added vibration, there aren't any using the pleasure air. There are toys out there using suction, like pump suction, under the guise of being the pleasure air, and let me tell you those two sensations are very different.
The womanizer pleasure air technology revolutionized masturbation for vulva owners, so it seems like a logical thought that the Arcwave Ion might revolutionized masturbation for everyone with a penis. People lost their minds, rightfully. While it's not for everyone, the general consensus is the pleasure air technology is a winner. And now that it exists in a toy that the shape is designed with a penis in mind the sex toy game is forever changed!
About
Ion was created to intensify the orgasm experience for penis owners. It stimulates the sensitive Pacinian pleasure receptors on the frenulum of the penis. While these receptors are important to strong orgasms, they cannot be stimulated by traditional techniques (ex. stroking, manual masturbation). Pleasure Air is a patented technology using pulsating airwaves to target the Pacinian Receptors in a new and exciting way. The Arcwave Ion is the world's first Pleasure Air stroker.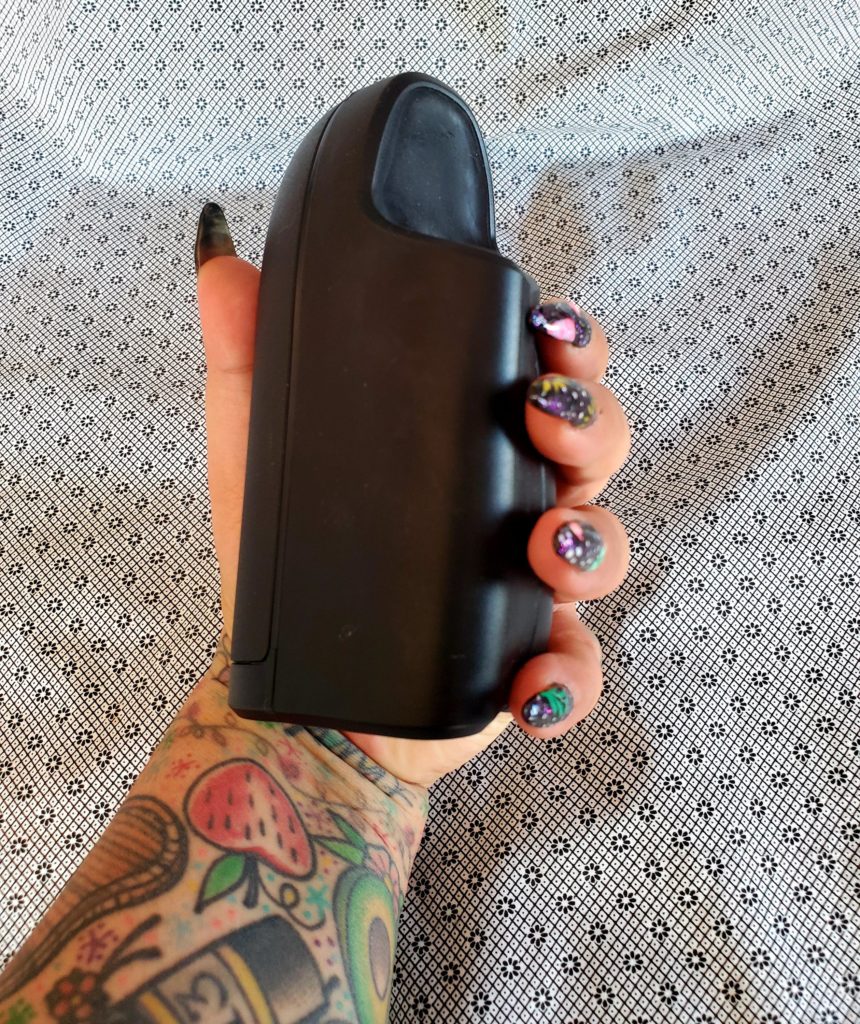 The frenulum is similar to the bundle of nerves in the clit, so it makes sense that this technology will feel good! Back in 2014, Womanizer introduced the idea of toys with air pressure, rather than vibration, to deliver powerful orgasms. So it makes sense to use the concept to create a device that would stimulate the penis, the same way the Womanizer (and other brands now) stimulated the clitoris.
Pros
New technology feels different but really good. It's all the good features of a nice quality sleeve, mixed with perfect placement of suction at the most sensitive area under the head of the penis. The suction is something you have to experience for yourself! it's not like a pump, it's feels more like a mouth teasing you and pulling you to release.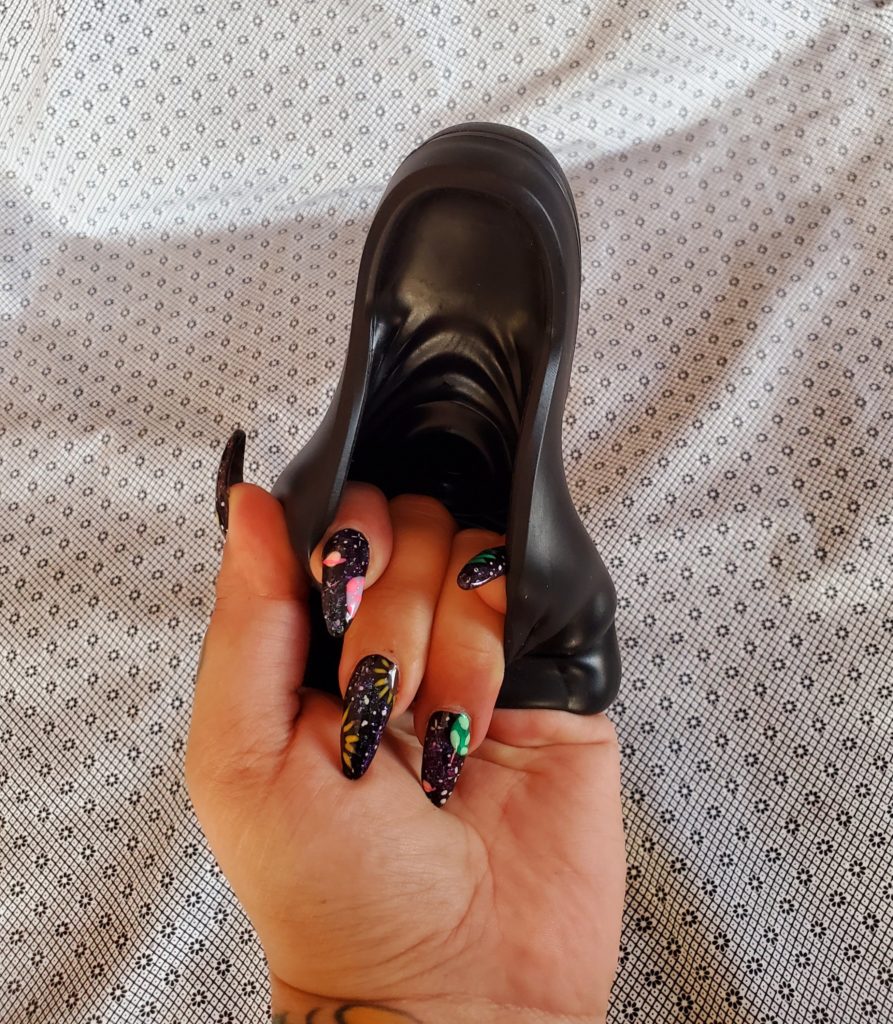 CleanTech silicone is extremely hygienic, durable, and easy to clean. It is also very flexible and able to accommodate most sizes. The storage case also charges the Arcwave and helps with the drying process after cleaning. The charging dock is one of the more unique designs because it doesn't look like a charging dock at all! The Arcwave sits inside, and once the lid is on, it's so discreet, it could be anything inside. The Ion twists apart into two pieces for easy cleaning. Then you just clean the silicone side with warm water and antibacterial soap. It's completely waterproof, so no need to worry about submerging it during cleaning or use! The charging dock also functions as a way to dry the device after you clean it. The inside has a little basket that you fill with a 'DryTech' sachets. It's sleek, simple, self-contained and discreet! The charging deck is most similar to a drill charger and my partner enjoyed the satisfying click as it sat in it's base to charge.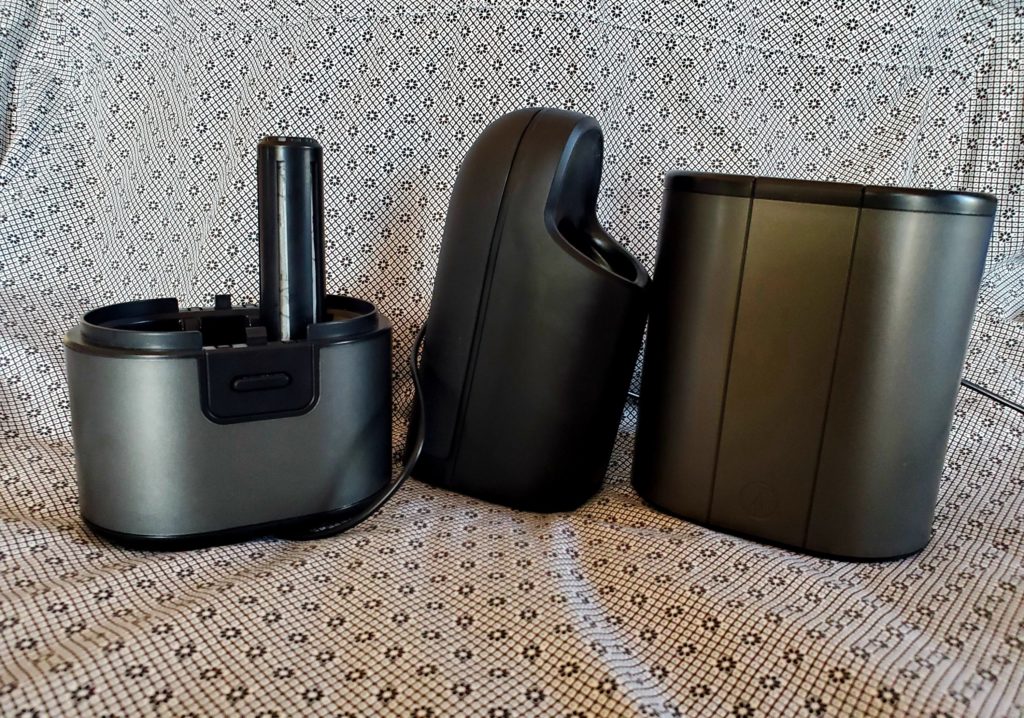 Also worth mentioning is the packaging feels like a luxury electronic and makes an ideal gift. It felt like unboxing a tablet more then a stroker which was a nice luxury experience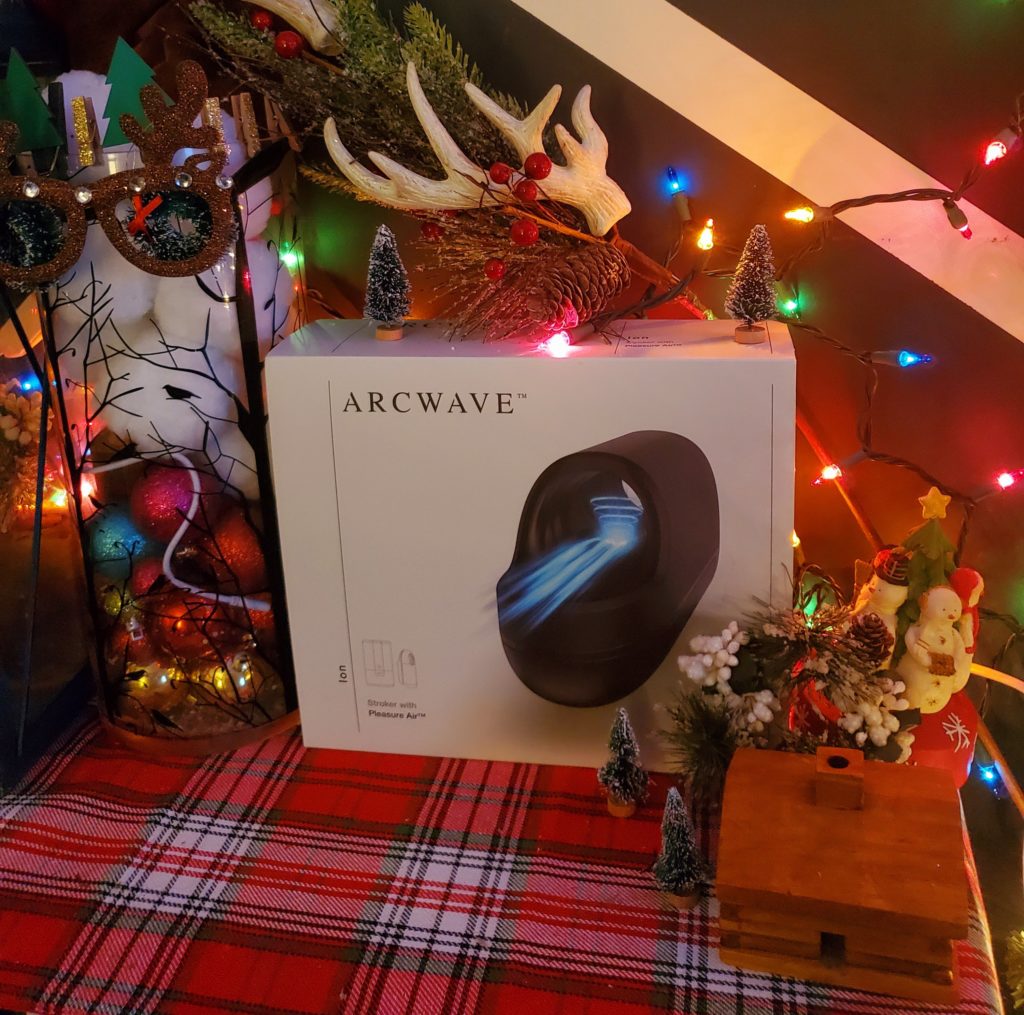 Arcwave ion is comfortable to hold. While the charging set up is bigger, the toy itself isn't very bulky or cumbersome. It fits nicely in the palm of your hand and makes traditional intuitive motions easy and pleasurable. It's also not particularly heavy. It weighs about the same as an average flashlight. Smart Silence will not allow Ion's motor to run until the Pleasure Air sensor inside the sleeve makes contact with skin. This conserves battery power and eliminates unwanted noise. But there is an option to turn it off so it doesn't stop the motor while you're still getting the hand of positioning the toy.
The Arcwave has a Nice expansive range of intensities. Meaning it can be customized to your preferences. You can really set yourself up for a good, long edging session. That's not to say that you can't just whip out a quickie when you want to; on it's highest speed, combined with a stroking motion it can lend itself to a huge release. And because the head of the penis is exposed you get to enjoy the cum show!
you'll get on average an hour of use from the machine, and recharging takes around 85 minutes, and from my experience and reading some other reviews it doesn't seem likely the user will need more then the run time of the toy.
Cons
The smart silence can take some getting used to. But it's easy to turn this feature off by pressing the Smart Silence button for 1 second to allow the Pleasure Air pulsations to run continuously.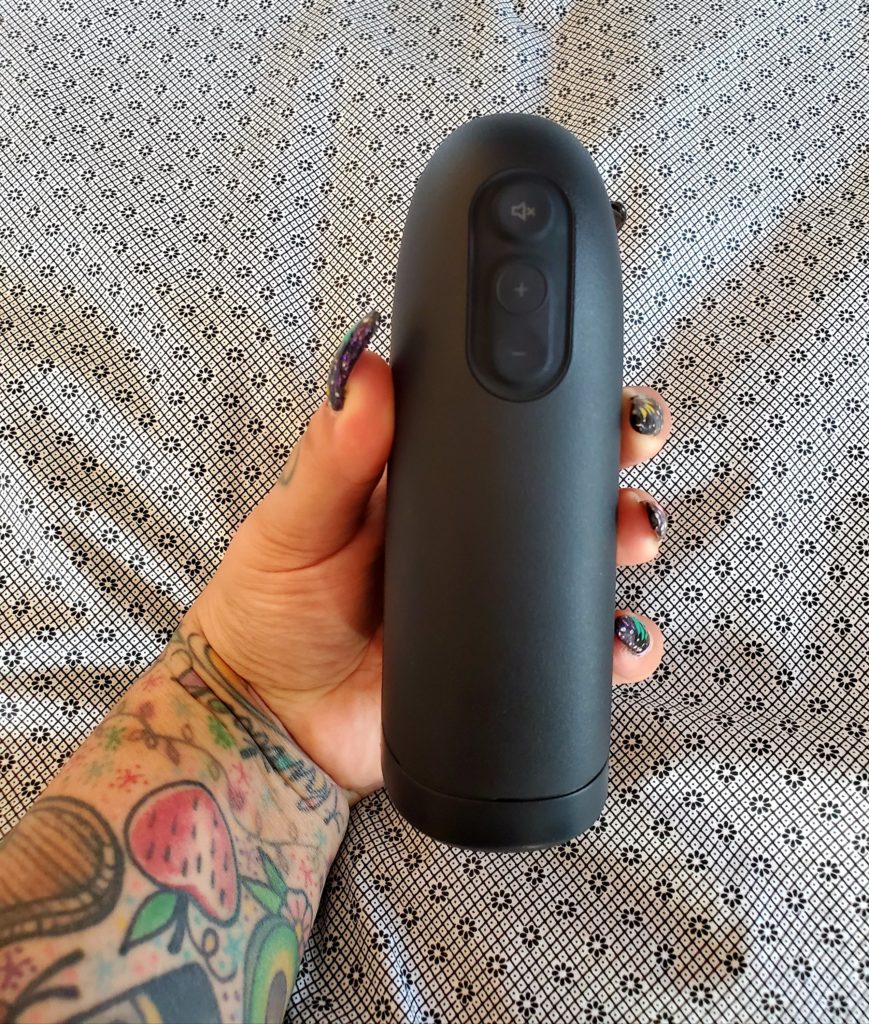 Read the manual. No really read it. It has care and cleaning tips that you'll want to know. The drying dock isn't intuitive, but it is easy to figure out once you read the instructions.
Not truly a con, but the Arcwave does have a learning curve. Most penis toys will have the user thrust (which is an intuitive motion to penis owners), but with the archwave you can't really wildly thrust without the suction becoming dislodged. So if that's what you're looking from a toy then this isn't the one for you. The toy is better at edging because most of the sensations are focusing on the underside of your penis. Since it edges you, you end up orgasming hard. You can thrust and control the grip through the sleeve but it's less movement and more playing around with positioning rather then thrusting.
Smart silence is really quiet, but with any suction toy when you play with positioning you get what can only be described as a slurping sound. Not a deterrent for me, but if you have nosy roommates, something to consider.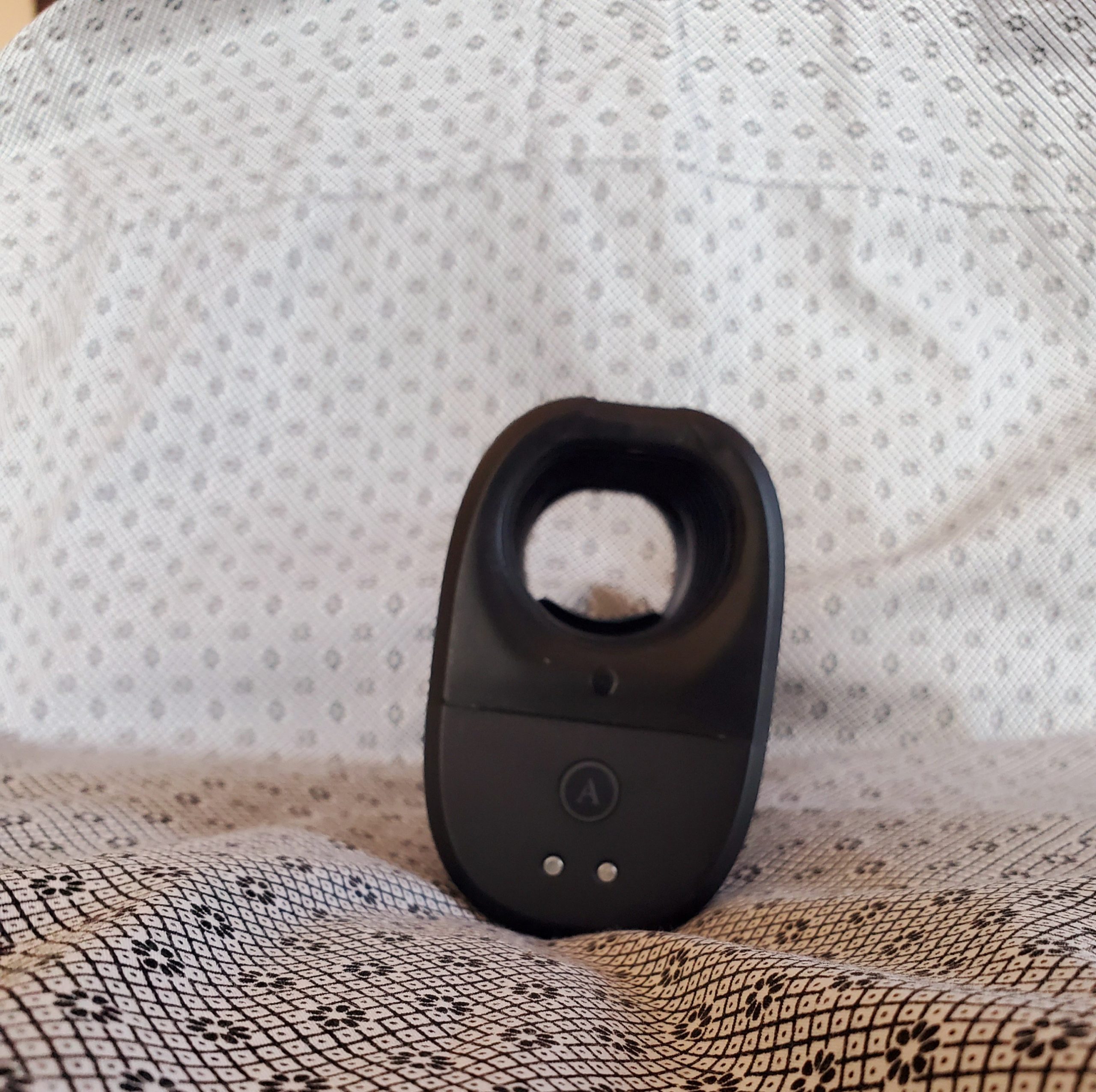 The only other con is the heavily gendered language for the Arcwave, so if you're a nonbinary or trans person that may be upset by that please avoid the Arcwave website and head to Spectrum Boutique, and be wary of the included product use info. The world hasn't quite caught up with gender neutral language.
Final Thoughts
With a smart, sleek, subtle design, the Ion doesn't look like a sex toy – or at least, it doesn't like the traditional idea of what a sex toy looks like. Place it on a shelf in your home and it will blend right in with its surroundings. The open ended part of the sleeve makes it easy to incorporate a partner still licking the head of the penis if you wanted a partner to get involved. It also doesn't impede the cum shot! Which if you're like me, you want to see the money shot. Give it a try for yourself!
Grab your Arcwave Ion from them directly or from Spectrum Boutique here
All thoughts and opinions are my own. Some of the links are affiliate links, if you buy something you won't pay a penny more but I'll get a small commission. Thanks!