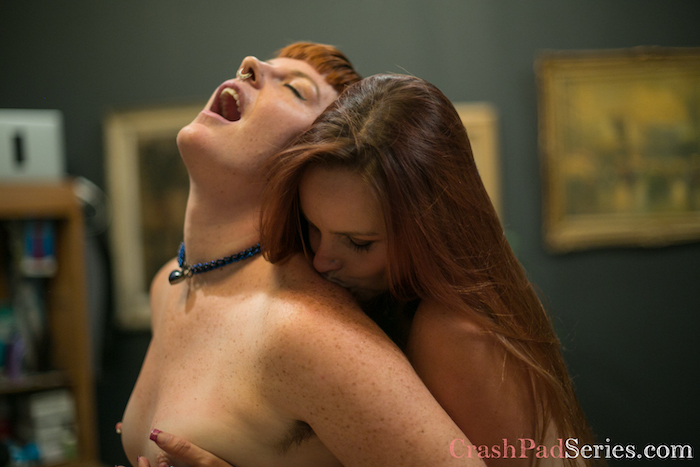 Porn Review
Crash Pad Episode 251: Barbary Rose and Bella Rossi
From Crashpad about the episode
"Barbary Rose and Bella Rossi are quite the playful pair of fun femmes. After making Barbary come with a Magic Wand, Bella fucks her hard with a strap-on. When it's Bella's turn to take it, she accepts a crystal plug in her ass and achieves a shudder-inducing orgasm"
Click to go to this episode
I am here for #femmeforfemme so let's see how much fun these femmes can have at Crashpad.
One of the things I love about when there's a scene with two femmes is how playful the energy is. Not a hard rule, but feminine energy is contagious. It just makes me smile. Seeing them both giggle and compliment each other. This scene is great at building anticipation. touching, teasing, kissing, slowly taking off clothes. I also have to mention how much I love both their outfits, and especially Bella Rossi's heels! I think it's sexy keeping heels on in the bedroom. The causal mention of body hair is why I love Crashpad & Queer porn. You usually only see body hair in porn if it's a fetish, which is all well and good, but body hair is natural and lots of people keep theirs. So it's nice to see it matter of factly.
Also rubbing someone's pubic mound is a great way to get people warmed up.
Bella gives Barbary a nice pussy hug and then says I don't know if wanna choke you, kiss you, slap you. I say do all the things! I am officially in love with Bella rossi asking Barbary Rose if they want whore mode, or slut mode on the magic wand. which for muggles just means the low or high setting.
And you can see consent is important. Even though they're filming a scene together Barbary Rose asks for permission to touch Bella Rossi's pussy.
It's always good to check in and see where your partner is at. I want to point out that both femmes have nails and there are so many jokes about "fake lesbians" and nails. You can be queer and have nails! There are so many hacks so you don't hurt your partner, plus it feels amazing when someone runs their nails on your skin.
In case anyone is wondering why the magic wand has a condom on it, the head of the original is porous so it can't be sanitized.
So if you're not fluid bonded with someone it's best to put a condom on toys. Plus it makes cleanup easy! Love seeing lube in porn. I hate when people think "being wet" is an indicator of how much you're enjoying things. Lube makes everything feel better,dripping wet or not! Check out these posts for more about how lube is amazing.
These two are a perfect example of how check-ins and consent can be incredibly sexy. Just stay in the moment and make it form of dirty talk. Ask for what you want, and ask to give new sensations. It can be so hot!!!! Using a strong vibe is a great way to help your ass relax, for a plug or etc. Bella Rossi looks amazing with that Crystal plug in. And having a plug in your ass helps a dildo in your cunt really put pressure on your g-spot. The scene ends with sweaty sexy kisses and it was a great one!