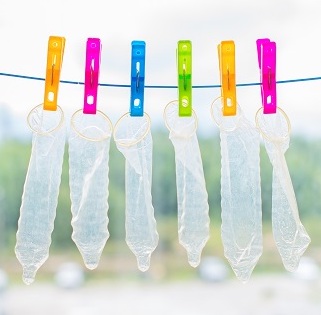 Making condoms sound playful is easy.
There are tons of cutesy names like love glove, woody hoodie, peter parka.... But making up funny names isn't enough to get your partner to wear one. Lucky for you, there are ways to maximize pleasure while using protection.
Condoms are easy to find and easy to use. They help prevent both pregnancy and STIs.
Plus, condoms have the potential to even make sex better. I swear! Protection is obviously important, but so is pleasure. Luckily, condoms can offer both!
Condoms come in lots of different styles, shapes, and textures that increase sensation for both the person wearing the condom and the receiving partner(s). Condoms let you focus on pleasure and your partner without worrying about pregnancy or STIs. Safer sex is better sex because it stops stress from killing the mood, and make clean up a breeze.
Condoms have no side effects
Most people use condoms with no issues. For real, there are no side effects. Sometimes, latex condoms can cause irritation for people with latex allergies or sensitivities. And sometimes the lube on certain types of condoms may be irritating. But in general condoms are a safe effective barrier to use during penetration.
​Try a better quality condom
Condoms are typically easy to find, but did you know that there are better quality condoms? Condoms that don't smell like gross rubber!! Have you ever really though about the sexual wellness products you use? There is some crap out there! invest in your body and your health by buying yourself Royal Condoms (Get yours here). The Royal Natural condom is ultra thin, you can expect a clean, fresh taste and smell, with a snugger fit. It's like natural spring water. Treat yourself and your junk to a better condom.
Try adding lubricant
You may or may not have heard about this little trick, but placing a few drops of lube inside of the condom before placing it on can turn up the pleasure. Simply putting a drop or 2 (no more or the condom may slide off!) of silicone based lubricant in the reservoir tip of the condom will increase the person wearing the condoms pleasure.
The lubricant helps with transfer of sensation to the head of the penis. This is especially true when you use the type of condom with the large pouch at the tip. With this type of condom, the pouch rolls around the head of the penis, providing additional stimulation. Lube will also cut down friction for the receiving partner allowing them to feel nothing but pleasure. My favorite silicone lubricant is Sliquid Silver and Uberlube.
Make putting it on an act of foreplay
You can make the act of putting the condom on your partner be a sexy part of foreplay, especially if you add lube. The mind controls the body, and believe it or not your brain is your biggest sex organ, and the main thing in control of your sex life. Your partner can help you put the condom on for you using their lips and tongue. Or they can use their hands as their mouth follows along combining foreplay and safer sex play. Play around with different methods of sexy condom application. You can even turn it into a sexy sex education class, if you're into that.
​Try a flavored condom
Again, not all condoms are created equal. We all have different palates, but treat yours to a condom that actually tastes good. They even use popular aphrodisiacs like chocolate and strawberry. Check out Royal Condoms here. Healthy doesn't have to be bland and boring. Check out Royal Condoms line of organic, vegan friendly condoms that taste and smell like the real thing.
---
​Condoms for other uses!
We can queer condom use! You don't need a penis to find a condom useful.
It can make sex toy cleanup easier. By putting a condom on your toy, when you're done using your toy you can simply take the condom off and toss it out. It can also aid in protecting your junk from toys that are less then ideal. While I always recommend body safe toys, that isn't possible for everyone for one reason or another so condom use on porous toys is better then the material directly touching your skin. Read more about that here.
It also makes it easier if you wanted to go back door to front door without leaving your bed. Simply use your toy in the backdoor with the condom on, then pull it off when you're ready for front door penetration. You can also quickly swap out condoms from person to person, to safely use the toy on a different person. You wouldn't think to worry about sizing when using a toy, but it's not a bad idea. You'll be less likely to experience slippage if you have a condom that fits your toy properly.
Condoms can also be used as a dental dam in a pinch. Just cut the tip and bottom off of the condom, then cut it in half the long way and spread it out over someones vulva or butthole before you put your mouth on it!
Tell me more!
How are some other ways you make condoms more fun?
---