From CrashPad about the episode
"There's a lot of benefits in fucking your friends, if Cinnamon Maxxine and Kissy Burgundy can stop laughing long enough to actually come! After finger-fucking Cinnamon with a textured glove, Kissy spreads their legs wide for Cinnamon's dildo. But the real treat is getting to watch Kissy use a Magic Wand… for the first time! And if one is good, why not two?"
I want to start by professing my love of Cinnamon Maxxine.
I met them a few years ago at a queer porn screening in Brooklyn and loved everything they had to say. Plus someone else who loves bellies? What's not to love.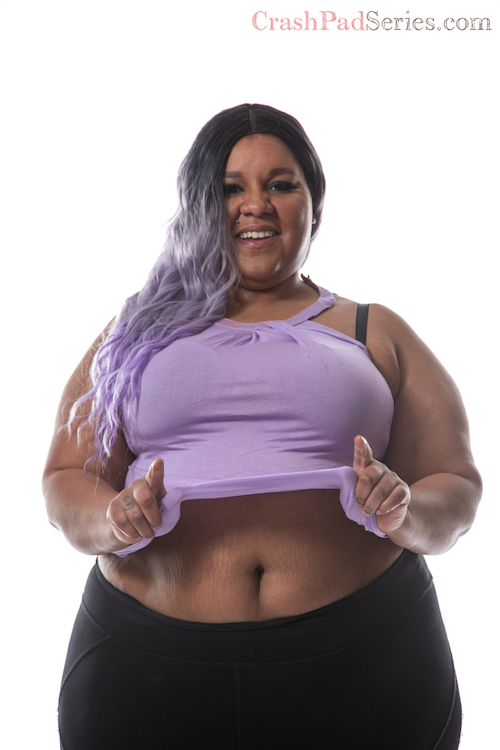 Kissy Burgundy is new to porn, but anyone covered in tattoos and wanting to try a magic wand (Get the original, the plus or rechargeable) is already golden in my book. Plus their bio on the Crash Pad site is swoon worthy. They just need a Twitter so I can thirst tweet them!!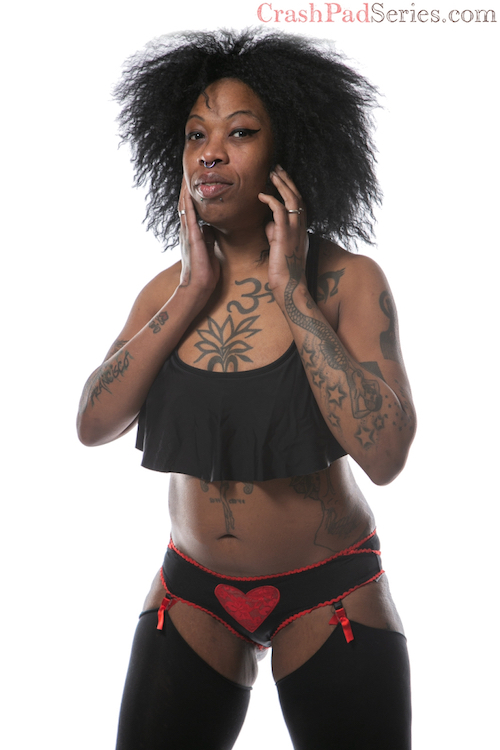 I love that episode jumps right in and starts with playful banter. Cinnamon Maxxine has done Crash Pad Series before and says they're nervous. Kissy Burgundy laughs it off and says you're not allowed to be while getting more lube.
Shout out to the Oxballs Finger Fuck Glove.
That brand has a very specific audience and I love the idea of these two using it, plus I've never seen it in action, so exciting all around. Hand stuff should be shown more, cause it's hot to watch.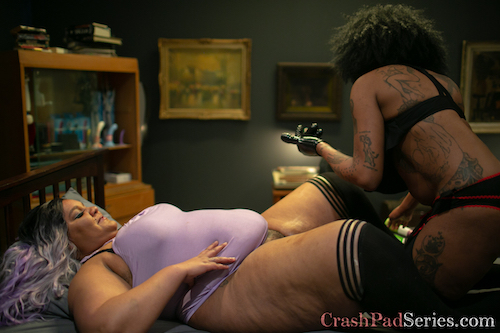 I love seeing sex where there is lots of giggling and fun, and the communication is playful as well as checking in with how your partner is feeling.
Crash Pad Series has a wide range of vibes and moods in their scenes but these tend to be my favorite. I love seeing sex be fun. Cum for your best friend should be a new genre of porn! Dirty talk can be serious, or silly. Just have fun with it!
I love that they're discussing non-binary terms of endearment while they're both fooling around. Until Cinnamon Maxxine finds Kissy Burgundy's spot and then the sweet sounds of pleasure is all you hear.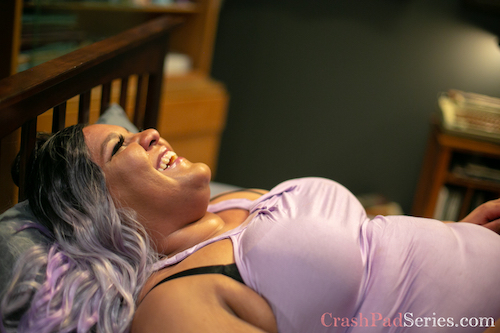 Short thrusts are more effective on the g spot because it's typically about 2 inches in the vagina, and rhythmic pulsations can lead to a strong orgasm.
Here we go! Kissy Burgundy is about to use the Magic Wand for the first time, they said they don't use vibrators! Even if you've ever side eyed this toy, give it a chance to change your life!! (Get the original, the plus or rechargeable) Some tips for first time wand use is warm up first! Then try to keep it moving so you don't overstimulate yourself. Use it on the vulva and above the clit before you go for the clit and last tip is enjoy the ride.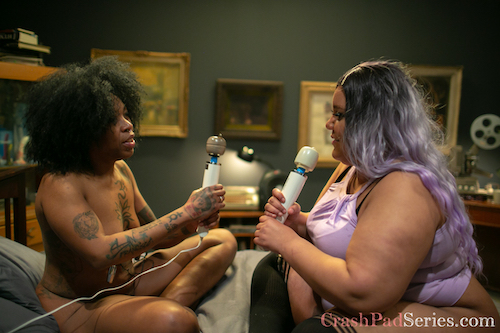 I think this episode is what young Carly had hoped sleepovers would be like and never were!!
All in all amazing episode. If you like playful banter, orgasms, and 2 friends fucking around then this is for you!
Want to see this episode for yourself? Click to go to this episode