From Crash Pad about the episode
"'I'm a fucking Goddess,' Spookyfatbrat says, and that's no lie. After calling in sick to work, she worships herself properly by coming on a Magic Wand. Now THIS is what I call 'self-care.'"
I know I'm predictable but any Curvy Femme with tattoos is automatically going to steal my heart.
So I'm obviously super excited to see SpookyFatBrat on Crash Pad Series with my all time favorite toy the Magic Wand. (Get the original, the plus or rechargeable) I know I've talked a lot about representation in porn but to see a curvy femme with tattoos just loving on herself is so empowering to folks like me. Especially with companies like Crash Pad Series because they don't shoot porn for the male gaze so it truly is inherently different.
I'm totally here for calling out sick to masturbate.
Our culture works ourselves to death (no ethical consumption under capitalism) and I feel like is more folks took days off for self care, whatever that is for them, we might be happier as a country. Bottom line is take care of yourself, taking days off for you mental health can actually prevent you from getting physically sick. And there are tons of reasons why you should masturbate! Read more here.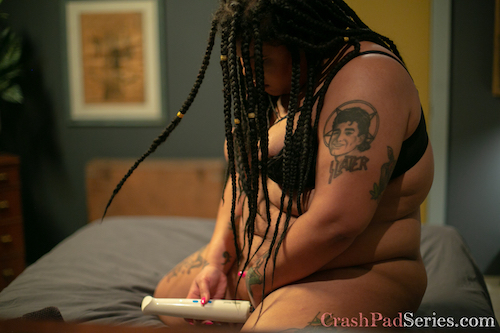 Warming up with intense toys like the Magic Wand through your underwear is a great way to build up sensation and start slow.
You have to allow your body to get warmed up to get the best orgasms you can get. Edging yourself is another great way to make your orgasms more intense. Keep bringing yourself to the edge without letting yourself reach climax until you're ready to finally give in to pleasure.
The more arousal you build the more intense the release.
Even though the magic wand is a very strong vibrator, going up & down in intensity & using the pulsation patterns is a great way to tease yourself and make the experience last longer. It's easy to crank it up and just cum, but tease yourself, it'll be worth it.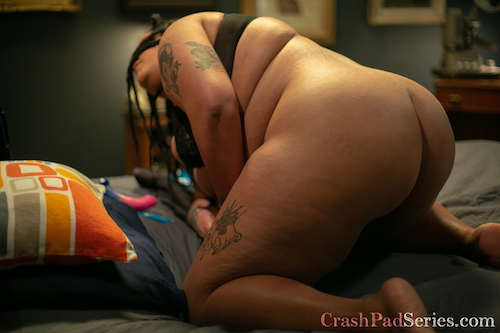 By the way, it's totally a myth about vibrators desensitizing you.
What the issue is, is doing the same thing every time. Your body gets used to anything. So change up positions, use different toys, levels of vibration or even pulsation patterns
Want to see this episode for yourself? Click to go to this episode