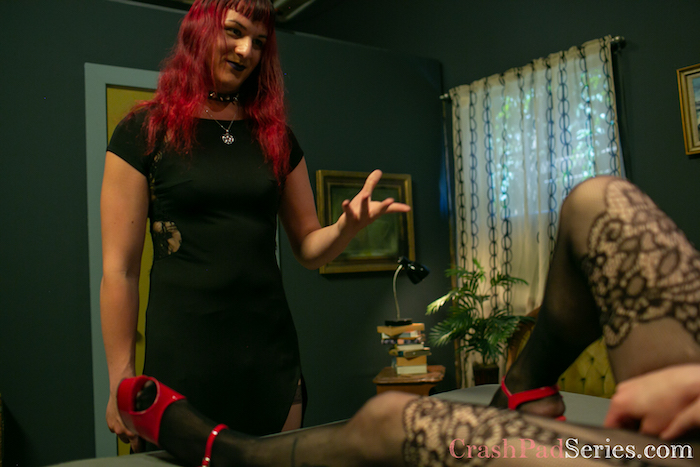 Porn Review
Crash Pad Episode 270: Maxine Azula and Valerie Paige
"Call me whatever you want, just don't call me late to the party!' Maxine just couldn't wait for Valerie to show up, getting started on a dildo before Valerie even opened the door! After some teasing scolding and some foreplay with a flogger and paddle, the two switch it up with a rockin' display of full-bodied strap-on pounding followed by even more toys. If this bed's a-'squeeking, I'll be a-peeking!"
Particularly excited to see Maxine Azula because in their bio they mention being a Performer of Fetish and Circus arts and that is directly in my interests.
I'm having having a sideshow themed wedding. So my pervert heart is so happy right now.
For Valerie Paige I'm equally as excited because she mentions that she plays cello for various punk rock bands.
I actually have my music degree in euphonium performance and I am always here for musicians that play slightly unusual instruments. Especially when that instrument is being played by a smoking hot punk rock babe!
One of my favorite parts of Crash Pad is the performer bios. It feels humanizing to see and adds a level to the voyeurism that I also enjoy.
It also helps me relate to the performers on a deeper level that goes beyond just attraction which is also fun!
I love seeing what each performer feels sexy in since Crash Pad lets the performers pick what they want to wear and what they want to do. Which is rare with porn productions unless you're doing your own content. Lingerie can be anything that makes you feel sexy. From lacey body stockings to Goth aesthetics. It's all fair game, think outside of the box.
The narrative of playing with yourself and being caught can be such a fun dynamic that can be made even more fun by adding lot's of dirty talk!
Check out dirty talk tips here!
Dirty talk is all about using the 5 senses, so describing what you're seeing, smelling, tasting, feelings and hearing can be a great jumping off point. Valerie Paige is great at this as she describes the glorious jiggle of Maxine Azula
Paddling adds thuddy sensation to the pelvic floor which is great especially if you're stimulating a g spot during a paddling.
And Valerie Paige is hitting Maxine Azula in the sweet spot where the booty meat meets the thigh meat
My favorite and #1 Queer icon is the Magic Wand makes an appearance. Wands are great for all kinds of genitals. Vibration feels good for everyone. Try putting your vibrator everywhere and find new erogenous zones.
Communicating your needs, typically gets your needs met. If you can give your partner a little bit of direction you can get all the things you desire and that's why communication is a beautiful thing!
All in All an amazing scene. Click to go to this episode