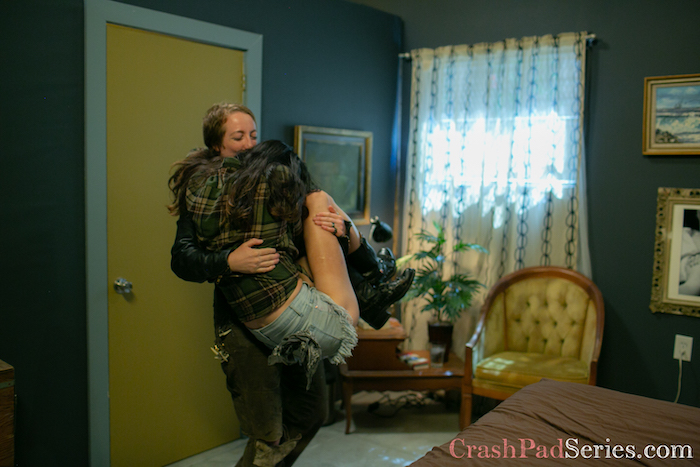 Porn Review
Crash Pad Episode 267: Finn McKee and Scout
"The claws come out when Scout makes all kinds of trouble for Finn McKee. A Magic Wand tames that brattiness for a bit, 'til Scout dumps McKee's luggage all over the bed. McKee drags her talons all over Scout's body before letting em sit on her face, but Scout has one last trick up eir sleeve... something tells me McKee's gonna miss that boat."
I'm excited to see Scout in this scene because of this part of their profile
"Middle finger rising | Pillow Princess"
Hard identify
This made me realize, part of what I love about Crash Pad is the performer bios. It really adds to the voyeuristic component. I feel like I get to know folks a little before I jerk off to them. And I really love jerking off to folks I know. It really does it for me.
And always exciting to see someone shoot their first porno. It can be so magical, so excited to see Finn Mckee for the first time.
I appreciate that Scout is flagging black on the right. It's the attention to detail that I always love. I always tell people that lingerie can be anything. Eroticize what you're wearing and it can really complete the whole experience. I have a thing for biker types, so a leather jacket gives me all kinds of feelings.
A struggling bratty bottom can be so much fun.
Finn gets what she wants though, by getting Scout's pants off. Love watching Scout's bratty bottom behavior and how Finn used it to her advantage. Using Scout's bra as a blindfold was ingenuity.
The magic wand is truly a gift.
You can use the handle to maneuver it into such great positions. Sandwich it between bodies for more leverage and pressure and shared pleasure.
Skin craves variety.
Adding the talons adds a different sensation that will awaken all the senses. The scene ends with Scout tying up Finn and leaving them in a little bit of predicament bondage, until Finn manages to untie and chase after Scout. Great energy and chemistry.