From CrashPad. (if you want to know more about Crashpad Click Here)
"An ohm is a measure of electrical resistance, but Erykah Ohms is highly receptive. After Tina Horn pumps Erykah up with an inflatable toy, she slides an exceptionally long plug up their butt. Limits are explored and Erykah takes Tina's hand until they're the fullest they've ever felt. Ohms is riding high, but the energy is flowing smooth."
So full disclosure. I absolutely love Tina Horn. She's smart, funny, and one of the most badass Queers I've ever met.
I've been on her amazing podcast "Why are people into that?" and love sharing banter and sex ed with her. Plus she has the most amazing ass! Check out me on her podcast here! The bar for Tina Horn's dirty talk is pretty high, because she literally wrote a book about it. I'm so hyped to see her in action!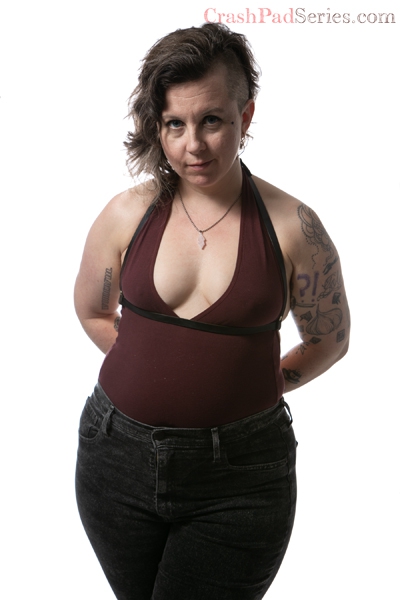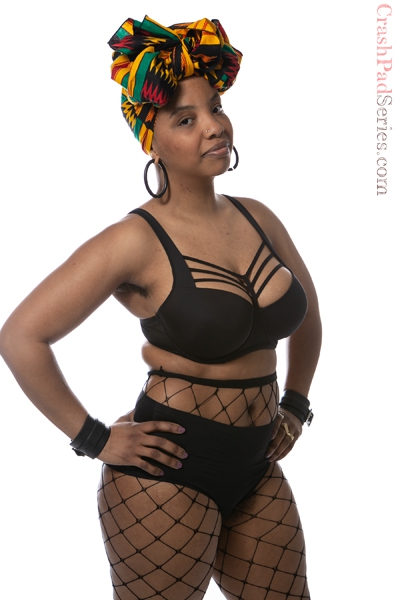 And Erykah Ohms is someone I've admired from a far for years. We've both shot with AORTA films and been in the Queer NYC scene. Plus her bio does not disappoint.
I love the idea of making non traditional erotic things, into something sexy.
That's why I love fetishes so much. Tina Horn says she's glad Erykah Ohms kept her boots on then proceeds to give some great boot worship. Not something I'm typically into, but that's the amazing thing about porn! Especially Queer porn, sometimes you stumble across something you never gave much thought to and a light bulb comes on.
Caressing your bottom and warming them up is so important and creates not only anticipation for what's to come, but also gets all those nerve ending awake and ready to take more stimulation.
I learned a lot about enemas from Tina Horn, she teaches amazing workshops about that also! And Erykah Ohms is ready for for her to show her expertise.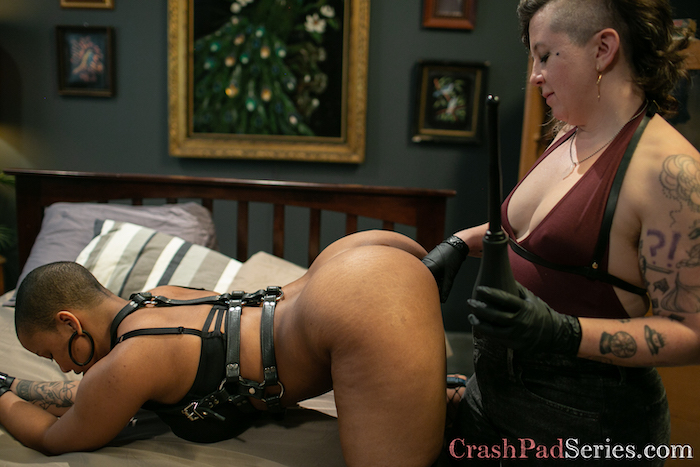 Love the safer sex barriers in Crash Pad Series Gloves are especially great for stimulating butts because it smooths all the nails and rough edges. Plus gloves are just sexy. Tina Horn doesn't disappoint with her dirty talk. It's full of consent, check ins, and encouragement.
I want to just hear Tina Horn voice in my head narrating all my sexy times. As someone who works at a sex toy store and loves all the accessories, it's so fun to watch an array of toys that you don't see too much in porn. Thank you Erykah Ohms for bringing such fun toys!
I love how consistent Tina Horn check ins about lube are.
Even for greedy experienced bottoms, lube is an important part of anal. The backdoor doesn't self lubricates so lube is important for making things slippery. Strong vibration, like from my favorite the Magic Wand, can make anal an even better experience. Especially for those who like a lot of stimulation.
Check ins about removing larger toys or even fists is an important aspect that tops can forget. After you've orgasmed and the muscles are tight, it might take some time to relax them enough to remove toys or hands.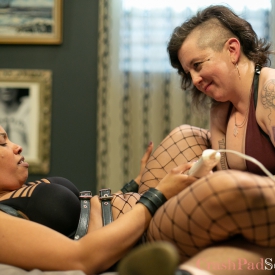 All in all, an amazing episode!