About
With an unbelievably powerful thrusting motion, the Commotion Cha Cha Silicone Rechargeable Thrusting Dual-Stimulation Vibrator fulfills your wildest fantasies. Keep the Cha-Cha's thrusting motion smooth and steady or speed things up for fast action stimulation. The incredible thrusting power combined with a tried and true rabbit clitoral shape provides toe curling vibrations that will take your pleasure to mind blowing new heights.
7 functions
Travel lock
Water resistant, do not submerge in water
USB rechargeable for cordless play
Length – 9.25″, Insertable Length – 5″, Width – 1.3″ at the widest point
Get Commotion Cha Cha Silicone Rechargeable Thrusting Dual-Stimulation Vibrator in Purple or
Commotion Cha Cha Silicone Rechargeable Thrusting Dual-Stimulation Vibrator in Pink
Initial Thoughts
Rabbit style dual vibrators that have a g spot stimulator, and a clit stimulator are = usually my least favorite style of toy. Usually because those toys are stiff they don't line up where I need them to be. Anatomy, is not one size fits all. So it's hard for toys that need to fit like a puzzle to be made for people when they exist in such a wide range of sizes and configurations. Newer variations are more flexible, so they can fit more of a wider range of body configurations.
Usually for me the g spot part is too short, or not thick enough for me to enjoy. While the clit part is usually not long enough to even reach my clit. Plus, I actually hate vibration inside of me– in my front or my back hole. While I am a power queen, and love wands. I only enjoy the vibration on my outside erogenous spots. I'm always on the look out for toys that vibrate on the clit and either thrust or have some other type of stimulation for my g spot other then vibration. That's the benefit of knowing what I like, so take the time to explore your body and figure out the sensation you enjoy. The Commotion Cha Cha Thrusting Rabbit is a toy that seems like I would enjoy, so I was hopeful this toy would deliver.
Pros
The pros for this toy are wildly subjective, but I loved this rabbit!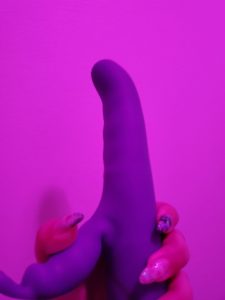 It's thick enough to feel satisfying without being so thick that it feels like being stretched while using it. The widest part is about 1.3 wide, which is somewhere in the middle of thickness. The silicone on the internal thrusting part of the Commotion Cha Cha Thrusting Rabbit is velvety smooth, and soft without being mushy. The internal part is curved, instead of having a more anatomically penis like shape which made the internal part pull down really successfully on the g spot.
Customized Thrusting!
The internal part does not vibrate, only thrusts. Which to me is a major plus. The best part of the internal thrusting feature is that you can speed it up. There are lots of other rabbits now that do some variation of thrusting and most you don't have a ton of control of. The Commotion Cha Cha Thrusting Rabbit is truly customizable with both the vibrating and thrusting parts.
The internal part has a strong arm that works even while clenching down on it with my vagina. Even with the strong motor it is pretty easy to use it without it thrusting out of you. Which is partially due to the curved head being able to hook behind my pubic bone and settle into exactly where I need it to be to put the right amount of pressure on my g spot.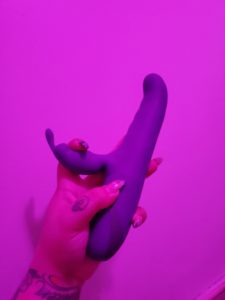 Vibe with me
Get Commotion Cha Cha Silicone Rechargeable Thrusting Dual-Stimulation Vibrator in Purple or
Commotion Cha Cha Silicone Rechargeable Thrusting Dual-Stimulation Vibrator in Pink
The rabbit shape is a classic for a reason. The bunny ears can flutter or lay surrounding the clit. Or you can press it's head down on your clit and get direct vibration. It has 3 levels of intensity for the vibration– low, medium, and high. It has a fairly good range, and no distracting pulsation patterns. The clit part is flexible, with nice give but will still put pressure on your clit so make sure pressing the vibrator on your clit is something you like. Although it will vary how it fits your particular configuration. The motor is powerful, buzzy but powerful.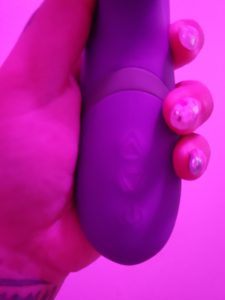 The buttons are really simple to use, especially once it's inside of you. I would still recommend playing around with the buttons before you insert it so you know which button will do what. The controls feel intuitive and exactly where I would want the buttons to be in my hand. You can also control the two motors independently. So if you wanted the toy to only thrust, or only vibrate you can do that. Or turn one up, and leave one lower. It's completely customizable.
Cons
Honestly, the major con is that it won't fit every body's genitals. With rabbit's that is the risk you take when you buy one right off the bat. Unfortunately, only you can figure out if it's going to work for your body by trying it out.
Good Vibes Only
The clitoral vibrating motor leaves something to be desired. It has 3 settings, of low, medium, and high. The major issue is the motor is buzzy, if the motor had some more depth to it, and was more rumbly it might be the perfect toy.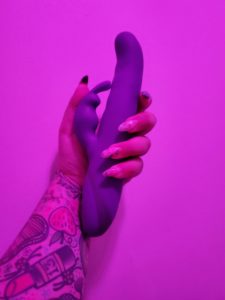 If you enjoy deep thrusting this toy might not work for you. The thrusting is nice because you can increase the speed but it's pretty shallow. In terms of the g spot it's great for putting pressure on it, and pulling down on it. But if deeper thrusting is what you crave then this toy isn't the right one for you because it won't deliver that.
Not being waterproof is a big con for me since I love to talk about mermaid masturbation. I think all rechargeable toys should use magnetic chargers so they can all be submersible in water. Being splash proof and over $100 seems like a missed opportunity.
Final Thoughts
Some people prefer the feeling of actual penetration at the same time as clitoral stimulation, and that's where the Commotion Cha Cha Thrusting Rabbit really sets itself apart from other toys. Not only does it offer the sensation of an insertable, but it also provides dual stimulation with a small but noticeable back and forth motion. Of course, you could always move the toy yourself and provide your own thrusting motion, but sometimes you just want to be a pillow princess. So lie back and enjoy the ride.
Get Commotion Cha Cha Silicone Rechargeable Thrusting Dual-Stimulation Vibrator in Purple or
Commotion Cha Cha Silicone Rechargeable Thrusting Dual-Stimulation Vibrator in Pink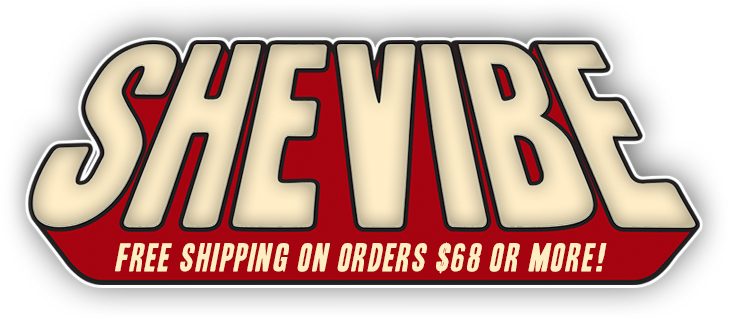 This toy was given to me by SheVibe for an honest review. All thoughts and opinions are my own. The links are affiliate links, if you buy something you won't pay a penny more but I'll get a small commission. Thanks!