Discover a playful world of pleasure with Barbie themed sex toys. Barbiecore is making a resurgance and I couldn't be happier. Perfect for Barbie fans, these delightful and fun-loving toys add a touch of excitement to your intimate moments. Let your imagination run wild and indulge in a magical experience that brings together fantasy and pleasure in one delightful package. In a world filled with endless responsibilities and commitments, it's important to prioritize self-care and carve out time for personal rejuvenation. Even our beloved childhood icon, Barbie, understands the significance of self-love and taking care of oneself. So, let's indulge in a whimsical imagination where Barbie embraces the concept of self-care and treats herself to a delightful and empowering date night. Let's fantasize and explore how Barbie might embark on a self-care journey, reminding us all of the importance of self-indulgence and well-being. Get ready to step into Barbie's world, where self-care takes center stage in the most fabulous way possible. When it comes to sex toys, personal preferences, and individual tastes can vary significantly. However, if you're specifically looking for hot pink, girly-themed vibrators, and sex toys, here are a few options to consider.
Barbie World Lubes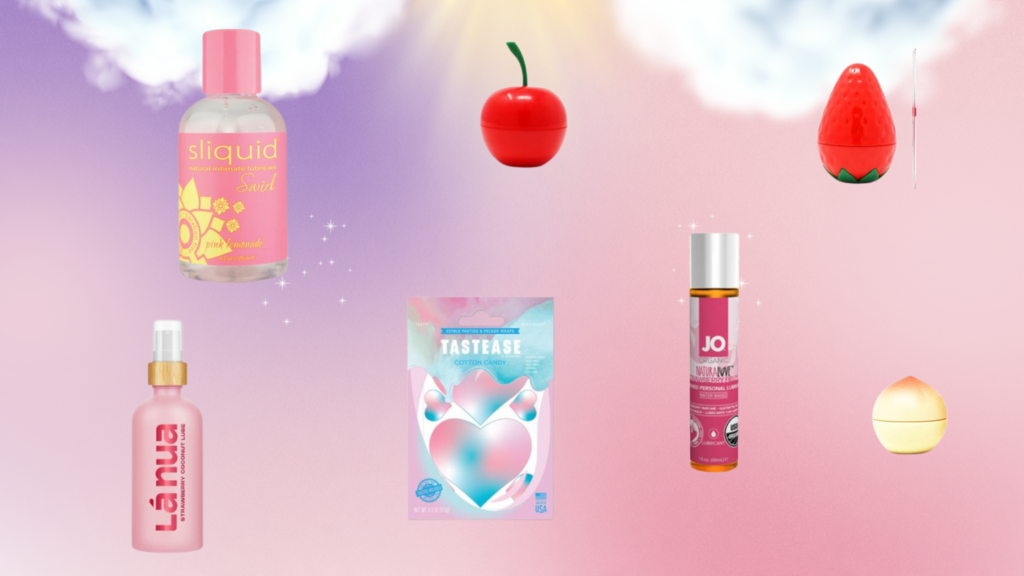 Wetter is always better, especially when its flavored and body safe. Sliquid Sassy with it's pink label would look perfect on any nightstand but Barbie would be all about body safe flavored lubes. La Nua Strawberry Coconut, Sliquid Swirl Pink Lemonade and Jo Organic Strawberry flavored would be her pink fantasy go-tos. Barbie would know it's all about fun and exploration and try some cotton candy flavored pasties like the Tastease or Exsens Nipple stimulators in strawberry, cherry or peach.
Honorable mention for the Exsens Glam Oil Gold Shimmering Body Oil. Experience the allure of Glam Oil, a sparkling body oil that pampers your skin and hair, leaving it irresistibly smooth and silky, adorned with a delicate golden glow. Infused with sweet almond oil and a soft, alluring fragrance, this eco-friendly glittering oil is destined to become your ultimate favorite!
Barbie Themed Air Pulse Style Suction Toys
Air pulse toys offer a different kind of stimulation compared to traditional vibrators, which some individuals may find more pleasurable and exciting. Barbie would love it for the unique sensations, discreet and cute versions, and endless options. These toys can be used for solo pleasure or with a partner. Even if it's two Barbies, or Ken and Barbie. These toys will have a small opening or nozzle that creates a seal around the clit or nipples. When activated, the device generates gentle waves or pulses of air that stimulate the area without directly touching it. The pulsating sensation mimics the feeling of oral stimulation or gentle suction, resulting in focused pleasure. Barbie themed sex toys are easy to find in this category since there are many hot pink and just adorably designed toys. Cute stimulators like the Emojibator strawberry air pulse, Lucky Duck, Sugar Pop Jewel, Caress Hummingbird, or Revel Starlet would be at the top of her list. Unless she would go for a classic rose air pulse stimulator. Then Barbie would go for the ROMP Rose for its 2-year warranty, easy-to-clean head, and more pronounced mouth.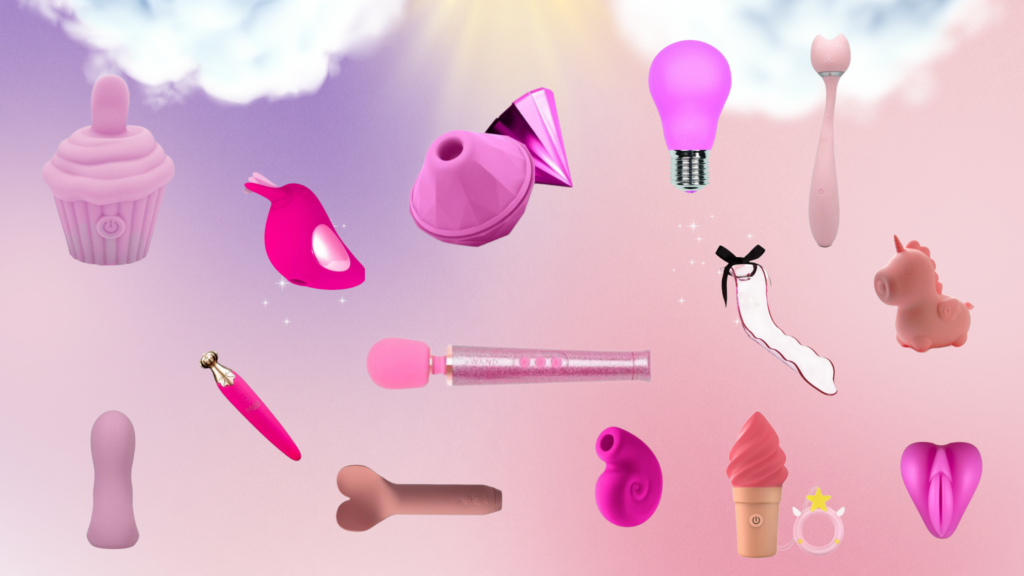 Barbie themed Bullet Vibrator
Bullet vibrators are small, discreet, and versatile. Bullet vibrators are usually compact and discreet, making them easy to store and carry discreetly in a purse or bag. Perfect for a Barbie girl on the go! Due to their small size and pointed tip, bullet vibrators can provide precise and targeted stimulation to specific erogenous zones like the clitoris, nipples, or perineum. If you're new or nervous about using sex toys, a bullet vibrator can be a non-intimidating and approachable choice due to its small size and uncomplicated design.
Barbie would love the Je Joue Amour Bullet which has an adorable heart-shaped tip bullet that offers a delightful and playful experience, providing gentle and fluttering sensations. Its sensual tickling effect makes it an ideal companion for exploring any of your erogenous zones. The Love to Love Ice Cream Mini Vibe is a petite discreet powerhouse. Cute enough to gift your BFF, or enjoy yourself. Or the Doc Johnson Ritual Dream vibrator that is super soft and a light pink dream. Perfect for discreet exploration. Or for the Stoner Barbie Girl, the Maia Vaporator, a vibrator and vape pen in one.
Barbie would absolutely adore the Je Joue Amour Bullet, featuring an adorable heart-shaped tip that offers a delightful and playful experience, with gentle and fluttering sensations. This sensual tickling effect makes it the perfect companion for exploring all your erogenous zones. If you prefer something petite and discreet, the Love to Love Ice Cream Mini Vibe is a powerhouse in a cute package, making it an ideal gift for your BFF or a delightful treat for yourself. Alternatively, there's the super soft and dreamy light pink Doc Johnson Ritual Dream vibrator, perfect for discreet exploration. And for the adventurous Stoner Barbie Girl, there's the Maia Vaporator – a vibrator and vape pen in one, adding a unique twist to your pleasure experience.
Barbie Themed External Vibes
External vibes like a wand or fluttery vibes offer distinct and pleasurable sensations. Wand vibrators are known for their powerful vibrations, which can provide intense and deep stimulation to the external erogenous zones. This can lead to quicker and more intense orgasms for some individuals. Wand vibrators have a larger head that covers a broader area, allowing for more extensive coverage, which many enjoy. On the flip side, for individuals who find direct clitoral stimulation too intense or uncomfortable, fluttery vibes or more subtle external vibrators can offer a gentler and more teasing sensation. External vibes are versatile and can be used during solo play or incorporated into partnered sex for added pleasure and excitement. External vibes are generally easier to use and require less precision than internal toys, making them a convenient choice for quick pleasure.
The GBlulb is a light bulb-shaped toy that is essentially a wand without a handle. The Le Wand All that Glimmers is the ultimate glittery wand for the sparkle-loving power seeker. Enjoy a posable wand with an adorable kitty fact with the Purrs like a kitten. Or enjoy a fluttery sensation with the Cake Eater or an adorable thumping unicorn.
Honorable Mention-Unique Finds
Experience the joy of water play like never before with the WaterSlyde, a sleek plastic water diverter that easily attaches to most forward-facing bathtub spouts. Position yourself comfortably in the tub as the water flow is directed to the mid-line, allowing it to wash over you for a stimulating and enjoyable experience. Turn up the heat on your sensual massage with the Hot Heart Massager. With one click, the heart-shaped heat pack is ready to help you give a five-star massage. The heart will heat up so you can use it to take your foreplay and massage to the next level. Add the Lippi to your collection, a versatile and artfully made sex toy that functions as a grinder, stroker, and dildo base stimulation cushion. Made of lusciously soft silicone, it provides additional cushioning when placed on the base of your favorite dildo in a strap-on harness. The Lippi features pronounced lips and a faux clit for stimulating grinding, with space to hold a bullet vibe for added vibration sensations. Use it solo or with a partner, and get creative with various ways to enjoy the Bumpher's pleasures!
Barbie Inspired G-Spot Vibrators
G-spot vibrators are designed to target and stimulate the G-spot. Using a G-spot vibrator can be a way for someone to explore and better understand their own body and sexual responses, leading to a deeper sense of self-awareness and pleasure. Adding a G-spot vibrator to one's collection of sex toys can offer a different type of stimulation compared to clitoral or external vibrators, providing a more well-rounded experience. Stimulation of the G-spot can contribute to increased lubrication and pelvic floor muscle strength.
Barbie would go for fun shapes, soft textures, and unique features. So the Oh Oui Banana would be a go to choice. A slim curved treat ideal for targeting the g-spot, and comes with a fun fanny pack to store it or use for other adventures. Barbie would appreciate how campy the Love Hamma is, because who wouldn't love a thrusting and vibrating hammer-shaped sex toy? Even I reviewed it and loved it!. Or Barbie would lean into her softness and go for the pillow soft thruster the Pillow Talk Feisty or thrusting and vibrating unique Fun Factory Sundaze. Either way she would take her time and explore what she likes and doesn't like and enjoy the process.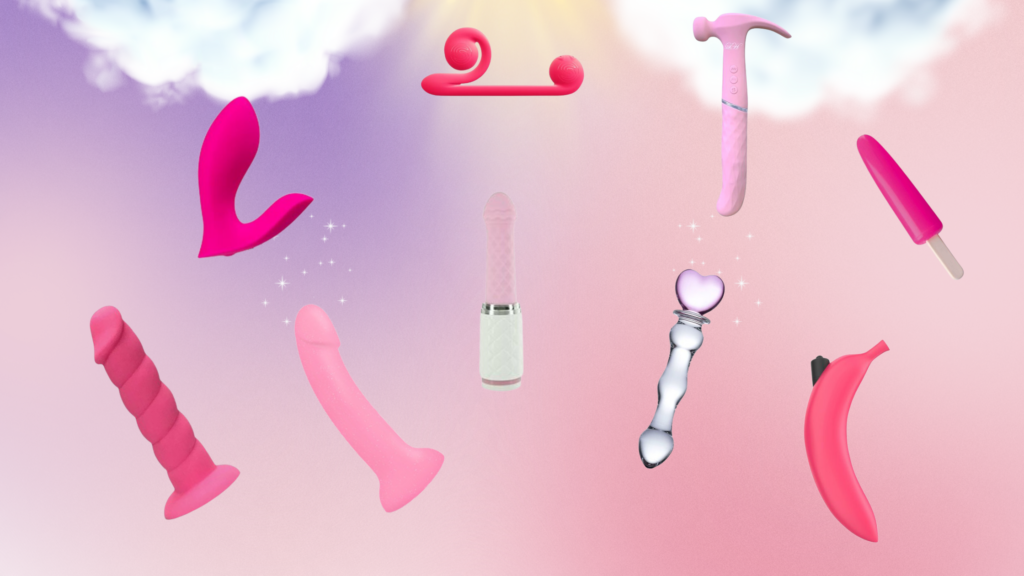 Barbie Themed Dual Stimulating Rabbit Style Vibrator
Rabbit vibrators offer a unique combination of features that can provide enhanced pleasure and stimulation. Rabbit vibrators are designed to simultaneously stimulate both the G-spot internally and the clitoris externally or the Prostate and Perenium since the external arm acts as an anal flare making it backdoor-safe. This dual stimulation can lead to intense and blended orgasms for many individuals.
Barbie fearlessly embraces her wild side with the Evolved Buck Wild., a thrilling choice for exploration. For a touch of adventure, she can try the Lovense Flexer, a wearable vibe with a come-hither motion, perfect for public stimulation. Seeking something truly unique? The Snail Vibe awaits—a scientifically developed vibrator designed for ultimate pleasure, backed by research from Dr. Stuart Brody & Professor Tillman Kruger, offering a 400% higher prolactin level for increased sexual satisfaction. And for an intimate connection with her best pal, here's the Together Toy Double-Ended Vibe. Together's unique "W" shape provides real-time feedback for couples engaging in play, allowing one partner's pleasure to be mirrored in the other arm of the device through kegel muscle utilization. The Echo Function enables partners to experience each other's arousal levels and respond with their own pressure, promoting closeness during intimacy, making it ideal for face-to-face intercourse, and also enhancing solo play with hand-held pressure application.
Barbie Themed Dildos
Looking to explore dildos? These sex toys offer a range of benefits and experiences. Dildos provide a safe and pleasurable way for individuals to explore and understand their own bodies, preferences, and desires. Dildos can be incorporated into partnered play to add excitement, variety, and new sensations to sexual experiences.  Dildos come in various sizes, shapes, and textures, allowing individuals to find the perfect fit and level of stimulation that suits their preferences. Using a dildo can help individuals build sexual confidence and feel more comfortable with their bodies and desires.
Dildos are way more of a personal preference and I encourage you to try different sizes, shapes, and textures. They all feel different and there are tons of pink dildo options to explore to live your Barbie themed sex toy fantasy. Some standout options are the glitter-filled Dildoll, heart-handled glass wand, or sweet treat IScream Popsicle Dildo and Rock Candy Suga Daddy.
Barbie Inspired Kegel Balls
Kegel balls or weighted balls offer several benefits related to pelvic floor health and sexual wellness. Kegel balls are designed to help strengthen the pelvic floor muscles, which can improve bladder control, reduce the risk of pelvic floor disorders, and enhance sexual satisfaction. Strengthening the pelvic floor muscles with kegel balls can help reduce or prevent urinary incontinence and improve bladder control. Regular use of kegel balls can lead to increased sensitivity in the pelvic
region, potentially leading to stronger orgasms and improved sexual experiences. Using kegel balls requires conscious engagement of the pelvic floor muscles, promoting a better mind-body connection and awareness of one's own body. Engaging in kegel exercises with the balls can be a form of relaxation and stress relief, similar to other forms of mindful exercises.
The cutest option hands down is the Cherry Love Kegel Balls. Or for the Barbie serious about pelvic floor strength the PMV20 Silicone Kegel Kit. Experience the colorful and helpful Vitas for a stronger pelvic floor. Train for about 20 minutes a day with different weights, starting with the single holder and lighter balls, and progressing to the double holder with slightly heavier balls. Made of body-safe silicone this colorful option is right in Barbies color theme.
Barbie Inspired Backdoor Toys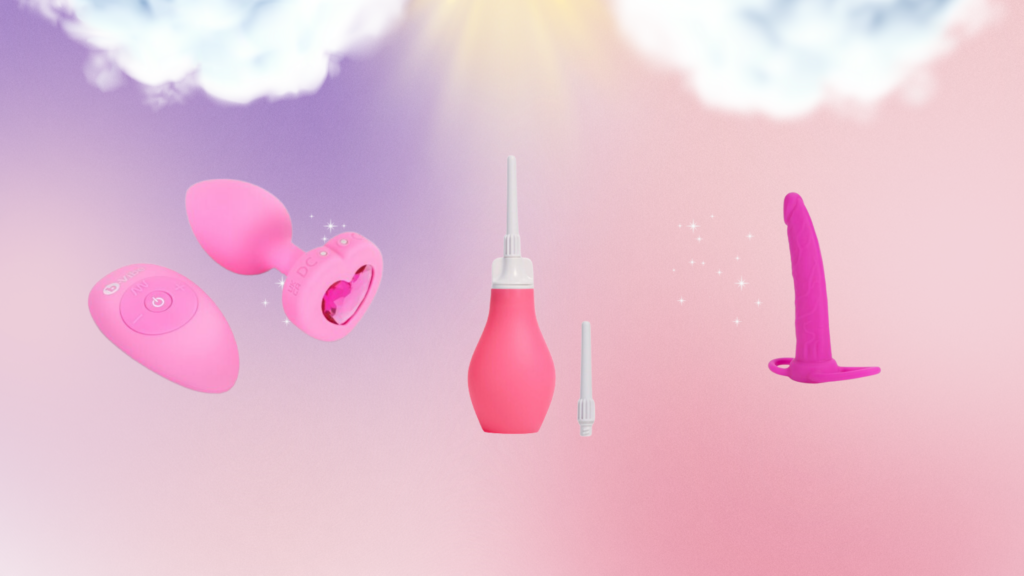 Discover the unique and pleasurable world of anal toys. Butt plugs and anal beads are expertly crafted to stimulate sensitive nerve endings around the anus, heightening arousal and sexual satisfaction. For those with prostates, anal toys like butt plugs offer the added benefit of stimulating the prostate gland, leading to intense orgasms and improved prostate health. Whether preparing for anal sex or seeking diverse pleasures, adding anal toys to your collection can provide a new realm of enjoyment and excitement in your sexual experiences.
If you wanted to get clean before you explore you'll need a pink option like the Du Du is a thoughtfully designed anal douche, featuring an easily removable cap and wide opening for quick filling. Its FDA-grade silicone bulb ensures a seamless fit in every hand, preventing over douching, while the soft, hygienic tips with quick-turn connection provide an exceptional and uninterrupted experience. The kit includes two easily replaceable tips, offering a long-lasting and user-friendly solution for anal hygiene.
Get the cutest options for your backdoor with the Small vibrating heart plug, a must-have for adding romance to your exploration. Experience 15 vibration patterns and 6 intensity levels with smooth body-safe silicone and a tapered jewel base. For a sparkly touch, try the Crystal Delights Sparkle Plug, or explore the Nixie plug and handcuff all-in-one set for anal play and bondage combined. Want variety? Opt for the set of 3 confetti-filled adorable plugs to get the most bang for your buck! Enjoy DP in style with the Love Rider in hot pink. The Dual Penetrator offers flexible arousal and stimulation options and can also be used with a dildo on a strap-on.
Time to Party
Remember, always prioritize your safety and well-being when selecting sex toys. Ensure that they are made from body-safe materials, follow the recommended usage guidelines, and clean them properly after each use. Additionally, it's a good idea to explore reputable retailers and read product reviews to make an informed decision. Barbie themed sex toys can be a great addition to your toy collection if you're a Barbie girl!