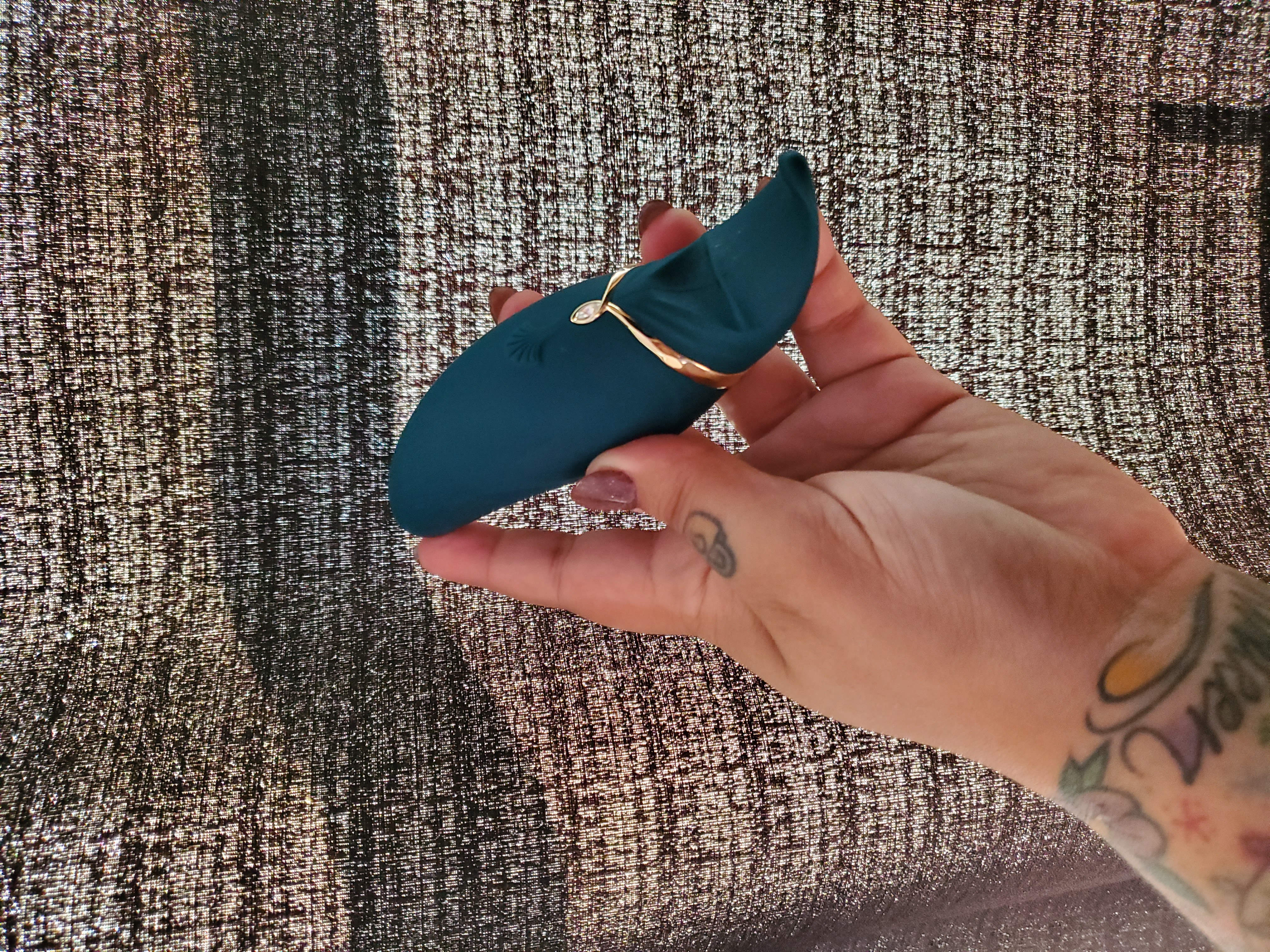 About
Find it here in Green or in Red or Purple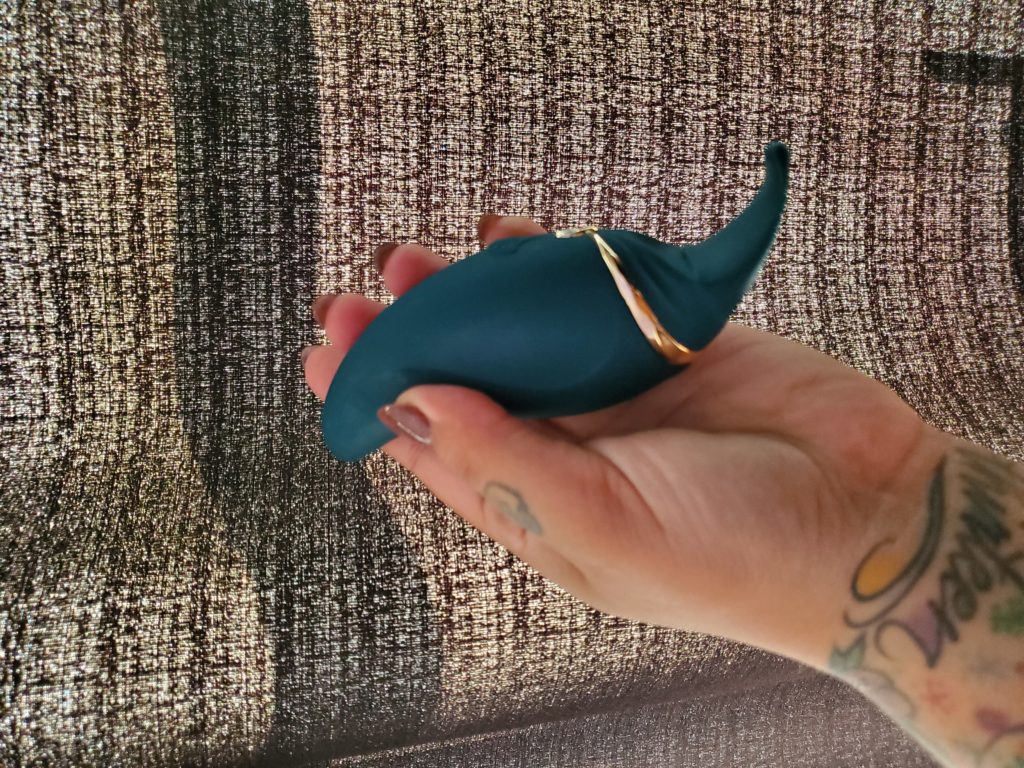 "Specially designed to indulge and titillate the sensitive area of the clitoris, the ZALO Hero Clitoral Massager uses ZALO's proprietary PulseWave™ technology to achieve a swing width of up to 30 mm and a swing frequency of up to 75 times per second, evoking unique sensations designed to imitate a memorable oral sex session.
Its elegant, compact shape and powerful motors deliver superior ergonomics and functionality for a seamless experience bringing you clitoral pleasure unlike any you've ever experienced before.
Size and Weight
Total length: 5.7″ / 146 mm
Insertable length: for external use only
Width: 1.6″ / 39 mm
Thickness: 2.1″ / 54 mm
Weight: 4 oz / 114 gm (vibrator)
Initial Thoughts
Zalo is a fairly new company that I've seen a lot about in industry magazines, trade shows, and of course social media. Their designs are pretty and vary from princess themed to Egyptian inspired. I've been super curious about their Queen vibrator, and some of their newer BDSM stuff. Recently I've seen a rose ball gag that totally has my name on it. Check out more from Zalo here.
Pros
This vibrator is not only a really comfortable to hold ergonomic design, but has two different sensations provided by the same toy. On one end it has a thin piece of silicone that pulses or flutters really quickly for one sensation then the other end is pinpointed vibrating end. I think toys that provide different sensations or have many ways to use them them to be the best investment because you get more from one toy. There are of course toys that can only be used in one way that can be amazing as a stand alone but you have to be sure you want that sensation. This toy would be a great option for folks looking to explore different types of external vibration.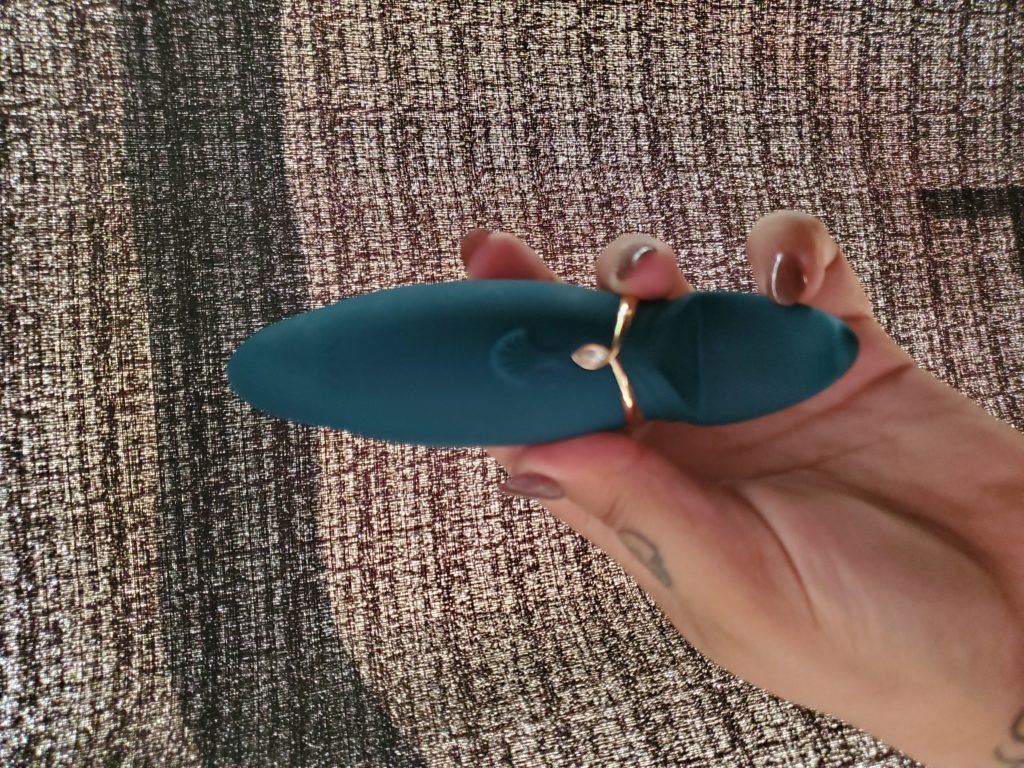 While the billing says this toy is intense, that is incredibly relative. As someone who mostly uses very strong vibrators this got the job done, but I wouldn't describe it as intense. It has a nice range of intensity and could be a great warm up toy, or one that helps build up intensity to stronger vibes. This is not a bad thing, just a subjective observation.
The fluttery piece feels a lot more intense then the other end that only vibrates. Which give you two very different sensations. I am someone who enjoys fluttery tongue like vibes, so you have to ask yourself if you know you enjoy that sensation or want to test it out to figure that out. It's not exactly like oral sex, but it is different then a straight up vibrator. And even though it has that extra moving piece this toy is still very quiet.
The packaging is really nice, which would feel like a really luxurious gift for someone looking for this type of vibrator. It also includes a satin bag, which some buyers really appreciate.
Find it here in Green or in Red or Purple
Cons
It's pretty unusual to me that a rechargeable toy, that uses a magnetic charger isn't completely waterproof. I've written a lot about using toys in the bath and it's disappointing to me that this toy is only splash proof and not submersible.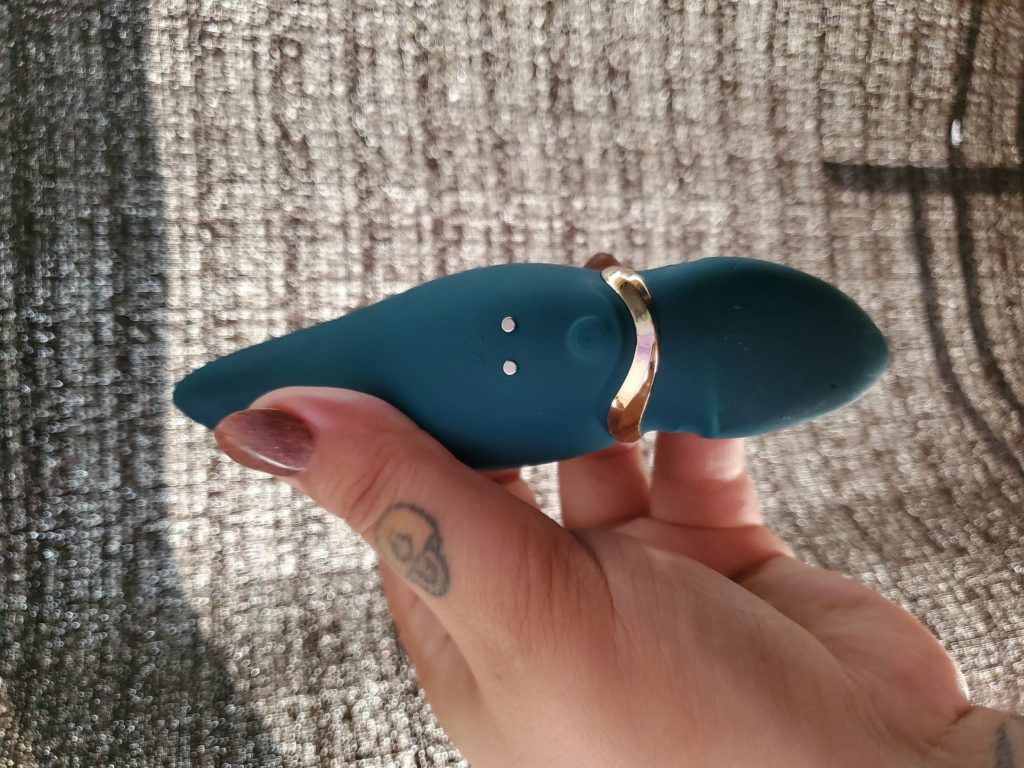 You would think that having the two separate buttons would make it easy and intuitive to use because one button goes to one function and the other button goes to the other but something about the controls felt really confusing and at first I kept hitting the wrong button for the opposite function. Also because you simply click it instead of hold it kept getting clicked while playing and while I put the toy away for storage.
Because the tongue like piece is so small, and not like an actual tongue the sensation is very pinpointed. So if that's something you don't like this probably will not be the toy for you. Try using the fluttering part further back for more broad stimulation if you still want to give it a shot.
It's also not possible to put pressure on the fluttery part and still use it the way it's intended, so if pressure is how you climax then this toy is going to frustrate the hell out of you. The lighter you touch it to your body the better the flicking works.
Final Thoughts
This toy delivers a unique experience. And while I can't say that it's perfect it does have it's pluses. Looking for a flickering tongue experience this toy comes pretty damn close to that. And it's in a cute ergonomic design and package. Even though the flickering tip is designed for clitoral stimulation, it can of course be used on whatever body part you'd like. so try it on nipples, under the head of a penis, even under the balls or a butt hole!
Find it here in Green or in Red or Purple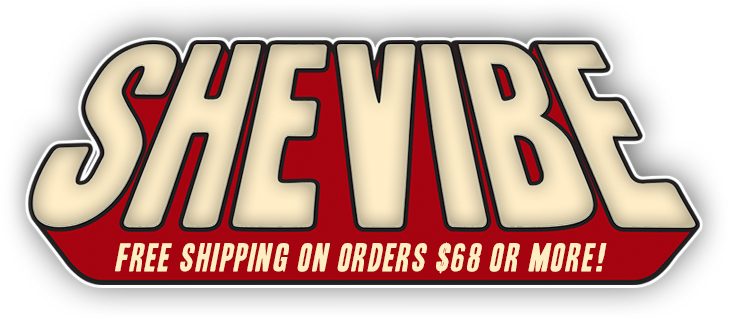 This toy was given to me by SheVibe for an honest review. All thoughts and opinions are my own. The links are affiliate links, if you buy something you won't pay a penny more but I'll get a small commission. Thanks!