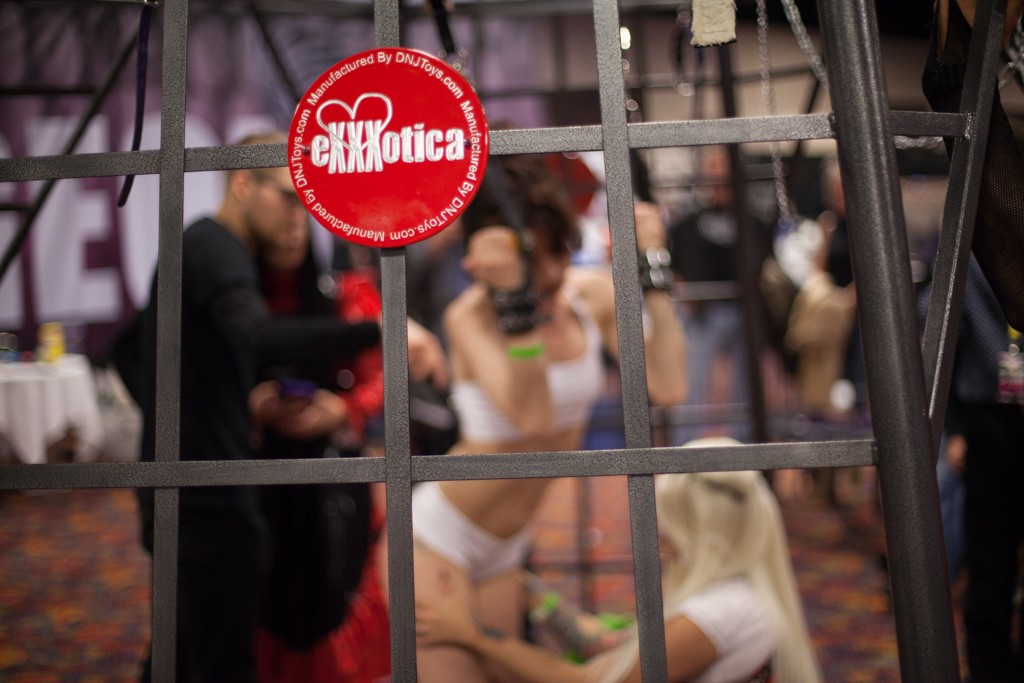 This past weekend was the 10th anniversary of Exxxotica in New Jersey. Exxxotica is The Largest Adult Event in the USA Dedicated to Love & Sex.
Taking place over three days, EXXXOTICA was created for like-minded adults who are looking to "celebrate sexy". I received a lot of comments from people on social media saying that I was so "lucky" to go. You can be "lucky" too. It's open to the public! Check out their website for information.
That's the beauty of EXXXOTICA. The entire event is an interactive experience that allows you to engage at your own personal comfort level.
We expect you'll come out of your shell a little… or a lot, depending on who you are, but it's all in good fun! There's so much skin, so many toys, and sadly, so little time. The event runs just three days, so to get your maximum amount of freak on, you're going to have to go in with a game plan. One more detailed than "buy tickets, walk around, stare at boobies."
Jump in head first
So you've done some homemade sex tapes, and you think they're pretty good, and you're wondering: Could you cut it as a pro? If your dirty mind is headed there, Exxxotica has just the thing for you. There are multiple seminars about breaking into the industry, camming, DIY Porn (from Aorta!), and more. You can also take this time to make connection with other people looking to make porn and make some friends who want to explore together!
Bring your friends!
Whether for date-night, bachelor or bachelorette parties or just good ole people watching, there's something fo​​r everyone (over 18) at Exxxotica. It's more fun when you bring your friends, it really helps you let loose and have fun!
Learn something new!
Exxxotica has seminars on everything from Pegging (which I taught!) to sex magic, to squirting, to DIY porn! Go on, learn something new and exciting. Satisfy that curiosity. You're likely to pick up some super kinky tips and tricks.
Dress the part
Clearly, Exxxotica attendees are going to be showing a lot of skin. With attendees dressed in everything from Lycra to leather, let your imagination run wild. Whatever you feel sexiest in absolutely wear that! I saw people in anything from Furry gear, to kilts, to onesies, to lingerie. Feel free to let your freak flag fly!
Pick up a new toy
If you're curious about sex toys or just wondering how some of those crazy contraptions even work there's a seminar for that! Check out Sex Toys 101 seminar. This seminar will include discussions and demonstrations. After this one, you'll never wander self-consciously down a sex shop aisle again. Or feel free to ask the friendly folks at the booths. I'm sure any of them would be willing to explain how the toys work or help you find the perfect one for you!
Picture opportunities
There's not just adult stars to take pictures of; they have photo booth for attendees as well as lots of interesting things to look at and take pictures of.
See a legend
Exxxotica brings out over 150 of the top stars in the industry and they're there to meet you, their fans. Anyone from Tera Patrick, to Evan Stone, to Asa Akira, even all the cam models you see on all the popular camming sites!
See a show
Are you in the mood for a live performance? There is a full blown entertainment stage where burlesque, male revues, and the ever popular Ms. EXXXOTICA will be crowned.
People Watch/Make new friends
There is so much to see and do, but the best part is your around like minded individuals. Strike up a conversation, you might make a new kinky bff.
Submit to desire
The EXXXOTICA Dungeon Experience to see BDSM demonstrations on suspension rigs and spanking benches and learn about fetish lifestyle first hand. If you're daring you're welcome to participate.