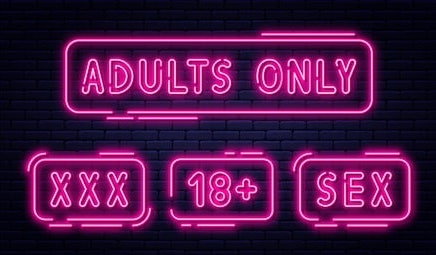 There are tons of adult conventions now
From Exxxotica to Sex Expo to Xbiz retreats. It ranges from sex education focused, to porn focused, to industry focused. There are tons of them out there and the guidelines apply to all adult themed events! Search the web for more niche conventions, but they totally exist! Tell me some of your favorites in the comments!
Don't be shy, most conventions strive to have an overall comfortable environment and first-timers don't need to be nervous. You're there to have fun, so remember to relax. No one is going to force you to do anything.
Rule No. 1: Act like a considerate human being.
The rule of thumb is simple: If you wouldn't do it in the street, you don't do it at the convention!
Even more important, generally keeping your hands to yourself. Take the lead of the other person, if they put your hands somewhere then that is a safe zone. Don't take advantage of folks kindness and cross boundaries because yes, even scandalously dressed people have boundaries.
Get involved in the action!
There are typically workshops, demos, and stage shows at most of these conventions. So there will ample opportunity to try things out. Most conventions don't allow full nudity or live sex, but they are typically a judgment-free zone for attendees to try new things.
For those who'd rather look than touch, most shows will have performances ranging from fake orgasm competition and twerking competitions, to fetish routines using power tools. Cam companies are also typically at these events, so check out your favorite performers live or just enjoy being a IRL voyeur!
Be sure to learn something while you're there.
While there's plenty of fun to be had, most conventions also focus on education through a lineup of lectures about the adult industry. They range from making your own porn, to blow jobs, to BDSM topics. So there will be something for everyone!
I'll be teaching at both Exxxotica and Sex Expo in NYC so I hope to see folks there!!!
What should I wear?
Wear whatever makes you feel sexy! Typically no nudity is allowed, but that only requires genitals and nipples to be covered. I would say to expect a lot of skin, either from patrons or the folks working at the convention.
This is a good time to try out your newest latex outfit, or the fetish outfit you have nowhere else to wear! Want to wear your furry suit? Go for it! Want to wear a diaper? Just make sure your nipples are covered! With that being said, let your fantasies take you where you want and try out that outfit. You'll be in good company!
Make sure you have Cash $$$$$
For Exxxotica specifically, You may wonder why you have to pay the stars for a picture or autograph and that's because they are there to work! (#SexWorkIsRealWork) Pictures usually cost anywhere from $15-$20 depending on what the star is charging. Also, all the girls who are dancing on the poles are working on tips. So if you want them to pose for a picture or take a picture with them you do have to tip. Be generous!
There are also vendors at every event. So pick up a new toy, lingerie, or any number of other things people are selling there. It's the perfect time to ask questions and find something new and exciting!
---