Sex Machine Reviews are hard to find. There are quite a variety of machines as well. From ride on, to hand held to thrusting and full on power tools there are options for every budget. The Kink Power Banger is a fully adjustable thrusting machine. High-powered play time any time you want, with stamina without limits, it's easy to see why these machines are a big hit. And there are tons of options out there, but I think I found my favorite!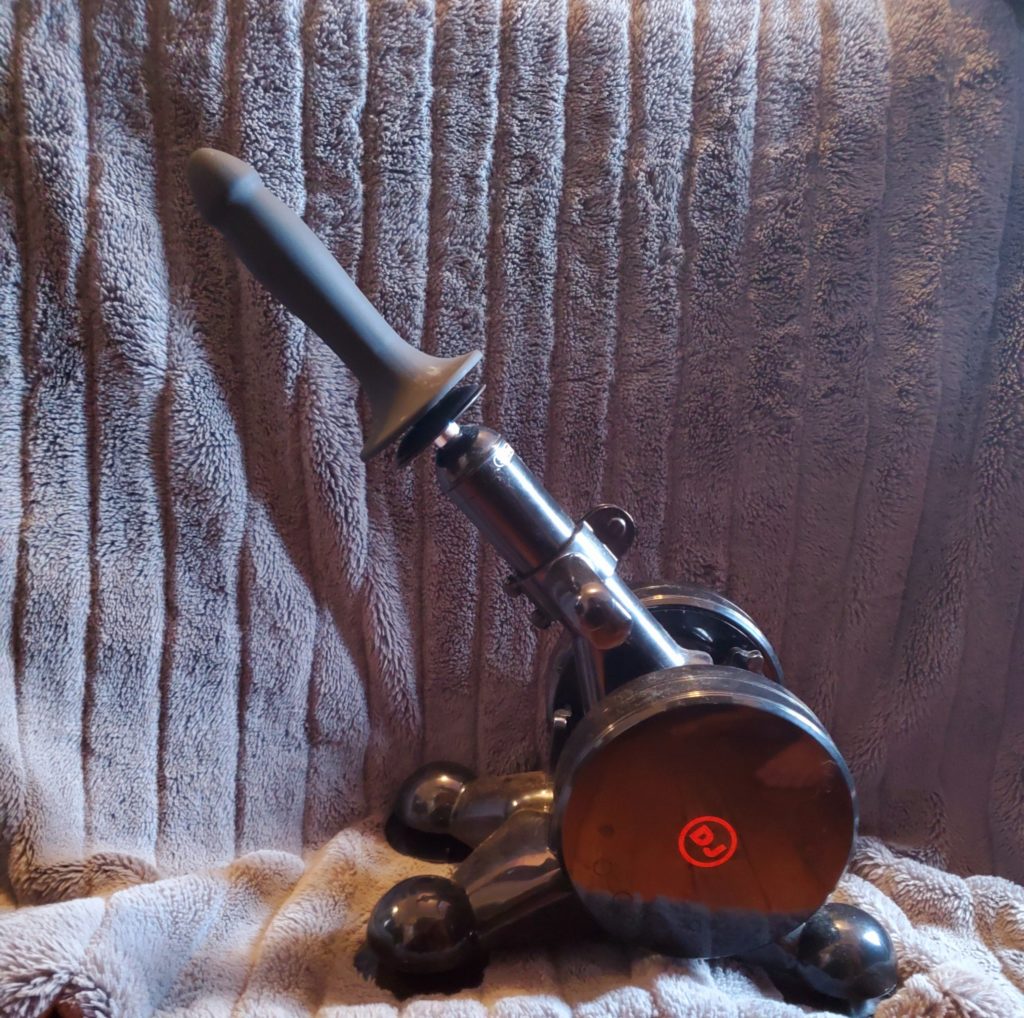 About
"The Power Banger's adjustable thruster arm can be angled to all your favorite positions, while four strong suction cups at the base keep it securely in place no matter how hard you play. For players who like it hard and fast, this versatile fucking machine offers variable speed up to 195 strokes per minute."
Initial Thoughts
Sex machine are the things of porno dreams. Something you don't think that your neighbor next door owns. Which is honestly exactly why I wanted to own a sex machine. Especially since I already own and love my Cowgirl. The smaller size of the Kink Power Banger was appealing to me because even though I have caviar dreams, my reality is I live in a moderately sized (for NYC) one bedroom apartment. I knew I wanted to it be substantial, but something adjustable that I could easily pack away when needed.
After seeing it in person, and realizing it uses the Vac U Lock system for dildos, I was convinced. I know that more silicone body safe attachments are available for Vac U Lock systems. I know some of my favorite Blush dildos also work with Vac U Lock
Pros
While in general this toy is on the pricey side, in terms of fucking machines the price tag of $399 isn't the worst I've seen. Most I've seen available are between $500 and $1000. And this is absolutely a case of you get what you pay for. It does not pay to be super cheap – mostly because the less expensive ones will most likely stall when your PC muscles clamp down. The ones with a sturdy motor and design like the Kink power Banger will keep right on and won't give up until you decide to turn it off.
The best part of the Kink Power Banger is there is virtually no assembly. I am not handy what so ever so the fact that I could get it working without reading the instructions was a blessing. It comes basically in once piece, except you'll screw in the suction cup stands and then plug in the controller to the toy and the power cord into the wall. Truly it's idiot proof!
The Kink Power Banger is incredibly adjustable, and surprisingly stable. You can control the points of pressure, speeds, thrusting styles, and attachments. It has strong suction cups on it's base that can suction to the floor to hold it in place to get the best leverage. Otherwise you'll need someone to hold it in place if you want to use it in bed, but the bright side of this is they'll get a front row seat to the fucking machine show. The controller offers a long wire so if your partner wanted to control it from across the room, the length of the wire would allow that to happen comfortably.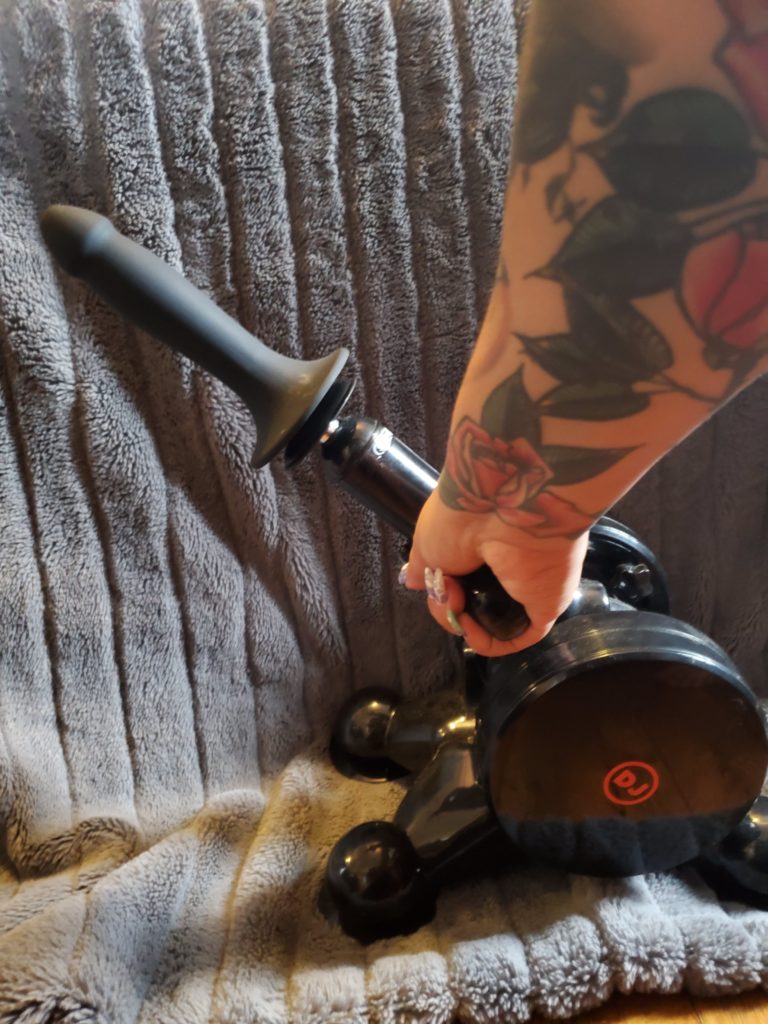 The stroking feels smooth, even as you go up and down in intensity. It maintains smoothness no matter how fast or slow you choose to go. It is also strong, even if your pelvic muscles clamp down on it. It includes an ergonomic handle which makes wielding this easier, and the light frame means you don't need to be super strong to move this around and use it where ever you'd like. If you have limited mobility I would say the light frame makes it a great option.
Cons
Of course there will always be noise associated with a machine with motorized parts. The Kink Power Banger is no different. It does make a pretty significant noise, particularly as you speed up the machine but nothing unexpected. I doubt you'd think a machine like this would be completely noiseless! Nor should you expect something that powerful to be a whisper.
My biggest surprise after putting it together is exactly how simple the entire set up is. My only issue with the simplicity is that the controller lends itself to not feeling like a luxury toy. In fact, the controller feels like the simple controller that controls the classic wired bullet toys. Functionally the controller works perfectly fine. While the wire is also nice and long, the benefit is it gives you more range when placing the toy, the long wires can be annoying so I would recommend planning ahead and bundling them to minimize that.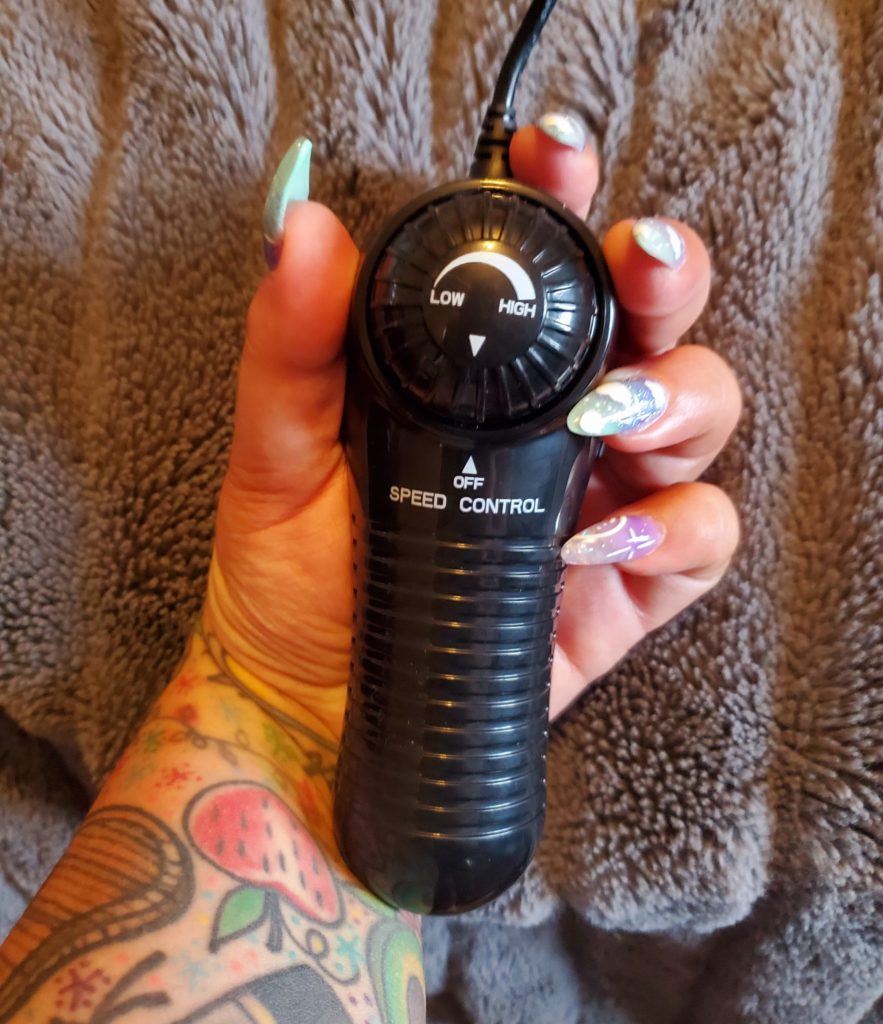 The Kink Power Banger does not come with any attachments. Which honestly I prefer. While most people want things that need two pieces to work (like a strap on harness and dildo), to come together as a set; I prefer to pick my dildo separately. So while I was surprised it did not come with anything, and I know some folks feel like if you're spending that much, it should include at least one attachment. That fact wasn't truly a con for me. I tested the Smooth and Ripple Vac-U-Lock attachments. I prefer the smooth, but I have my eye on the G spot attachment! And remember, Blush dildos also work with Vac U Lock! Just make sure to grab Silicone attachments only.
Keep in mind that since this machine is larger than traditional sex toys, they're also less discreet. Bigger items are harder to hide, after all. While it can pack away it is pretty big, so if you don't have the space to put it there isn't much you'll be able to do. Most folks don't want their sex machine chilling at all times in their common areas. So just plan ahead where you plan to store in when you're talking purchasing considerations. And while it is not the most expensive machine out there, it is an investment at that price tag.
Final Thoughts
the Kink Power Banger is an adjustable, reasonably priced luxury item. high-powered efficiency that can fit in an apartment! While I love this machine and have gotten my money's worth there are a few factors to consider if this toy is right for you. If you have the money to invest, and the space and privacy to use it I think this is a great machine!