Halloween is coming and if you're anything like me, you're going to want to cum too! And what's better then new fun ways to reach orgasm especially when they're on theme for spooky season. Are you on the hunt for spooky sex toys to make your Halloween even sexier? After all, it isn't just kids that get to have fun for Halloween. Sexy costumes, sexy fall aphrodisiacs, and seasonal scares galore all add to the sexiest season around. If autumn doesn't get your engine revved then maybe this post isn't for you. While these might not be something you might think about picking up for your every day purchase, let the spooky season inspire you and open up your options to fun new options and hopefully brand new pleasure options.
Candy of course
What Halloween is complete without candy? The Self Delve Marshmallow is a popular incredibly squishy dildo that is swirled with blue pink and yellow. This toy truly lives up to it's name because it's texture is really squishy like a marshmallow, but don't be fooled. This toy is for texture lovers. Despite it's softness, each rope is well defined for a massage element during use, so get ready for a wild ride.
Tentacles!
If you're looking for Soft tentacles then Uberrime is the way to go. The Xenuphora is a more pointed with really pronounced suckers, perfect for those who love texture and are really looking to feel the texture of the creature of the deep. The bright colors are meant to attract prey, which will ensnare you in it's net? The Teuthida is a more realistic style of tentacle with softer suckers and ideal for those looking to be able to harness their toys for versatility.
Prefer a firmer texture? Look no further then these beautiful glass tentacle toys. The Icicles No 24 and 6″ Lick It both offer a tentacle shape in firm glass where you can warm or cool it for added temperature play as well.
Want the fingers to swirl for you? Let the Svakom Nymph swirl and tease your most sensitive spots. Just close your eyes and imagine whatever monster your want is teasing your nipples, or clit, or even under the head of your penis.
Glow in the Dark Options!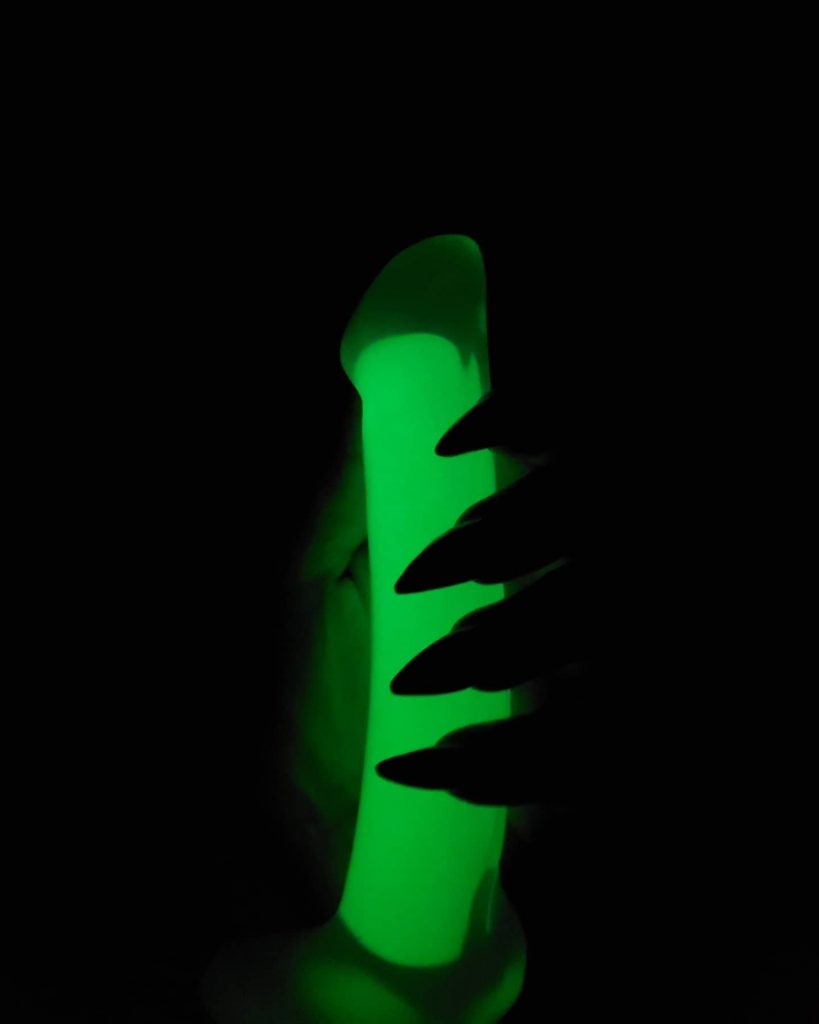 Blush created a few new dual density dildos that have a glow in the dark core. The one pictured above is their 7 inch Omnia version, they have another 7 inch called the Tao, and an 8 inch called the Marquee, each with a different color core that glows in the dark. Each have a strong and sturdy suction cup and can be harnessed in a strap on or suctioned to a surface as well as are safe for any hole! Truly a glowing marvel.
Want a more representational shape? The Addiction Brandon will provide that for you in blue or orange! Or if you prefer a firmer toy, there are beautiful glowing glass pieces from NS Novelties like the Firefly glass that will light up more then your night or the beautiful Crystal Delights Glow in the Dark Sparkle Plug that also have a gem.
Or you can light up your BDSM playroom with this glow in the dark play set, with anything from a glow in the dark collar to a hogtie, to cuffs, to a flogger. The options are only limited by your imagination and your wallet.
Play Dress Up
How committed you want to get to that role is up to you! You can go with the classic maid and clean up if you know what I mean (wink, wink) or you can get creative and fully commit to being a sexy bunny with a butt plug tail like with the Temptasia Bunny Tail Pom Plug, the Happy Rabbit hot pink bunny tail plug, or the super versatile Happy Rabbit Vibrating one that you can switch out the pom for a gem!
Electrify yourself
Violet Wands are a great way to experiment with sensation and electricity safely! The Explorer Kit is simple & Electrifying. This toy wont actually *electrify* you or harm you (but of course, use caution and don't use it near water.) This toy is a low currency electrosex sensation toy that will give you a light static sensation that feels like champagne bubble on your skin. The Explorer Kit comes with all a few different shaped attachments to experiment with plus the most exciting part, the body contact cable. You just hold the body contact to you, or strap it on to you or your partner, and now you're the conduit for the static and your touch will be sensually electrified. Want to amp it up even more? Use it with any of these hand held accessories to explore the universe of prickly, tickly sensations!
Grab a Werewolf Dildo With Sword Handle
What better time to grab a dildo sword with a werewolf dildo then during October? The Realm lock-on handle is just a cool way to wield your dildo. Maybe you're looking to get a better grip on your toys? Maybe you're just a nerd like me who thought it looked cool? Maybe you make spicy content and have a cool idea that a dildo on a sword would work for? Who am I to judge? Either way, this handle gives you a lot of control over your favorite Lock On or Vac-u-Lock dildos. I've also found it works on dildos that have a hole for a bullet, but they can't officially say that.
Want to complete the set? Get the matching Lycan Werewolf dildo and then listen to me on Tina Horn's YAPIT podcast about why are people into Monsters where I talk about my love of monsters, and specifically werewolves.
How will you be celebrating the season of the witch?