About
Slow Sex Mouthwatering Spray will make your mouth water! Saliva is one of the most arousing bodily fluids.  It contains malic acid, a natural acid that increases saliva production when it comes into contact with your tongue. Let's get wet, wet, wet!
Increases saliva production: malic acid
Citrus aroma and flavor
Mouthwatering effect
---
HOW DOES IT WORK?
Although we make saliva naturally, there are ways to improve its production and play with our sexiest fluids. This liquid spray contains malic acid which boosts saliva production. Spray it three times on your
tongue and let the fun begin! Repeat if necessary.
---
Ingredients: Water, Potassium Citrate, Acid Regulator (Citric Acid), Bulking Agent (Maltodextrin), Potassium Chloride, Flavor, Preservative (Potassium Sorbate, Sodium Benzoate) Glycerine, Sucralose.
Get Slow Sex Mouthwatering Spray here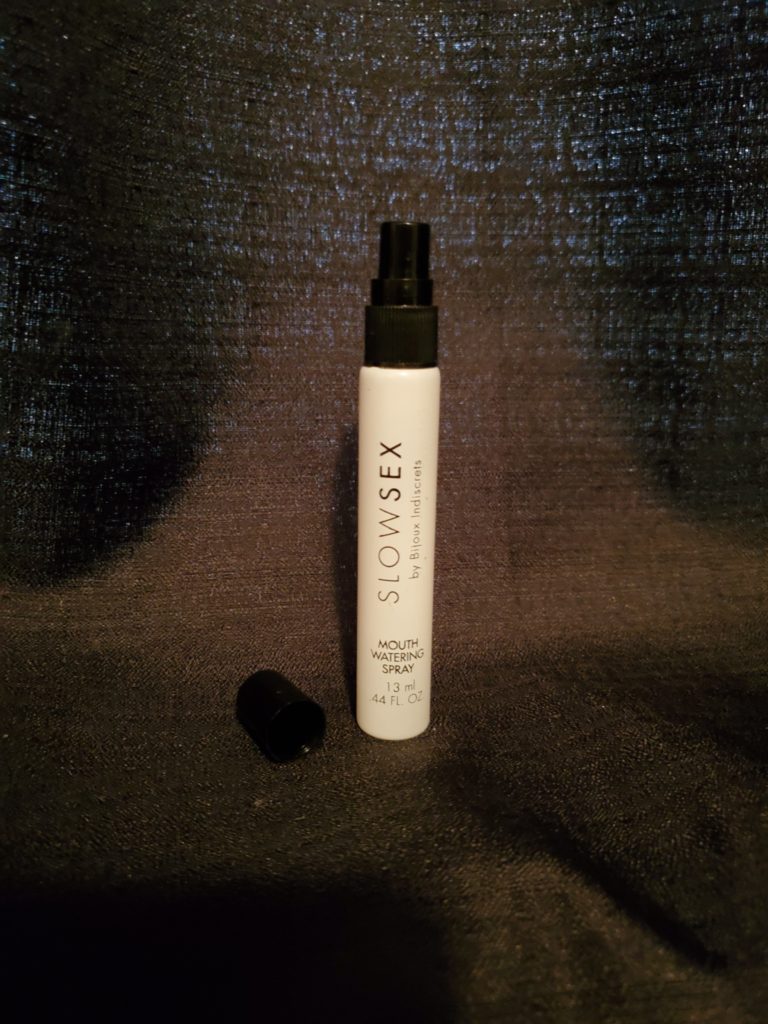 Initial Thoughts
Dry mouth isn't a sexy feeling, even if you're not planning on giving oral sex. It's uncomfortable and can take you out of the sexy head space you're trying to be in. Lots of things cause dry mouth, including seasonal allergies, many medications, including stimulants like Adderall or Ritalin, also, antihistamines, diuretics, some blood pressure medications, etc. The list goes on and on. Alcohol can also cause dehydration and dry mouth. Even marijuana can cause dry mouth. So no matter the cause, it's an issue that many of us deal with.
There are a few things that can cause your mouth to create more saliva production, but can be irritating for skin– especially sensitive genital tissue. Things like pickle juice, lemon juice, or candies and mints that use xylitol, are all great ways to increase saliva production, but don't mix well if you're making your mouth wet to use on someones genitals. There is always lube to moisten your mouth, and add sensation to oral, but here's another options for those not ready to add lube to the problem, or just want another solution.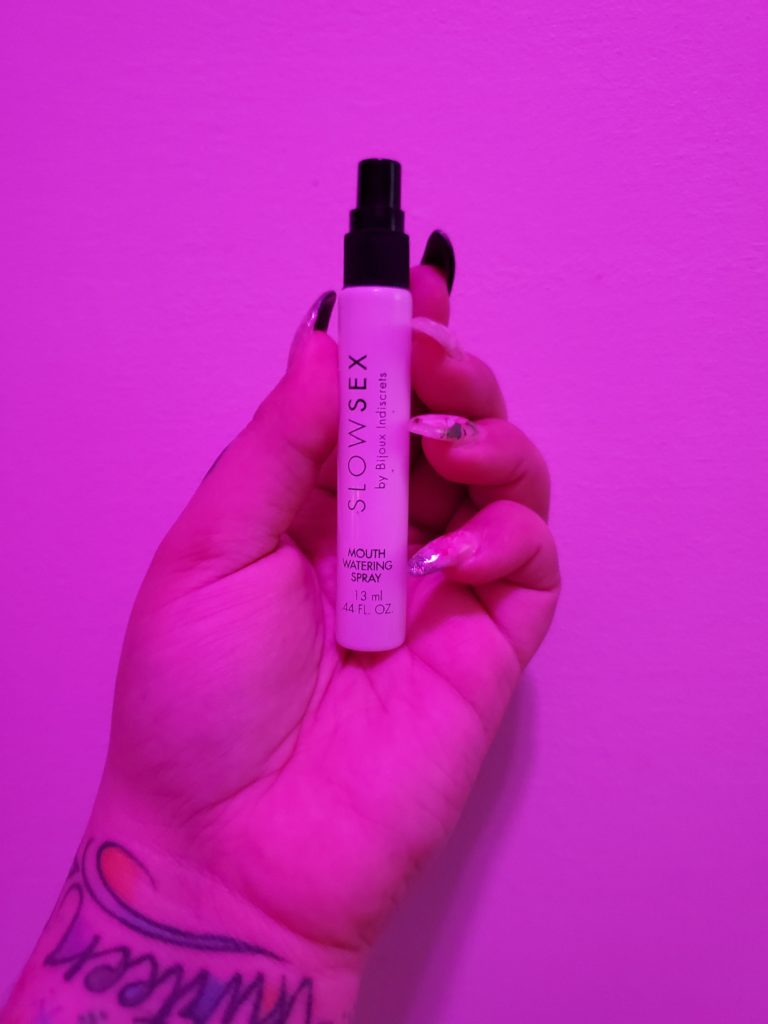 Pros
The packing is definitely much sexier then you would get if you're using a xylitol  product like Biotene. It can go in your travel sex kit, night stand, or really anywhere. The bottle is small and discrete, so no one will know it's sexy purpose unless they own it as well, or ask for your Sexpertise.
And does it work? Slow Sex Mouthwatering Spray certainly makes your mouth water. It increased saliva production, and was creating nice thick spit for me to work with. Check out the video below. I sprayed it in my mouth and waited for 2 seconds to spit. Look how wet it made my mouth!
It works quickly and a little but does go a long way. It says to give three sprays, but one or two is plenty. You don't have to re-spray after using your mouth on your partner because the spray does continue to make your mouth water for a few minutes and if you're using your mouth it keeps everything nice and most. I had a harder time keeping my mouth moist when I was licking other parts of my partner, rather then sucking so it helps more during oral rather then teasing someone's body.
Get Slow Sex Mouthwatering Spray here
Cons
Would I say it's the best tasting thing I've ever had? Not by a long shot. Is it horrible? Nope, also not horrible. It tastes like someone wanted to make an extreme flavored seltzer. It hits your tongue like it's almost sour, but without that jaw pain that can come with very sour candy.
The best things that could happen is this spray come out in a variety of flavors. So people who purchase it can customize it to their particular tastes. If it has to live in the tart family of taste, I would prefer a tart apple rather then this vague citrus. I understand that sucking on something sour will help release more saliva, and while the spray isn't exactly sour. Having more flavor options would be better. I know that apple pectin can help coat the mouth, so maybe that could enhance the spray as well and make it even longer lasting.
Final Thoughts
Some people consider oral sex even more intimate than penetrative sex; your warm mouth, tongue, and lips can bring them some of the most thrilling sensations possible.  So grab the Slow Sex Mouthwatering Spray by Bijoux Indiscret and don't let dry mouth ever stop you from giving a sloppy BJ ever again.
Get Slow Sex Mouthwatering Spray here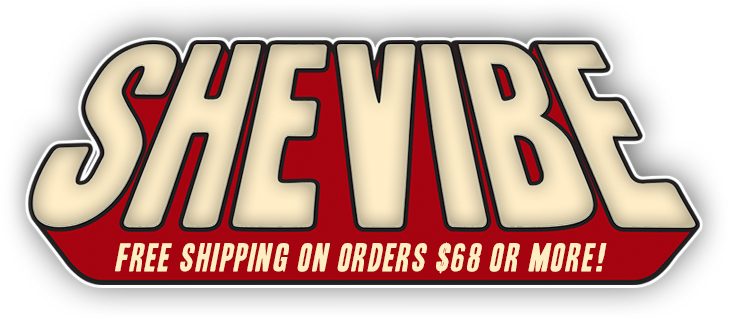 This was given to me by SheVibe for an honest review. All thoughts and opinions are my own. The links are affiliate links, if you buy something you won't pay a penny more but I'll get a small commission. Thanks!