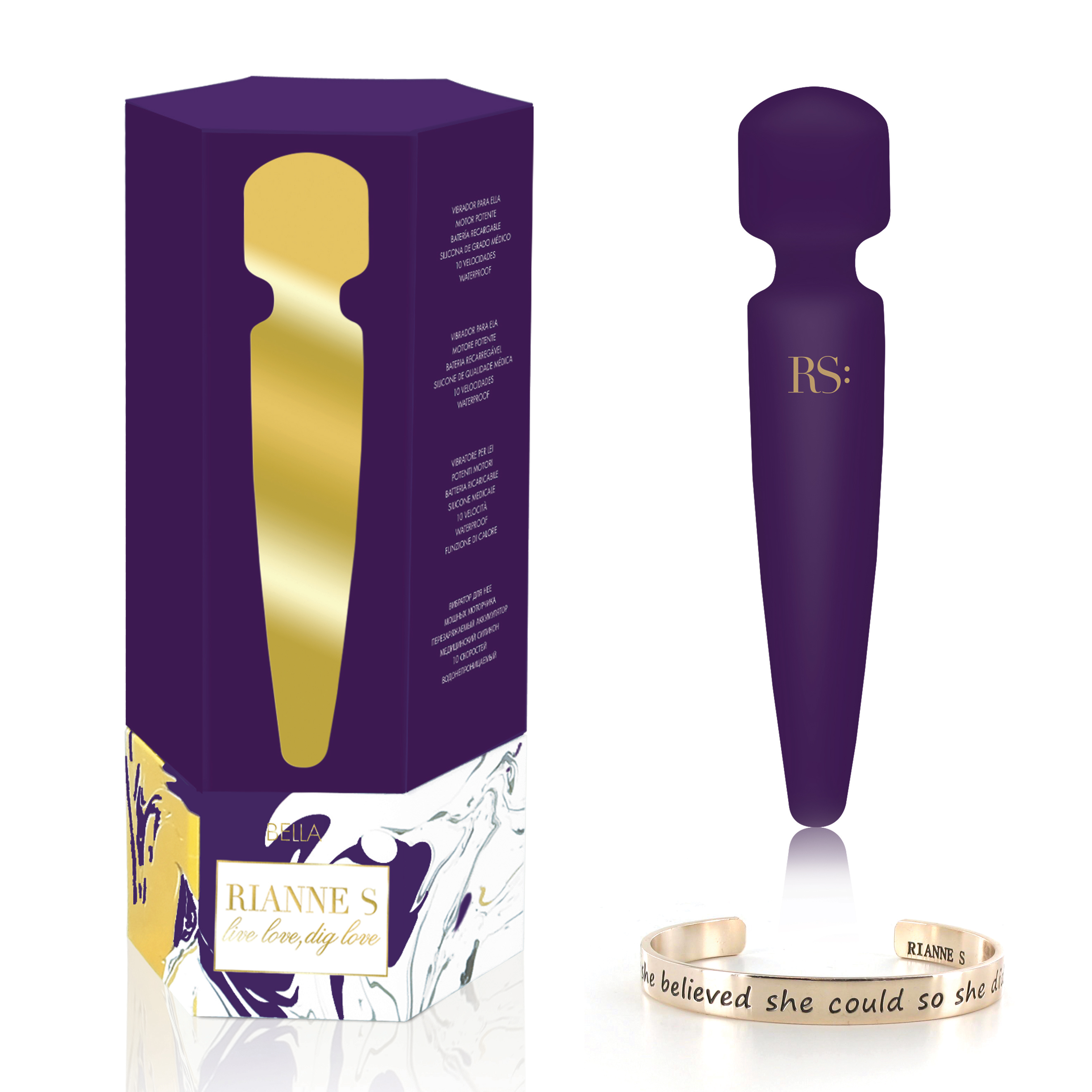 ​About: From Rianne S. "External full body massager. Completely waterproof. Queen of orgasms
Bella is the Italian word for beautiful. That's exactly how you will feel using the Bella by RIANNE S, because orgasms do make you feel beautiful. Due to her easy use and very strong motor the Bella is the queen of orgasms. With just one button you can scroll through the 10 unique vibrations modes. The Bella is waterproof and can be used in the bathtub or shower."
Initial Thoughts: Being the self proclaimed "Queen of Wands" I was excited to try this mini wand.
The packing itself is really beautiful and because it includes an engraved bracelet with an empowering message that reads "she believed she could so she did". I feel like this makes it a great gift, as well as a wonderful starter wand for people intimidated by the size of traditional wands. Or even a great travel one for someone who might not want to carry around something larger.
Pros: It is a made of silicone which is non porous
So not only is this wand hygienic because it doesn't absorb bacteria, the entire wand is silicone so it is a lot quieter then most wands, as well as completely safe to insert if you wanted to use the wand for penetration. The wands vibrations are pretty strong, especially for it being a smaller wand.
The vibrations itself fall somewhere between rumbly and buzzy. The handle is a decent size which allows for some reach, the head is flexible so it will flex with your body if you have to do some pressing. In terms of it being a body massager, the smaller head makes it great option to massage your feet. My poor feet also loved the wand.
Cons: Simple because I'm used to much bigger wands the handle was a little short for me
As well as the head being smaller it didn't give me the full vulva vibration that I look for with wands. With that being said, it isn't a bad toy. In fact it is good if you want less coverage from the head, it just isn't my preference. Also being that the toy and handle itself is smaller then traditional wands, I wish the handle of it would have more of a curved ergonomic handle but again that is a personal preference. While the bracelet is open and adjustable I couldn't widen it to fit my wrist comfortably. So if you are getting this for a friend, make sure they have delicate wrists.
It is a good beginner one for people who want to try a wand and might be intimated by the size or look of traditional wands. Also far more aesthetically pleasing. All in all, great gift because of the bracelet and great quality of the toy itself.