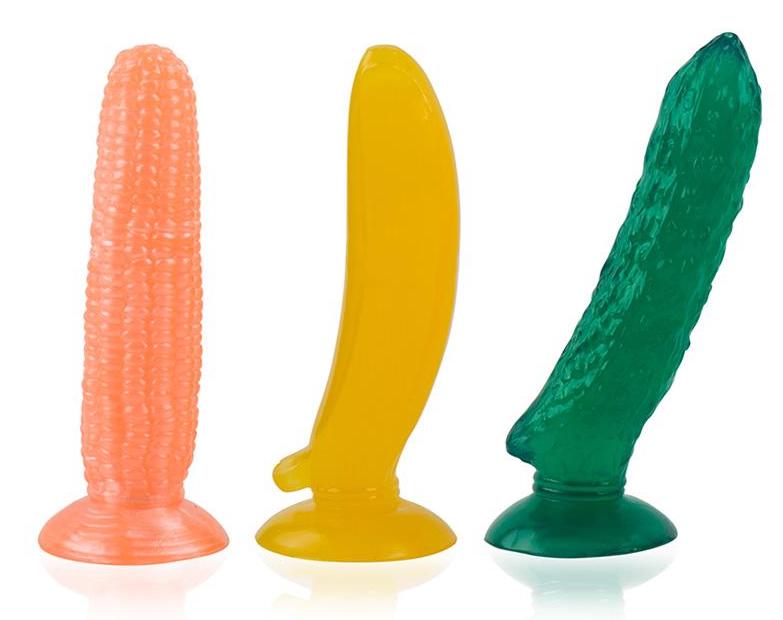 ​
Jelly sex toys are the only sex toy thing I will ever say a hard no to. It is the material that most people are familiar with, especially if they are not up to date with sex toy trends.
Most toys were made out of jelly rubber, or just rubber in general before people knew better. The questionable material has many problems attached to it. Jelly toys can break down, harbor bacteria, and even contain chemicals that are totally unsafe for your body and can burn if you're someone with sensitive skin. Now people are well informed about sex toys, but there is still a learning curve for folks.
But when they're cheap, cute, and delightfully squishy, you might wonder what other option can match the versatility of a jelly toy. Well, you're in luck, these days just about anything will be better! If your favorite toy (or maybe one you've your eye on) is made from jelly – throw it out, don't buy it, whatever. Instead, think about what it is you like about the toy, and then find yourself a better option!
​Is it because you already have it?
Treat yourself to something new that won't hurt our body. You and your bits deserve it! In terms of throwing out your used, porous jelly toy, sextoyrecycling.com provides plenty of info on how to get rid of that toy you're done with. Don't make the mistake of just throwing it in the trash (even though it deserves to be there) because if it's not good for your body, it's not good for the planet.
---
Is it the Cost?
Jelly sex toys are usually cheap, but that's because the material is terrible. You can still get quality for a budget friendly price. Some of my favorite affordable vibrator brands are Vedo and Blush. Colours and Cloud 9 also makes really affordable silicone dildos.
​Is it the Squish?
Yes, jelly toys are usually squishy and flexible, but there are many safer options out there that provide the same combo of firmness and flexibility. Look into silicone dildos if you like that realistic feeling. They're usually less sticky (there are different finishes to silicone) and don't have that rubbery smell.
Silicone is the standard when it comes to sex toy material. It's not porous and it's completely safe for your body! Dildos that are specifically dual density will feel the most realistic while still being body safe. Dual density means the dildos will have a firm core with a squishy outer layer. Vixskin has really great realistic silicone dildos, and Pleasure Works has some dual density styles as well.
---
​Is it the design?
Maybe your favorite jelly toy is cute or comes in a fun color. News flash: TONS of toys do. Fun Factory is known for their fun colors and shapes. There are also brands like Funkit, and Vamp silicone that make glittery and rainbow toys. Just keep an eye out, there's tons of fun options out there.
---
The End
Jelly is only good on a sandwich. Keep your body safe and your bits happy by tossing out all toys of questionable material, and buy new vibes and dildos that get you off but also keep you healthy. Everyone deserves pleasure without breaking the bank, but not at the risk of our health!
---
Some other posts by other bloggers to check out