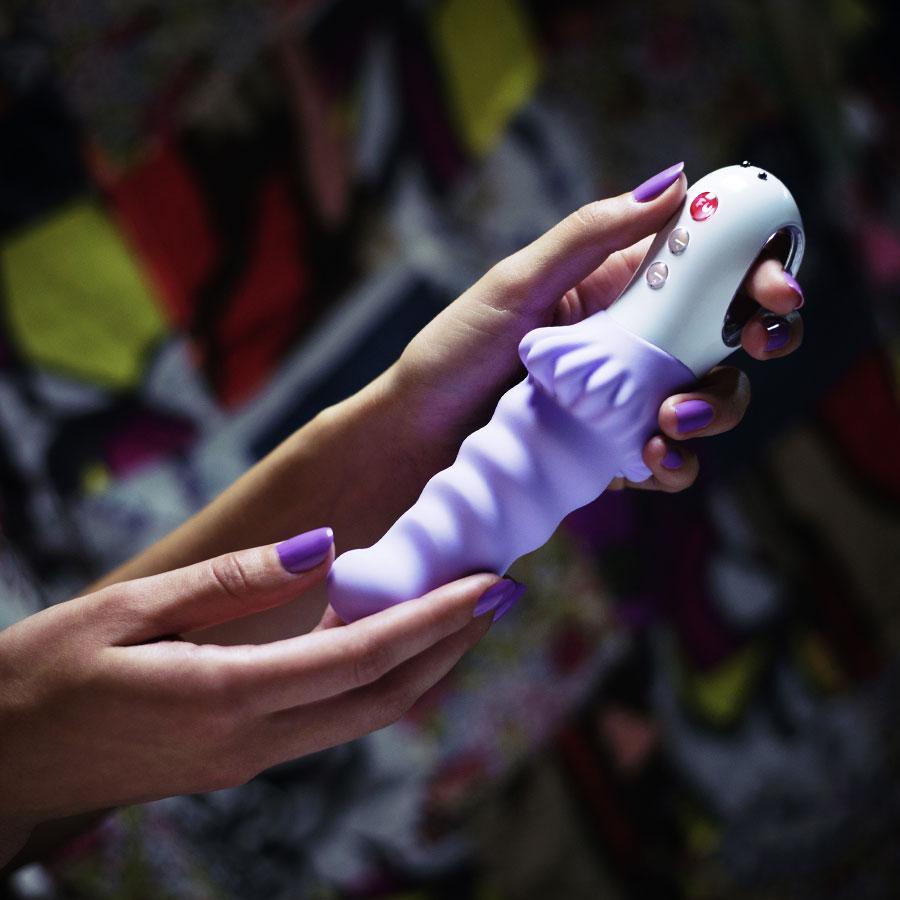 ​About: From Fun Factory's Website "What are you in the mood for? G-spot or prostate play?
Enjoying the ripple of a textured toy as it massages you on the way in and out? Running that same surface along your favorite hotspot in a way that makes it feel like vibration + fingers + rhythm + awesomeness? Relaxing into the rumble of a powerful motor? Yeah, we got you covered.
Rechargeable – Love the Earth

Made of body-safe silicone – Love yourself

Waterproof – Get wet

Intuitive controls with QuickSTOP function

Ergonomic LOOP handle

Travel lock, to avoid awkward situations

Battery charge light – never run out of fun

Size: 7.4 in. cm, Ø 1.7 in.

Designed and handcrafted in Germany"
Initial Thoughts: Fun factory is a great company, and just wonderful quality in general.
I really enjoy the design of the buttons and the loop handle on most of the toys. I have only used their non vibrating toys so I was excited to try this one. I intended to use it mostly back door, because it has the texture I like.
Pros:​ Moody is silicone, like all the best toys are.
Silicone makes it non porous, hygienic and durable. This toy is one of the quietest toys with one of the strongest motors. It is also incredibly flexible which makes it easy to manipulate inside the body and flex with you. Fun factory has really strong rumbly motors and this toy is no different. The best part of this toy is the loop handle. It makes it way easier to use it on yourself, especially if you have mobility issues, or a belly, etc. It also won't slip out of your hands when you're all lubed up!
The texture on this toy is nice and gradual, so not too intense but I am also a person who liked that ribbed texture. If you use it on the g spot or the p spot the texture pulls down and is super effective way to stimulate those places of the body. Even the base itself is textured, so if you're using it vaginally or anally it'll stimulate the nerve endings there too. Because this toy has a flared base, it is safe for anal use and it's pointed tip makes it really easy to get in the backdoor. Because it's silicone, as long as you're cleaning it between using it in the backdoor and the front door it's completely safe to do so. It has my favorite, most important feature in a toy as well. It's 100% waterproof!
Cons: The only cons for me is if I am using a toy internally I like external stimulation too and this flared base doesn't do anything for me in terms of clit stimulation.
But if you are looking for a good internal toy this is great for that. Also the texture is something that people either love or hate. For me it wasn't a con, but just something that might be a minus for other people.
They has so many different shapes, sizes, and colors it would be hard to not find the perfect toy for you in their line of products. All come with a 2 year warranty and their toys are made in the same country they are designed in. So what are you waiting for? Get a fun factory toy today!!