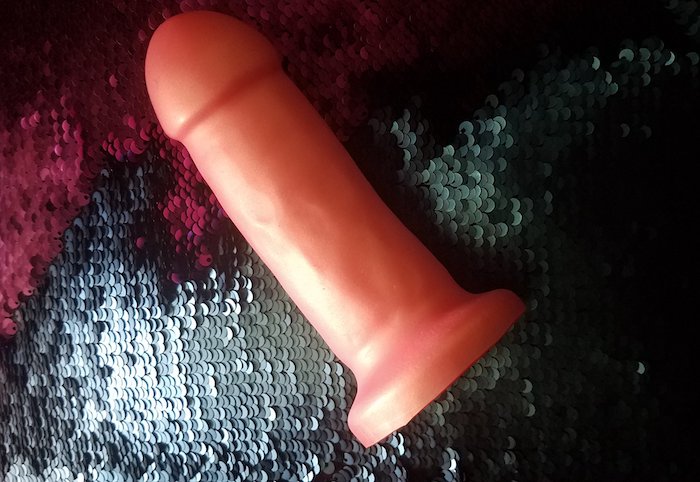 The Chubby Super Soft Silicone Dildo By Tantus, AKA They/Them, a harness compatible, 100% Ultra-Premium Super Soft Silicone dildo that plays amazingly.
This is a short, stout dildo that you can use a considerable amount of thrust for a good hard pounding without pounding your cervix or insides. It's perfect for feeling the girth, and the super-soft silicone is great to contract the muscles against. Perfect for all the orifices.
Max Diameter: 1.7" / 4.3 cm, Total length: 5" / 12.7 cm, Insertable Length: 4.7" / 17.7 cm
Initial Thoughts:
Tantus makes one of my favorite dildos (The Curve) so I was excited to add a new dildo friend to my Tantus family. I'm also always looking for girthy toys that aren't very long to use for double penetration. I have learned that shorter but thick toys are a good pairing for DP.
Pros: So something you need to know about me if that I used to love deep penetration,
Then I got diagnosed with super aggressive cancerous HPV and had to get some light surgery to get rid of the cancerous cells. After that I had some complication, and for the most part can no longer handle deep stimulation or toys touching my cervix at all.
That doesn't mean I don't still looooove larger toys and I'm constantly looking for thicker toys that aren't longer so I don't accidentally poke my tender cervix. So this toy is a great for that reason. Most folks have their G or P spot about 2 inches in their front or back hole respectively so this allows for G/P spot stimulation without deeper penetration and still room to grab the toy to allow yourself to thrust it without help from a partner.
This toy is made out of a decently soft silicone.
I would say it's somewhere between firm and soft, if that makes any sense. The density is actually perfect for a butt because I've personally found that when toys are too soft they are incredibly hard to get into a butt (mine or otherwise). The base makes it not only anal safe, but also makes it possible to put into a strap on harness.
The ridge on the head of the dildo is pronounced enough to give good G/P spot stimulation for folks who also don't like a ton of texture. Personally I only like texture if the toy is very soft, so the combination of the firmness of the toy and lack of texture besides the head is for me a perfect match.
Cons: I haven't found any cons for my own personal use, but things to consider that might not make it the perfect toy for you is the length.
If you want deeper penetration, or you want something longer so you have more to hold when you're thrusting it then there are better options out there. This is completely a personal preference more then a con to the toy itself. Another preference to consider is the density of the silicone, if you're looking for something that's super soft then again there are better options.
The only final spec to consider is the finish of the silicone. The finish on the "They" is on the stickier, animal hair gets stuck to it like a magnet, side of things. I tend to prefer the more matte silicone but that doesn't mean this toy won't be in my new favorites drawer. This kind of glossy finish does tend to have less drag then others, so that could also be a positive for folks!
It's also a super affordable price point! Woo Hoo to body safe dildos under $50. Also perfect for folks looking for good G/P spot stimulation from a toy that doens't have a lot of texture. All in all, I would recommend this toy because it's gotten my stamp of approval.
I was given this product by SheVibe for an honest review. All thoughts and opinions are my own.