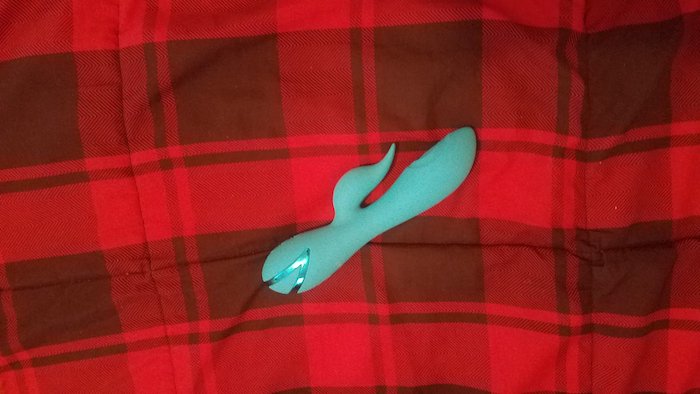 "The playful California Dreaming™ Collection brings luxurious fantasies to life with the passionate Santa Monica Starlet Rabbit Style Pulsing Silicone Vibrator.
The ergonomically designed massager is ready to ready for those A-List fantasies with 10 powerful functions of vibration and 3 knee-shaking thumping pulsation speeds.
While the flickering stimulator teases, the tapered shaft and curved tip delivers intense thumping stimulation. The curved tip uses a powerful pounding sensation for intense g-spot stimulation. The teasing tickler uses a powerful vibration motor to deliver blissful external stimulation. The flexible teaser can be used independently from the thumping function for fully customizable pleasure."
Initial thoughts: I'm like a lot of other bloggers who struggle with rabbit style vibrators.
Typically they don't line up pleasurably with my anatomy. The external arm intended for the clit is typically too short for my body. Typically I'll use either a dildo if I want internal, paired with a external vibe so I can put the pressure and vibration exactly where I need it. I've tried many rabbits and most have been wildly disappointing, some even painful to use. So to say my hopes were low was an understatement.
Pros: The external arm is fairly long for this style of toy.
Which meant I could manipulate it in a way that was actually pleasurable for my body. It didnt reach all the way to my clit. And it also didn't give a lot of wiggle room to move the toy around while still maintaining contact on my clit.

I love that there's no internal vibration. I actually truly dislike internal vibration. It leaves me feeling itchy. So the pulse plate was really great and I personally didn't miss the vibration. The pulse plate didn't withstand the pressure I was trying to put on it, but if I tilted the toy towards my butt the plate had plenty of space to move. The different levels were also perfectly spaced. It increased in really seemingly perfect increments.

The shape was also really enjoyable. As someone who prefers larger penetrative toys I'm always worried the toy wont be big enough for me to enjoy it. The curve of this and girth made it really enjoyable. It tapers where the entrance of the vagina is so if you're not into feeling full I still feel like shape would be good.
Cons: It could be more flexible.
The clit part doesn't have a huge range of motion. So it presses the toy into my pubic bone in a way that wasn't comfortable. I also wish the silicone on the tip of the clitoral arm was softer and flickered more. This brand makes really great flickering clit toys and I was hoping this would be one of them and it was pretty straight on vibration with not any flickering.

Also if your press the plate into your g-spot it limits the motion of the plate. So if you need really firm pressure then this toy isn't for you. You can keep it angled away from your g-spot to keep the plate moving but it might not be enough pressure for some folks. I liked the light thumping sensation but I dont need a lot of pressure.

If you're into smaller toys this toy might be too girthy to get into your hole. The initial curve is perfect to me but for folks into smaller toys the initial bulb shape might be too much. Think of how many fingers you like to gauge if this girth would be good for you.
The price is mid range and it does have a one year warranty. You have to think about the kind of stimulation you prefer and the size of things that penetrate you that you prefer. Overall I give it 3 out of 5. But for this style of toy it's in my top 3. So not bad at all!
I was given this product by SheVibe for an honest review. All thoughts and opinions are my own.