About: Get ready to fulfill your fantasies with the Big Shot Silicone Vibrating Squirting Dildo, a life like multi-speed vibrator that shoots out the fluid of your choice on command!
With a very realistic head and vein textures that feel like the real thing, its sturdy suction cup base means you can enjoy vigorous hands free play through all 10 vibrating speeds and functions in the powerful shaft.
When you're ready for your faux pop, you simply press the button to fulfill your fantasy! Fluid refills through an easy to use reservoir at the bottom, and the ergonomic two button controls are right where you need them! Clean up this big fella with toy cleaner and a warm water rinse.
Large squirting vibrator.

Life like feel.

Realistic head and vein textures.

Made from luxuriously smooth silicone and ABS plastic.

Powerful suction cup base for hands free play.

10 different vibrating functions.

Two button control, one for vibe, one for squirting.

Quick twist cap on bottom for easy refilling.

Length 8 inches, insertable length 6 inches, width 1.625 inches.

Weight 9.8 ounces.

Waterproof vibrations.

Phthalate free and latex free.

Fully rechargeable, USB cable included.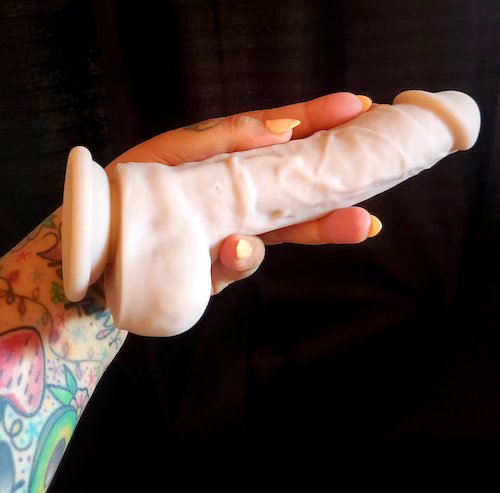 Initial Thoughts: It's hard to find good squirting dildos, especially ones that are made out of a body safe material.
Because if I'm going to squirt something into myself, I want to know the thing that also going into me won't give me some sort of infection. I am notoriously that person that has reactions to anything not body safe. A toxic toy has given me a chemical burn on my hands and face after simply holding it for less then a minute.
So admit-ably, I am very sensitive and a more extreme case. But it's it better to be on the side of caution? I'm also interested to test the squirting mechanism, because the ones I've seen have either been a disappointing drool, or more like a water gun.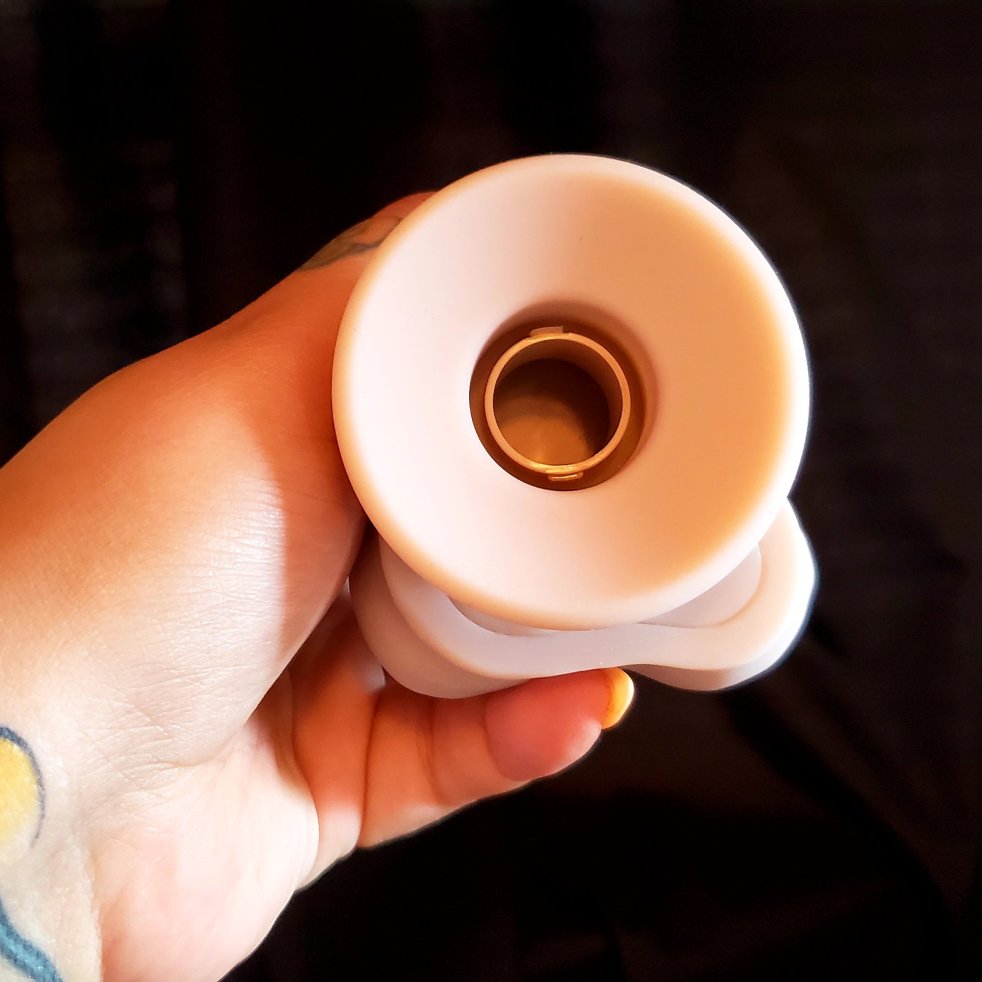 Pros: I will admit that I am not a fan of internal vibration,
so I used the vibration to warm myself up by rubbing it on my vulva and clit before penetrating myself and that motor is strong and rumbly! If you're a fan of strong rumbly motors, you'll enjoy this one.
The squirting mechanism is one of the best ones I've ever seen. Literally as simple as the push of a button. Typically with squirting toys you have to either push down on a syringe's plunger or squeeze the silicone bulb attached to the tubing.
Without that tubing like those other toys you can be a lot rougher with this without being concerned about the internal cum tube. Which I think will make it a lot easier to harness. I still need to test this, for science! The force of the ejaculating was also ideal, not a trickle and not like a water gun.
It seemed to be the most realistic I've come across.
The size is pretty good also, it's on the smaller side, but very firm because of the vibrating and squirting mechanisms in the toy. If the toy was bigger, then the firmness might be an issue, but the firmness combined with the size was a good combination.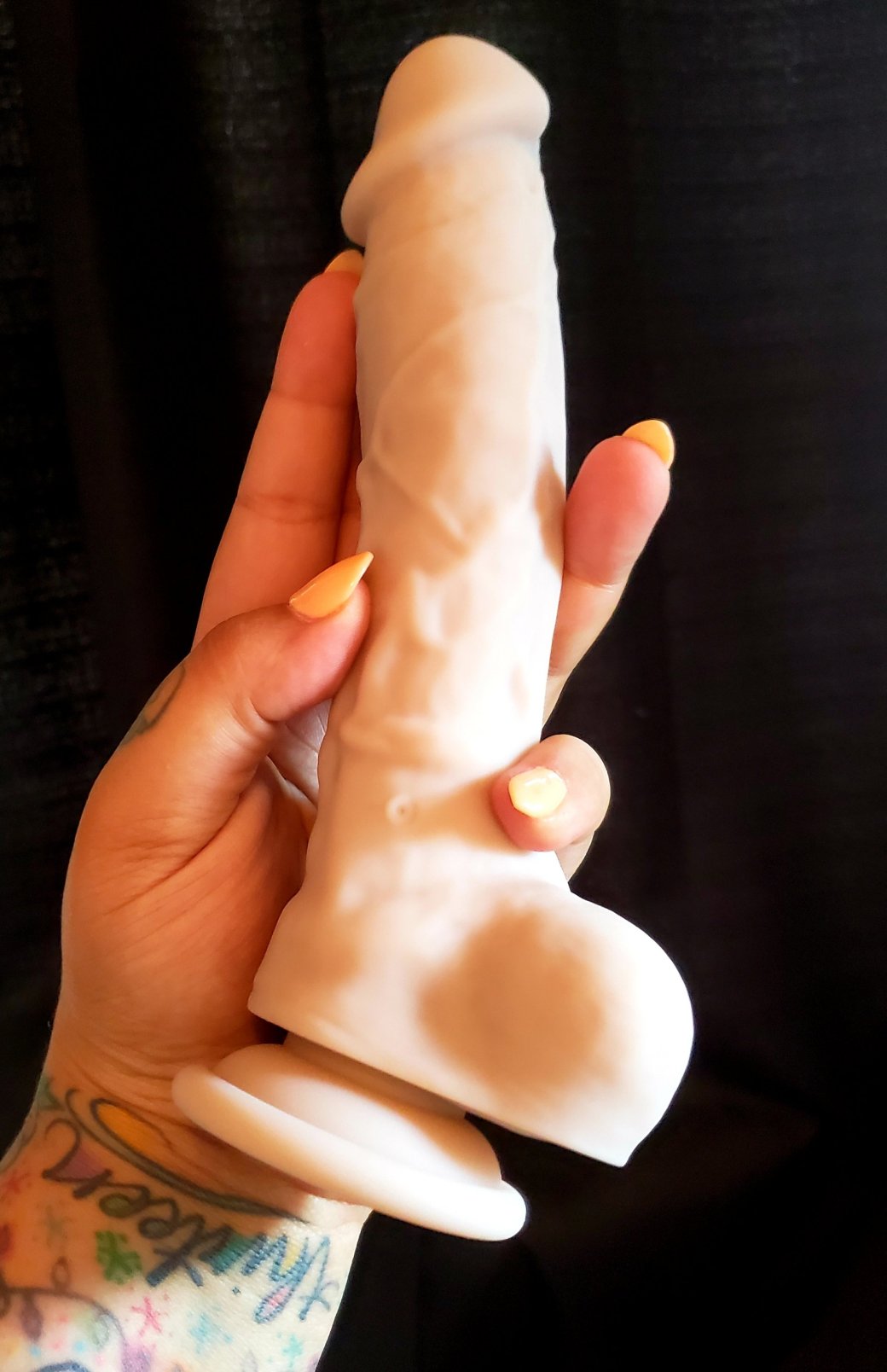 Cons: If you're a person with vision or mobility issues, the buttons might be hard to operate.
With my nails and carpel tunnel I had a little but of an issue pressing the buttons, but nothing too major.
There is also a serious lack if diversity for this toy. Because it is realistic, I can imagine that folks would enjoy it more if it matched their skin color. I typically don't buy toys in this shade for that reason.
I want to be so immersed in the fantasy of it being my dick, that when I look down, I want it to seem like it's growing from my body and the shade of it, took me out of the fantasy a bit.
It is also very very firm.
Functionally I understand why it needs to be, but if you don't enjoy firm toys then you won't love this. Because it is so firm the texture feels more pronounced so I would advise a lot of warm up before inserting this toy.
There is also not too low of a vibration setting, so considering how strong you like your vibes is important with this toy because I would say it starts at a medium intensity rather then a low.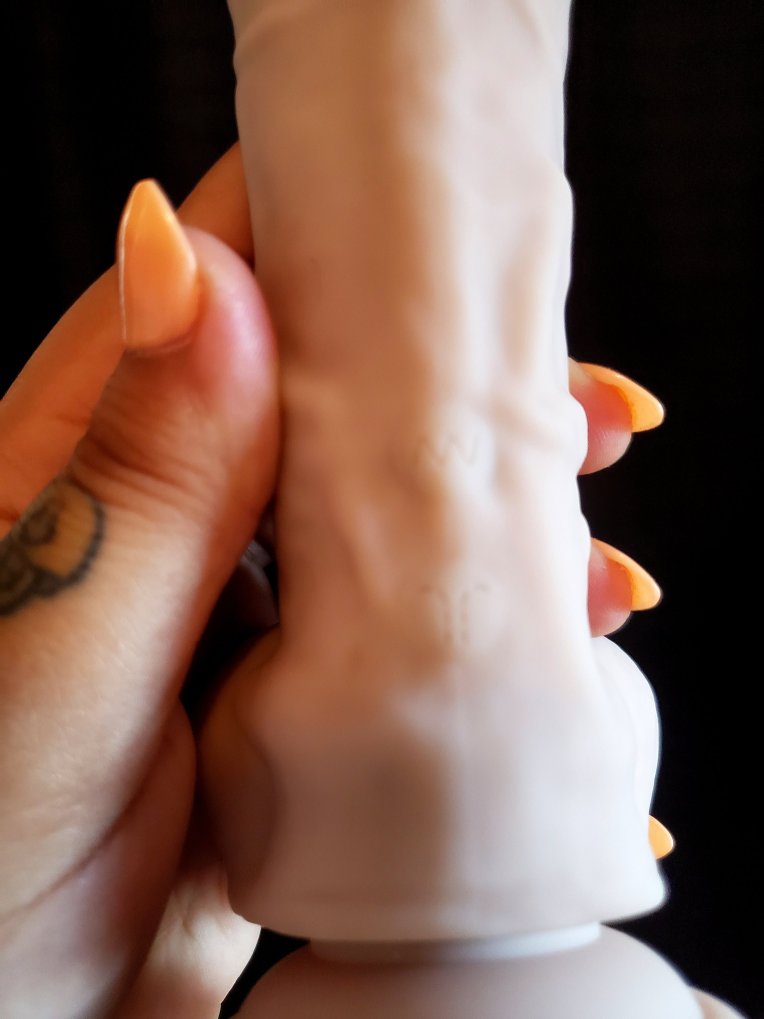 There are a few features to consider to your personal preference, but over all this toy is a great option for those who want to play around with fluids.
I was given this product by SheVibe for an honest review. All thoughts and opinions are my own.