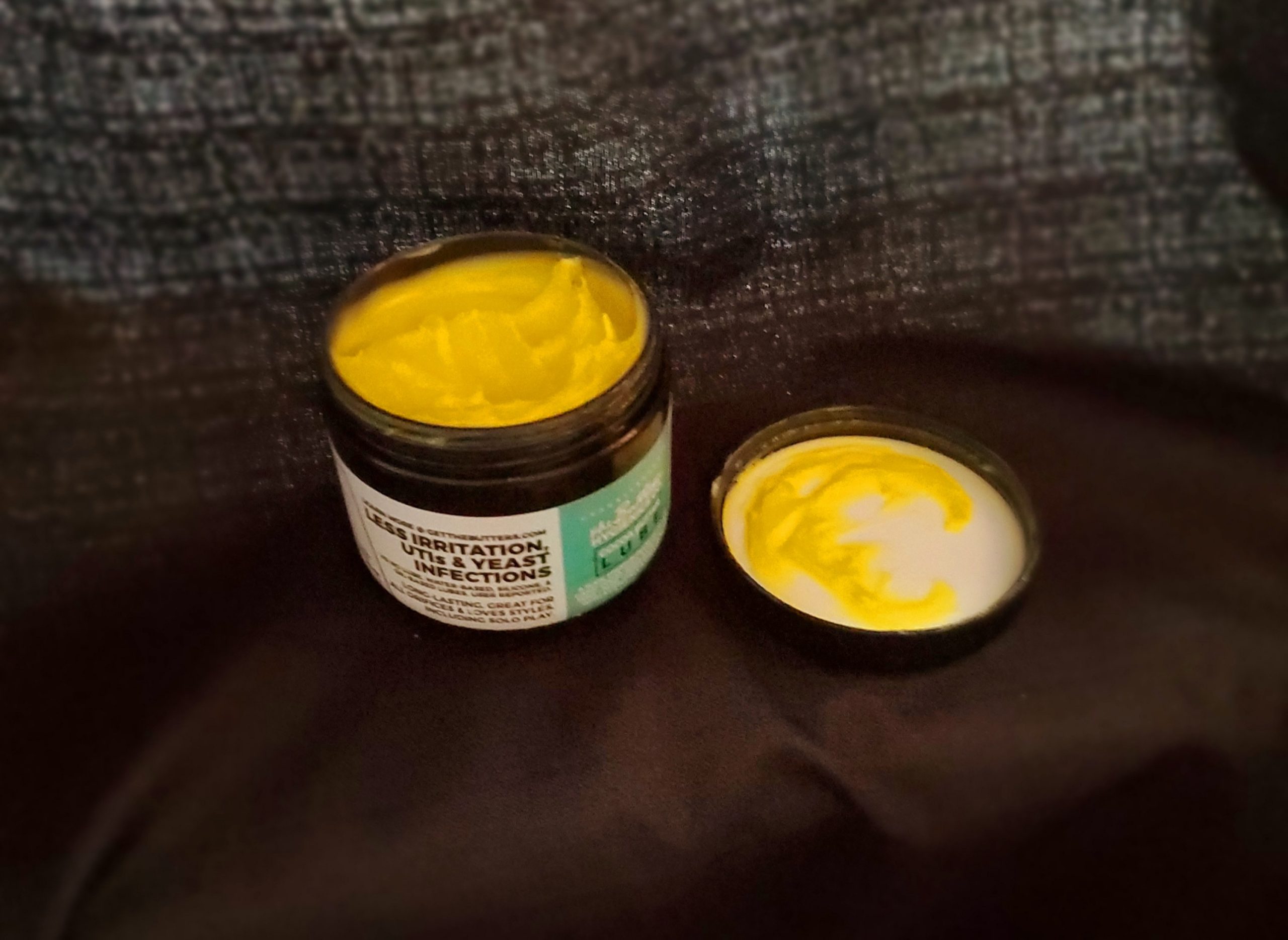 About
The Butters' lubricants are formulated to be safe in all body orifices, and perform better than anything you've tired before. This oil based lube is super slick, long lasting, and smells richer (like cocoa butter). Compared to The Butters Lube Aloe X Shea, the Cocoa recipe is slightly thicker but also a little slicker in use.
Each ingredient is selected for specific properties. Aloe provides pure, easy to absorb moisture and prevents The Butters from feeling oily. Cocoa butter provides thickness, a gentle natural fragrance, longevity, & slickness. Coconut and grapeseed oil give your skin essential vitamins and lipids, while offering immediate lubrication. Shea conditions tissues, melts into slick long lasting lubrication, and offers healing properties for delicate areas. Apple cider vinegar balances gently cleanses. Guar bean powder conditions, adds body, prevents drips, increases the feeling of softness, and helps mix any lubrication your body makes with The Butters.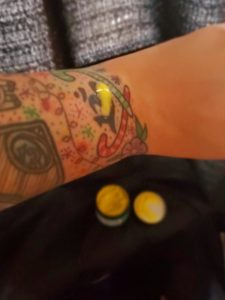 Get your own Cocoa Butter oil based lube by The Butters from Spectrum Boutique here
Initial Thoughts
I'm not usually a fan of oil based lubricants, I've only tried one other brand because my body is super sensitive. It has taken me a long time to find one kind of lube that worked for me without giving me a UTI or yeast infection. So I figure why tempt fate and try other brands that might end up truly hurting me. Lube in general is something I think everyone should be using even if they should be mindful about which one they use. Read more about why lube is important here.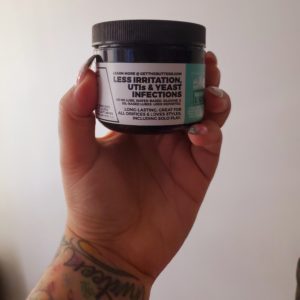 The Butters is one of the newer lube companies out there. The company is black-owned, queer, and makes everything by hand. So supporting them is important, and they make so many other amazing body products that have amazing reviews. Check other products by The Butters here.
I had gotten other lubes from The Butters while at Woodhull Sexual Freedom Summit from Kate of the blog Girly Juice. And I admit, I didn't use it as a lube because I was concerned about how my body would react to it, but I did use it as a skin moisturizer and it was amazing! Then after seeing so many of my peers reviewing it, I decided to give it a shot after The Butters reached out to me asking for a review. It seemed like the right time!
Pros
First impressions are important. The packaging is sturdy and clean without any unnecessary gendering of the product. It's nice and simple with ingredients, safety precautions, and glowing reviews. I also love the smell of cocoa butter. But know the smell is divisive. There are people out there that hate the smell.
The lube is all natural and vegan. While I'm not a vegan, it's important to me as someone with sensitive skin that the lube be free of irritants. So the less chemicals and stuff the better. You won't find any scents, dyes, glycerin, glycol , parabens, alcohol, or artificial stabilizers and thickeners, in The Butters Oil Based Lubricant. I waited a couple of weeks after testing and writing this review to release the review in case any issues slowly came up on me after using it and my body reacted very well and it caused no irritation or infections for me!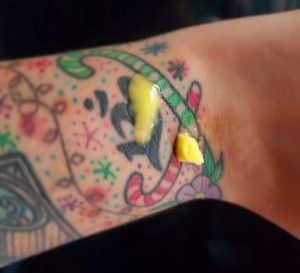 I love a thick lube so the texture was perfect for me. It puts a great cushion for back door play, and a nice barrier between skin and the toy for thrusting. It also leaves my skin so soft, supple, and moisturized. Also great for hand sex because it also leave your hand moisturized! And a side note, it's also a great makeup remover and tattoo conditioner. Which makes it great product to travel with because it can do so many different things. The best part is a little bit goes a long way. While the texture is thick, it is creamy and not gritty at all like other oil based lubes I've tried. It melts into a long lasting oil that doesn't feel runny. It keeps things slick without ever feeling too squishy like I can sometimes feel with a lot of water based lubricants.
Get your own Cocoa Butter oil based lube by The Butters from Spectrum Boutique here
Cons
I didn't personally find a single con to using The Butters Cocoa Butter Oil Based Lube. Some important things to consider when figuring out if this lube is right for you is the fact that everyone's body is different and will react differently to oils and other possible irritants. Some folks find that oil balances their internal biomes, and others find that it causes an imbalance. To play it safe I would do a spot test, use externally initially to test sensitivity. There is no way to tell besides trying it to tell if you're going to have a reaction to it unfortunately. Bodies are unpredictable!
Oil is not safe with barriers as well. So DO NOT use with latex condoms or any other safer sex barrier as oils can degrade latex. If barriers are a regular part of your sex life then using The Butters oil based lube is probably not a good fit. As well as if you're using toys that are made out of cyberskin, or elastomer.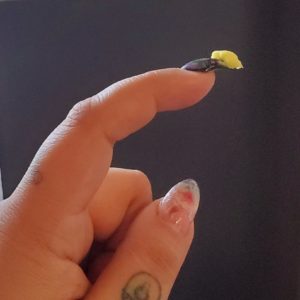 The Cocoa Butter formula is pretty thick, so if you don't like thicker textured lubes then this lube is probably not a good fit either. While it didn't make a mess, be aware that oil can make bed sheets messy if it gets on it. So putting a towel or sex blanket down is enough, just be aware that getting oil on your bed is a possibility.
The tub is something I liked, but because you dip fingers into it you run the risk of cross contaminating the jar of lube. Making sure your hands are clean when you dip into the jar is important. Otherwise you run the risk of adding bacteria to the jar. They also don't contain any preservatives, so they'll go bad far more quickly than regular lubes, especially if stored in a warm environment.
Final Thoughts
I loved this lube and added it to my regular rotation, but please consider the points I brought up to see if it's compatible with the way you intend on using it. Otherwise just grab some great body and bath products from The Butters here. This lube is super affordable and a great long lasting formula with a creamy texture. If that sounds good to you then grab your own Cocoa Butter oil based lube by The Butters from Spectrum Boutique here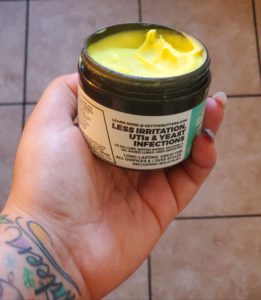 This Lube was given to me by The Butters for an honest review. All thoughts and opinions are my own. Some of the links are affiliate links, if you buy something you won't pay a penny more but I'll get a small commission. Thanks!